AMPLIFY  VOL. 36, NO. 2
  
ABSTRACT
Eli Doster shares that having a broken culture was not only terrible for staff at his company, it was also costly and had a negative impact on business. Five years ago, the company lacked values employees could believe in, which affected their decisions and actions. Furthermore, the company lacked "diversity of cultures, ethnicity, and perspective." Doster talks about the signals that enabled its leaders to identify these problems and describes how they implemented the changes that transformed the culture and improved their overall results.
Broken. That is how I describe our staffing company's culture in 2017. That's because in 2017, we hired 1,600 people, and 1,100 of them quit. Actually, quit is the wrong word. They fired us.
And that's just the people we hired that year. Our overall company turnover had skyrocketed to 65%. Yes, you read that right. We're not proud of it, but we own it. Having a broken culture was bad for the people working there; it was also expensive and bad for business.
The million-dollar question is: "Why did so many talented, hardworking people 'fire' us in 2017?" It's simple. They had lost their way. They did not feel like they mattered. As a company, we lacked the company values that we could believe in that would guide our decisions and actions. We lacked a unified purpose. We also lacked an effective way to develop and grow our people at scale. Furthermore, we lacked diversity — in every way. Diversity of cultures, ethnicity, and perspective, to name a few.
If there was any good news, it's that we knew we had to change by transforming our culture, and we knew we had amazing people. We got to work, starting with taking down our existing company values (our eight core principals) because they were hollow words on a wall. We got honest and real and replaced them with five shared values that represent the company we wanted to be:
Everyone matters.

We take care of each other.

Leadership is here to serve.

High character and hard work above all else.

Always know where you stand.
Every organization in the company was empowered to get together to create a sixth shared value, one unique to each group. Allowing each unit to craft its own sixth value would help ensure it would live out that value every day.
From that moment on, we made a promise that our shared values would never become just words on a wall and that they would lead our cultural transformation. To fulfill that promise, we have operationalized the values, weaving them into everything we do. This includes how we take care of our people, our clients, and our consultants; how we interview, hire, develop, and promote; and how we onboard and train. We are also committed to putting our values first when we make big company decisions. 
Overall, we made a promise to root ourselves in what matters most: to grow our people personally, professionally, and financially, so they can be the "light to the world" around them. That might sound lofty — and it is. But it's real, and for our people, there's no better feeling than serving one another, our clients, consultants, and communities. That's what gets us out of bed every day.
ESG & Transformation
Creating equality and equity starts with the right culture. Our culture is the product of living out our shared values and is the foundation our house is built on. But you can't stop there. You must build on that foundation by listening, learning, and taking action to create programs that matter to your people.
Everyone matters to us, and we take care of each other. That meant going all in on environmental, social, and governance (ESG).1 We established programs like the Woman's Leadership Council, which is dedicated to empowering women as leaders. Today, more than 70% of our leaders are women, and that number is growing. The council has brought forward ideas, change, and perspectives that helped grow our company. This includes expanding our maternity-leave policy, offering paternity leave, and creating a Parental Program that offers strong support to our parents and advocates for fertility benefits coverage.
We also created a Diversity Council to cultivate and develop a culture of inclusion, and we've doubled our diverse hires since its inception. We developed a mentorship program called "Journey" focused on identifying future leaders from diverse backgrounds within our company. An executive mentor is assigned to each student, with the goal of helping every student rise to the next level so we can promote more diverse leadership. Half of the inaugural class has been promoted to higher-level roles, and we have since expanded this program.
We developed diversity, equity, and inclusion (DEI) training that's woven into our core curriculum through Insight Global University, our in-house training program. Systematically weaving DEI content into our training is helping our people understand the importance of DEI to our culture and business; our company's future leaders will be more well-rounded because of their DEI training. 
With our new long-term incentive (LTI) plan, every new employee receives US $5,000 worth of LTIs when they start. Those LTIs grow annually with the EBITDA growth of our company. We also formalized our ESG Executive Committee, which comprises 15 executives, including the CEO. The committee aims to ensure we're living out our values and purpose and that we know the status of our ESG goals.
Since rolling out our shared values and purpose and going all in on ESG, we've transformed our culture and our company. Turnover is down to less than 19%, our people are thriving, and our revenue grew from $1.9 billion in 2017 to more than $4 billion today. Our people stay because they feel cared for. They're engaged because they see a career path and know where they stand. Our revenue growth is proof that our approach is working.
When the pandemic hit, we leaned into our values and made the decision to promise there would be no layoffs. In fact, we continued to hire when much of the world did the opposite. Our company's mission positioned us to get jobs for people who had been laid off or forgotten due to the pandemic. We started to truly see the impact of being the light to the world around us through finding people jobs, which positively affected our local communities during a very difficult time.
Looking Out
We are extremely proud of the internal programs we've built and equally proud of what we're doing externally. First, it's important to understand that being in the staffing industry we're experts at finding people jobs. We're also pretty darn good at training.
We know that finding a job can be difficult and stressful. Where do you even start? How do you write the best résumé and LinkedIn profile? What's the best way to conduct yourself in an interview? These things are hard for everyone, and there isn't much good information out there. People have to struggle to figure this out, and many don't have the resources, education, knowledge, or equipment to do it well on their own.
As a staffing company dedicated to the empowerment of people, we felt a responsibility to act. About a year ago, we leaned into our values and purpose, and the "Be The Light" (BTL) tour was born. We decided to go big, so we took a 53-foot semitruck and turned it into a pop-up, full-service mobile career center with two classrooms (see Figure 1).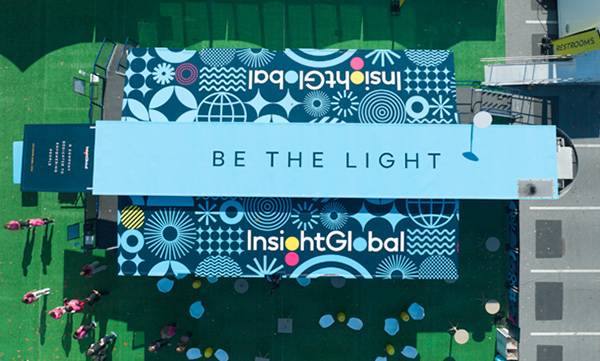 We decided to travel to under-resourced communities to provide free career networking, career advice, and interview training. We focused on Asian Americans, Pacific Islanders, the BIPOC community (Black, indigenous, and people of color), first-generation college graduates, unhoused individuals, individuals with disabilities, LGBTQIA+ persons, justice-impacted persons, single-income families, veterans, women, and young adults.
Social inequities, economic inequalities, and disenfranchisement cause serious challenges for people seeking to enter the workforce or advance their careers. We wanted to remove as many barriers as we could, so the BTL tour provides free childcare, free food, free headshots (see Figure 2), and access to companies who are hiring.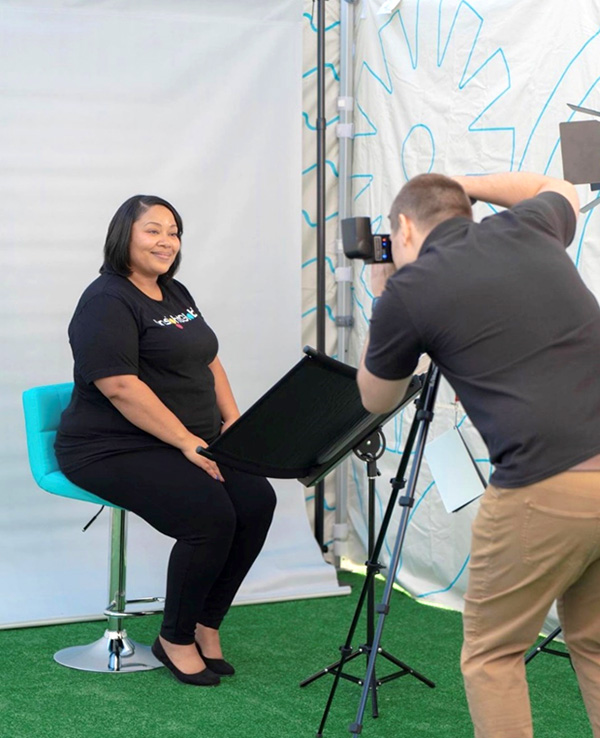 Our goal is to impact 15,000 individuals from under-resourced communities over the next five years. To ensure we are taking the right approach in meeting job seekers where they are, we conducted a national survey to identify factors causing job-search hesitation.
We found that nearly 75% of job seekers didn't apply to their dream job because they didn't think they were a good fit for the role. Job seekers also said they weren't pursuing opportunities because they were intimidated by the job search (31%), lacked a college degree (24%), didn't know where to begin a job search (24%), or lacked confidence overall (33%). The survey found that people are motivated to look for new jobs by better pay (57%), a desire to create a better life for themselves (56%), and/or a desire to create a better life for their family or those who depend on them (45%). 
The BTL mobile career center is designed to equip all job seekers with the tools and resources they need to successfully land their next (or first) job, but it has become much more than that. The individuals staffing the center observed that, many times, people simply don't feel they are enough. Due to past events or their current circumstances, they don't see their potential and don't realize that they are hardworking, skilled people who need support to pursue their goals. We aim to show them what their career future can look like if they harness the power of their full potential (see Figure 3).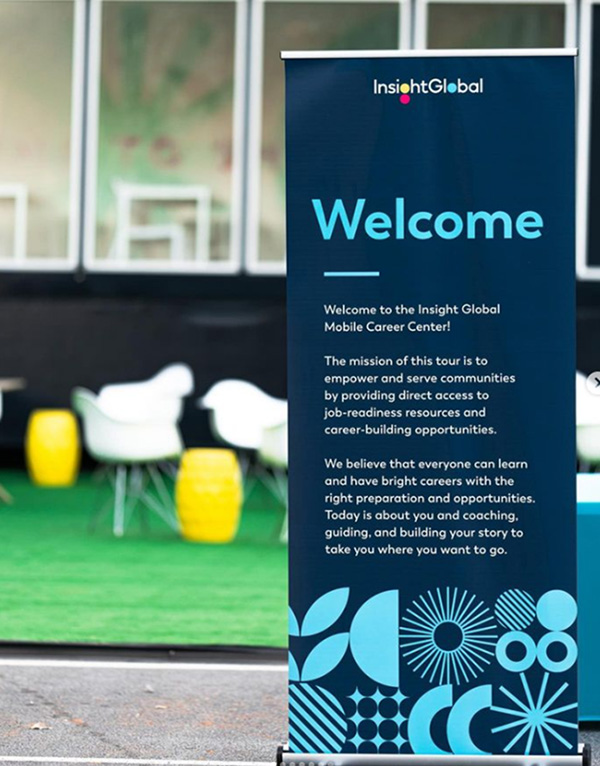 In November, we held our first event at the Turner Field Grey Lot in downtown Atlanta, Georgia, USA. More than 600 people signed up for free support, and more than 150 folks from our company volunteered to help put on the event. In part, the event was successful because we went out into the community rather than waiting for job seekers to come to us.
Some 90% of our attendees told us that they felt more confident and equipped to find a better job or career after the event. I've been with our company for 18 years, and being there was the proudest moment I have had. It represented our company's culture transformation, allowing us to live out our shared values and purpose, all to help other people. The mobile classroom will be a vehicle to drive better equality and equity — one stop at a time (see Figure 4).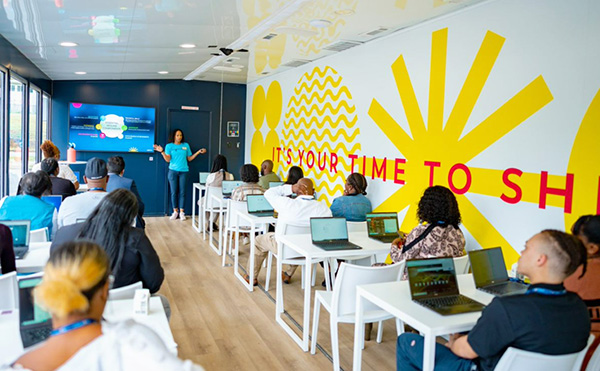 As you're reading this, you might be thinking, "What's the catch?" There isn't one. We're a company that really believes in our values and purpose. I'm not saying our company is perfect. Far from it. We're honest about who we are and who we are working to become. But when your company is firmly rooted in values, with a culture of purpose that's centered around people and doing good in the world, you can do things you never thought possible, both within your company and outside of it. If we change just one life at each tour stop, it's all worth it. This is how we do our part in driving at better equality and equity, and this will be a continuing journey for us.
Be the light.
Reference
1   "Inaugural ESG Impact Report." Insight Global, accessed February 2023.