How Digital Is Disrupting the Insurance Sector
Posted December 12, 2016 in
Business Technology & Digital Transformation Strategies, Data Analytics & Digital Technologies Cutter Business Technology Journal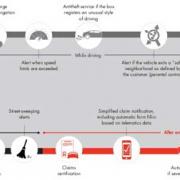 CUTTER BUSINESS TECHNOLOGY JOURNAL  VOL. 29, NO. 11
  
---
The digital revolution has hit the insurance sector, with insurtech disrupting the entire value chain and customer lifecycle. New technology offers opportunities to redesign the customer experience, design new products and services, streamline processes, and increase effectiveness. The opportunities are huge; hence, they attract financial technology startups and drive investment. Accenture reports that in 2015, insurtech attracted approximately US $2.6 billion in investment, up from $800 million in 2014. According to CB Insights, $1 billion has been invested in insurtech in the first half of 2016, and there are over 1,300 startups in the insurtech space worldwide.
Not surprisingly, this amount of investment impacts the traditional insurers, and according to a PwC study, almost half (48%) of insurers fear that up to 20% of their business could be lost to standalone fintech companies within the next five years.
In this article, I will address the causes of this digital revolution, the most important trends disrupting the insurance industry, and ways that incumbents can harness the insurtech trends and respond to them.
Maintaining the Status Quo Is No Longer a Safe Option for Insurers
For years, many factors created high barriers to entry in the insurance industry:
The complex ecosystem of insurers, intermediaries, distributors, and service providers

Heavy regulation

Low customer engagement

Potentially long return on investment
In 2008, the financial crisis hit the industry and impacted customers' trust, in particular. According to the Edelman Trust Index, insurance belongs to the group of least trusted industries; an EY survey reports that insurers are less trusted than banks, supermarkets, car manufacturers, and online shopping sites. IBM likewise found in its survey that only 43% of insurance customers trust the industry. There is a long list of factors that contribute to that view. Customers complain about lack of engagement from insurers, difficulty understanding what is covered in a policy, fear that claims will be rejected or not paid in full, lack of flexibility in structuring policies and adjusting them to their specific needs or personal circumstances, and so on. Customers perceive insurance — especially life insurance — as complicated and feel that it offers less than satisfactory service, generic products, and limited access options.
The last decade has also seen the impact of the digital revolution on customer behaviors. Google, Apple, Facebook, Amazon, Netflix, Uber, and Airbnb have all introduced customer-centric standards, thereby raising customer expectations of similar engagement from other businesses, including insurers.
In the connected world, all businesses compete for customers' time, money, and data, and the winners will be those that can quickly respond to challenges and offer redefined strategies and business models, redesign customer experience, and apply cost-effective sales and service processes.
Technology as Innovation Driver for Personalizing Service and Building Customer Loyalty
Big data analytics is a trend with a tremendous impact on the insurance industry, from onboarding and risk assessment to underwriting and claim processing. "Real-time and near-real-time data streaming — everything from environmental sensors to connected devices and wearables — will allow insurers to better manage risk, improve subscriber loyalty and optimize sales opportunities," says Forbes contributor Vladislav Solodkiy.
The insurance industry already leverages Internet of Things (IoT) data in health insurance. Fitness wearable devices like watches and wristbands offer an attractive opportunity for insurers to access customer data and track health behaviors and habits in order to offer personalized service, improve risk assessment and pricing, and build customer engagement. Consider the following examples:
Vitality, the UK health and life insurer, rewards customers for being healthy by collecting data via wearable devices like Garmin, Polar, Fitbit, Apple Watch, and more.

Aetna has offered its customers an Apple Watch to track health and wellness.

FitSense is an app provided in a platform-as-a-service model that collects insights from mobiles and wearables and enables insurance companies to provide personalized service to their customers.

Chaotic Moon is developing a tattoo that will keep tabs on everything from medical conditions to financial information.

The smart brush from Beam, paired with the Beam app, tracks dental habits for dental insurance.

Quantifyle has launched Momentum Score, a wellbeing app that helps people achieve fitness goals while helping insurers reduce costs.

League enables employers to provide insurance services to their employees via an innovative platform that allows employees, using their mobile devices, to access a League digital wallet and select benefits that suit their lifestyles.
IoT is not limited to life and health insurance, though. The auto insurance sector also stands ready to profit from insurtech solutions. ABI Research has predicted that the number of insurance telematics users in Europe will grow from 1.5 million in 2010 to 44 million in 2017, initially driven by the UK and Italy. Bain & Company and Ania Telematics Observatory have posited an ecosystem of telematics and smartphone apps in the connected cars services sector (see Figure 1).
​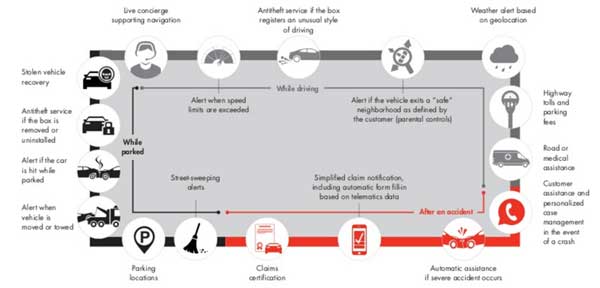 Metromile empowers drivers by creating a more connected and informed car ownership experience with its "pay-per-mile" app. Telematics solutions, such as the "black box" offered by Ingenie and Zubie, help insurers to understand and reward safe behavior. TechCrunch suggests that, over the long term, the "driverless" car will be the biggest connectivity-related disruptor.
The IoT is also impacting property and casualty insurance. Smart home devices like Nest (used by State Farm and Liberty Mutual), voice-activated Echo (tested by AXA), Domotz, and leakSMART are some examples of apps that can collect data on, detect, and/or automatically stop disasters such as fires or water leaks. Another trend is the use of drones like Airphrame or Drox for real-time data collection, enabling insurers to analyze risk, estimate damage, and handle claims. Erie Insurance has been testing Google Glass for use in its operations, as chief underwriting officer Jayashree Ishwar explains:
This wearable technology coupled with you-see-what-I-see video streaming software enables supervisors to provide remote, real-time guidance without having to be physically present at the business. This dramatically reduces the amount of time they have to spend on the road, makes them more readily available to provide expert on-call advice, and can lead to faster answers for customers.
Another trend building on big data is the use of artificial intelligence (AI). Nexus Insurance believes AI could be profitably applied in such areas as fraud, claims, marketing, P&L analysis, behavioral analysis, and preventative insurance. Shift Technology offers an AI-based solution for claims management and fraud detection, while Cognotekt uses AI to optimize business processes. SPIXII is a chatbot that acts as an automated insurance agent and engages users in a simple conversation to instantly identify the best type of insurance for them. CogniCor uses natural language processing (NLP) and learning algorithms to enable businesses to understand and respond to customer questions and resolve issues on the spot in a personalized manner. Insurify is an AI-powered agent that lets customers start a car insurance quote by texting a photo of their license plate. It uses NLP to respond to users in an accurate and engaging way.
IBM Watson leverages cognitive computing and enables customers and prospects to directly interact with Watson in a natural language chat. As an IBM whitepaper explains:
[I]ndividual customers and prospects can interact with Watson ... directly in a chat through their smart phone mobile app.... They can type in questions in plain English such as "Hey Watson, if I let my neighbor borrow my car and he gets into an accident will I be covered?" In seconds, Watson searches through all the relevant documents and can come back with a recommendation about coverage to his vehicle when his neighbor is driving his vehicle.
Technology as a Catalyst for New Product and Service Development
Research from Startupbootcamp InsurTech and PwC shows that 75% of incumbent insurers "believe the biggest impact to the industry will come from building new products in order to address the changing needs of the customer." Customers are looking for solutions that provide personalized and convenient service. Many insurtech companies address this challenge. Back Me Up is an app that allows customers to insure basic things like their laptop, bike, mobile phone, or jewelry. Cuvva is a car insurance app that offers short-term, instant coverage on a friend's car, while Trov is an on-demand insurance platform that lets users buy insurance for specific products for a specific amount of time. In the B2B space, massUp offers a white-label platform for online sales of annex and niche insurance products by brokers.
Aggregators are also on the rise thanks to the opportunities presented by new technology. MyFutureNow is a UK startup that helps manage multiple pension plans by consolidating them into one online pension account. Knip is a digital insurance broker that aggregates a user's policies for an easy-to-understand overview (including policies, rates, and services) and automatically analyzes coverage to identify over- and/or under-insurance. Brolly is another advisory app that helps customers understand whether they are over- or underinsured so they can avoid duplicate coverage and get a better price for the coverage they need.
With the Proliferation of Fintech and Insurtech Solutions, How Can Incumbent Insurers Respond?
PwC found in its Global FinTech Survey that 74% of respondents see fintech innovations as a challenge to their industry. Nevertheless, only 43% have fintech at the center of their corporate strategy, only 28% are exploring partnerships, and less than 14% participate in joint ventures and/or incubator programs. Yet a digital revolution in the insurance sector is inevitable, and incumbents must alter their business models and strategies to respond to rising pressures from the insurtech startups. The time is now.
Some insurers are already taking a proactive approach toward driving innovation and cooperation with insurtech. As John Geyer, senior VP of MetLife's innovation program, observed: "If somebody's going to disrupt our industry, it might as well be us." Active players that engage with startups may gain a huge competitive advantage. Table 1 lists some of the insurtech initiatives incumbent insurers are pursuing.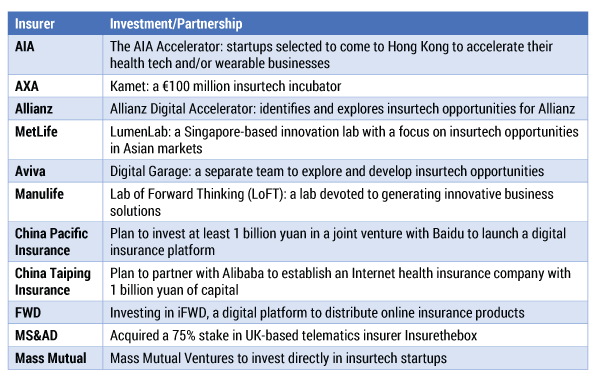 Since the majority of insurtech companies act as enablers, it opens the opportunity for incumbents to engage and cooperate with them. AXA Spain has partnered with SocialCar, a car-sharing platform, while AXA UK provides on-demand insurance for personal items in cooperation with Trov. The US insurer Amica Mutual has partnered with weather sensor data analysis startup Understory, which helps predict the volume of claims (especially in the event of hailstorms). Meanwhile, Italian insurance giant Generali has acquired UK startup MyDrive Solutions, a telematics company that enables insurers to gather customer data from various devices and, based on algorithms, create tailored offers for new products.
Looking at the experience of the banking sector, which underwent the digital revolution ahead of the insurance industry, we can see that the opportunities presented by cooperation with startups are greater than the challenges. Their agile and pragmatic culture, capacity to innovate, lack of legacy constraints, technology expertise, and speed to market are strengths that startups can bring to the partnership. Insurance companies, on the other hand, have customer bases, stability, and experience with regulations and compliance, which startups often lack.
That said, there will clearly be some difficulties to overcome — such as differences in organizational culture and management, IT resource constraints, and diverging business priorities — in order to build successful cooperation. D-RAFT, a company that helps corporations and startups grow together, has proposed a model to assist incumbents in such collaborations (see Figure 2). It stresses that successful cooperation requires the incumbent to embrace lean startup thinking and incubate new business models internally, filling capability gaps by working with innovative startups as a client, partner, or investor. With the ever-growing importance of technology in organizations, it is important that companies invest in digitally savvy and tech-experienced leaders. Then, it is all about defining a clear strategy along with focus areas for working with startups, sourcing and selecting the best candidates from the startup ecosystem, processing deals, and piloting solutions fast. To succeed, incumbents must invest in visibility and building relationships within the ecosystem, assigning a budget and people for these efforts. Resources such as the "Winning Together" and "Scaling Together" guides from Nesta, the innovation charity, provide useful frameworks for addressing these challenges.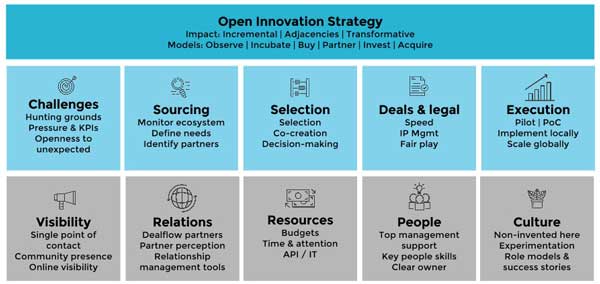 Incumbents that manage to adopt an innovative mindset and leverage the opportunities provided by digital disruption to build an agile, convenient, customer-centric digital experience can restore consumers' trust and gain competitive advantage in this fast-moving environment. And the biggest winners in the collaboration will be the end customers, who will benefit from a better user experience and tailor-made solutions at the right time and the right price.