Leveraging Business Architecture for Global Change
Posted December 9, 2020 in
Cutter Business Technology Journal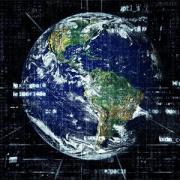 There are 17 United Nations (UN) Sustainable Development Goals (SDGs), applicable to all countries, that set bold global goals to help us move beyond traditional indicators such as GDP growth and per capita income to a broader set of objectives such as well-being, social fairness, and environmental sustainability (see Figure 1).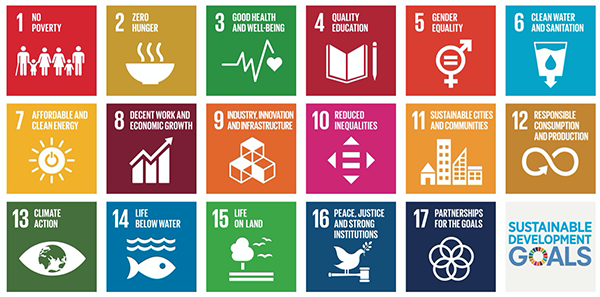 While every UN member state should use the SDGs for framing their agendas and political policies, the responsibility and potential for meeting these goals also lies with every individual and organization. This includes governments, non-profit organizations, and even for-profit businesses, which can be a powerful mechanism for change.
In our connected world, achieving the SDGs is important to all. The goals not only ensure that every individual's basic rights are met, but they also help create stable and successful nations with economic growth, social trust, fairness, equality, and sustainability. Stable and successful nations in turn create a strong global market for everyone.
Beyond creating a better world, there are notable benefits to organi­zations, including for-profit businesses. For example, customers and employees increasingly care about working with or for responsible organizations. As a result, operating responsibly and being a com­pany that "does good" can ultimately lead to attracting and retaining customers and talent. Of course, a good public reputation and trust can significantly enhance an organization's brand, but there are also more tactical benefits of operating responsibly such as increasing supply chain reliability and reducing costs. Furthermore, taking a market-based approach to solving problems means that organizations can benefit from new product and market opportunities.
Business Architecture Can Help Organizations Contribute to SDG Achievement
An organization can contribute to the SDGs either by operating responsibly and/or by directly contributing to the cause. For example, if the people within an organization would like to make an impact to SDG #13 (Take urgent action to combat climate change and its impacts), they can improve the environmentally sustainability of their products and service and operations. They could also contribute directly to the cause by donating to climate action efforts or leveraging their brand to help create awareness.
Where to start? Key leaders within an organization should become versed in the SDGs and identify the one(s) most relevant to what their organization does or cares about. Relevance is highly important; it aligns motivation with action. For example, if an organization provides renewable energy, it might track contribution to SDG #7 (Ensure access to affordable, reliable, sustainable, and modern energy for all), such as how the organization has helped increase the percentage of renewable energy in the global energy mix. On the other hand, an organization that produces consumer goods might track contribution to SDG #12 (Ensure sustainable consumption and production patterns) and track its efficient usage of natural resources, reduction in waste, and other measures.
Once the SDG(s) are selected, the next step is to set internal objectives and metrics to help the organization achieve its desired level of con­tribution. Next, high-level courses of action are defined to specify how the contribution will be achieved, through different aspects of responsible operation, direct contribution, or both. Upon defining direction, the plan flows into the organization's normal strategy execution processes to be translated into action.
Since business architecture is both a critical enabler of strategy execu­tion and an enterprise-wide business framework for analysis and deci­sion making, it can help organizations with their SDG contributions in a number of important ways. For example, business architecture can:
Inform decision makers by identifying potential options for SDG achievement at a high level and providing what-if analysis about the potential impacts to the business and technology environment based on certain SDG-related objectives or courses of action.

Make the SDGs visible, measurable, and actionable by cap­turing traceability in the business architecture knowledgebase from the targeted SDGs to the supporting internal objectives, metrics, and courses of action to the impacted value streams and capabilities, and eventually the planned initiatives.

Translate internal SDG-related objectives and courses of action into a coordinated set of initiatives across the organization by leveraging value streams and capabilities to target changes needed, define reusable business components, use resources effectively, and align SDG efforts with existing initiatives.

Provide transparency on the achievement of planned SDG impacts by measuring the performance within a value stream, capability, and initiative context.
To illustrate the traceability from strategy through initiatives, we will use a consumer goods organization as an example. In the business architecture knowledgebase, the organization could capture SDG #12 (Ensure sustainable consumption and production patterns) as a goal and tie an internal objective to it specifying a quantifiable reduction in the amount of waste produced along with the metric(s) that will measure that objective. The organization may then tie that objective to two courses of action, one for reducing waste related to the product and packaging and the other related to reducing waste produced after consumer usage. Next, we identify the value streams and capabilities that frame where enhancements are needed to people, process, or technology. To address the first course of action related to the prod­uct itself, we might target the Develop Product value stream and capabilities such as Product Design, Product Creation, and Product Packaging to dematerialize the product and leverage recycled materials, reduce production errors that create faulty products that need to be discarded, and reduce the amount of packaging. To address the second course of action related to consumer disposal, we might target the Use Product value stream and capabilities such as Message Management and Product Decommissioning to educate and help consumers responsibly disassemble their products for reuse, return, recycling, and disposal. With an understanding of the value streams and capabilities impacted, we can scope initiatives in the most effective way, which may leverage reusable solutions and involve multiple business units where applicable.
An organization's business architecture can even enforce adherence to SDG-related objectives through policy mapping. For example, the consumer goods organization could create a policy mandating that product packaging must utilize reusable or recyclable packaging. This policy would tie to the capability for Product Packaging, which would make the policy visible and trackable for the applicable business units involved.
In addition, when used as an enterprise-wide business framework, business architecture can also embed SDG considerations into conversations and decision making by overlaying those considerations onto an organization's capability map and/or value streams. For example, Figure 2 overlays sustainability considerations across a generic capability map.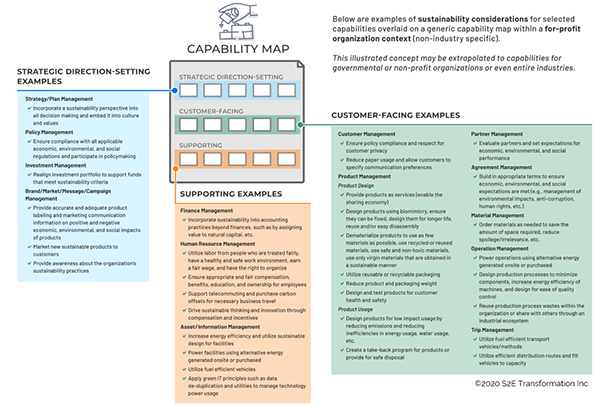 [For more from the author on this topic, see "Business Architecture: An Enabler to Achieving the SDGs."]