Preparing for the Circular Economy: A Q&A
Posted April 21, 2021
| Sustainability | Leadership |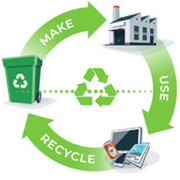 In a recent webinar, Cutter Consortium Senior Consultant Mike Rosen explored the circular economy concept, its broad impact on business and operating models, and the role of architects in facilitating the shift to a circular economy. This Advisor shares the Q&A session that followed. Perhaps Mike's advice will spark some new ideas on how your organization can participate in the circular economy.
Not a Cutter Community Member?
Sign up today to read this and all other articles.