Shifting from Lean to Digital Lean
Posted May 30, 2019 in
Business Agility & Software Engineering Excellence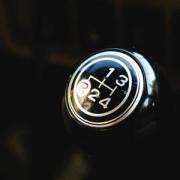 Radical shifts in performance are the consequence of embedding proven technologies in the value stream to overcome factors that have traditionally limited performance. It is often unclear where to start the digital Lean journey and how to prioritize a company's efforts and resources to drive tangible results. Indeed, choosing from among the plethora of new options provided by digital technologies is a real challenge. So most companies struggle to find the right approach to effectively grasp the benefits of the digital promise. The three key questions we explore in this Advisor define a framework to unlock the potential of digital to create value and drive higher performance.
1. How Do You Radically Simplify the Traditional Value Stream?
The full digitalization potential of the value stream follows a two-step digital greenfield design approach, based on two key questions:
Step 1: Which physical process steps can you automate with mature and proven technologies? To begin, design a greenfield value stream. The use of mature technologies can overcome traditional performance limits inherent to value stream design. Once a process step is automated (e.g., by using auton­omous transport in logistics), reconsider the upstream and downstream effects (e.g., the impact on loading/unloading). Repeat this procedure for the complete value stream.
 
Step 2: Which remaining nonphysical (information) process steps can be radically digitalized? Next, radically redesign information processing, especially manual tasks, whether by incorporating digital twins or the use of supporting technologies (e.g., robotic process automation [RPA], artificial intelligence).
 
2. Which Technological Building Blocks Should You Use to Create New Value?
Unlocking an organization's digital potential requires a combination of deep knowledge of mature, proven technologies and the identification of specific functional applications. Each company therefore needs to con­figure its own set of technological building blocks to address its organizational characteristics and priorities.
Consider the following classification that defines five categories of technological building blocks, which helps companies trace their operational needs to the relevant building block:
Cognitive. Use pattern recognition based on (big) data for automating tasks (e.g., big data/advanced analytics, bots, autonomous transport systems).
 
Connected. Incorporate machines, tasks, and so on, through the cross-functional use of information (e.g. collaborative, smart machines and robots).
 
Virtual. Leverage productivity by decoupling and transforming physical conditions into virtual spaces (e.g., cyber-physical systems, augmented reality).
 
Human-centered. Design new workplaces through the use of collective knowledge (e.g., collective intelligence, virtual workplace).
 
Value-add. Define new business models through the use of new core technologies (e.g., additive manufacturing/3D printing).
 
Building blocks are interdependent and therefore need a holistic and integrated design. They apply across the organization, in both direct and indirect business functions, with results sometimes even more impressive for indirect functions (e.g., through RPA, in production planning and finance). The company-specific set of building blocks comes from its value stream requirements and requires a profound understanding of each technology. As illustrated in Figure 1, combining building blocks with Lean core elements creates even more value.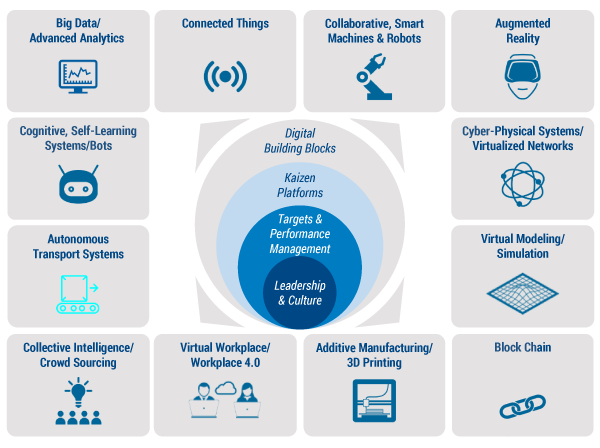 3. Which Pitfalls Must You Avoid?
Companies that simply introduce technological gadgets, without considering the value stream holistically, run the risk of failure. Digitalization may still happen, but only in silos, meaning that these companies will struggle to fully exploit their digital potential.
There are several reasons why digitalization needs to build on the three core elements of Lean manage­ment, which, in practice, are often ignored. These include:
Issues related to deficient value streams and/or poor data quality are seldom overcome by using sophisticated technologies.
 
Digitalization of processes with poor (data) quality risks makes existing shortcomings even worse.
 
The local, workplace-specific application of technological gadgets seldom leads to radical simplification at the enterprise level.
 
Technologies that, at first sight, seem easily applicable, may lack maturity, causing frustration for employees.
 
Radical simplification requires a holistic approach to value stream transformation.
 
[For more from the authors on this topic, see "Digital Lean Management: Unlock Potential and Achieve Higher Performance Levels."]