What Is the Adaptive Project Framework -- Really?
Posted January 31, 2011
| Technology |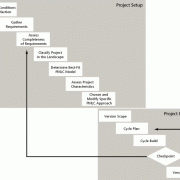 Abstract
The Adaptive Project Framework (APF) is an umbrella framework that encompasses all project management methodologies. APF has two distinct parts. In the project setup, a decision is made as to what is the best-fit management methodology and how it needs to be adapted for the project at hand.
Don't have a login?
Make one! It's free and gives you access to all Cutter research.