What's Up-and-Coming with Blockchain?
Posted February 5, 2020
| Industry | Technology |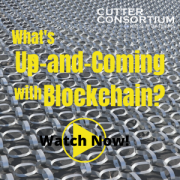 Thanks to a slew of current and emerging trends, blockchain is now viewed as a mature and accessible technology. Discover the new blockchain-based innovations — such as the growth of global blockchain consortiums, stablecoins, digital currencies, new service offerings from big tech giants, and decentralized finance (DeFi) platforms — in this Cutter Consortium webinar with Karolina Marzantowicz.
Don't have a login?
Make one! It's free and gives you access to all Cutter research.