What does architecture for digital transformation look like?
Is your organization undergoing a digital transformation initiative? Then you know how important architecture and technology is to building a sustainable foundation. Yet so much has changed in the past two or three years that it's hard to know what that should look like. The environment is now part of a larger business ecosystem. Scale, speed, and scope are greatly expanded. Business architecture is different. Information and data architecture are different. Application architecture is different. Technology architecture is different. Security architecture is different. And, how they all fit together is different, too.

During this two-day training session, Cutter Senior Consultant Mike Rosen will share the requirements for the new digital economy and describe the new "Digital Business Platform" necessary to meet those requirements and sustain success. You and your team will understand the overall architecture needed to create that platform and dive deep into the new business, information, application, technology, performance, and security architectures that comprise it. A detailed case study is woven throughout the course to illustrate the platform, architectural tradeoffs, and a wide variety of work products across all domains. Interactive exercises give you an opportunity to use the new techniques in real time.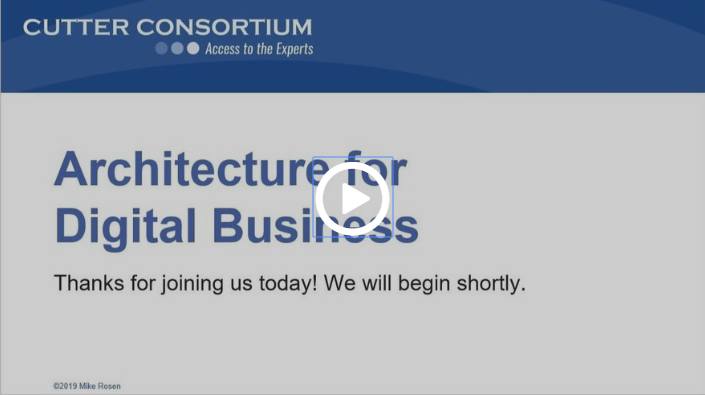 Discover why your organization should use a business architecture and value delivery–based approach to digital strategy. Watch the complete webinar now.
"Accommodating the speed of business change is the most important architectural quality we can build into our systems today. What does that mean? It means we make different tradeoffs than we made before. It means we trade off other things, such as complexity, for the ability to change quickly."

—Mike Rosen, Senior Consultant, Cutter Consortium
What your team will learn:
Why the digital economy requires a new platform and architecture
The overall architecture for the "Digital Business Platform"
How to use business architecture to evaluate and plan digital transformation opportunities and shape the platform requirements
The new information and data architecture to support cognitive intelligence and the 'sense, compute, act' paradigm and typical usage patterns that drive tradeoffs
Performance architecture for providing real time reporting on key enterprise business outcomes
Application architecture in the era of microservices, containers, APIs, DaaS, FaaS, PaaS
Cloud and hybrid technology architectures for a sustainable, scalable, reliable flexible business platform
Security architecture to ensure Digital Trust, including Intelligence, AI, and SECaaS
Course Requirements: This course is delivered at your organization. Attendees should have an understanding of enterprise architecture and a familiarity with a variety of architectural models and deliverables.
Course Outline:
What is Digital Transformation?

Digital Transformation Defined
Four Dimensions of Transformation

Business Model, Operating Model, Information, Technology

Sense, Compute, Act

The New Application Paradigm
Application Examples

Business and Operating Models and Strategies

Digital Business Models
Digital Operating Models
Evaluating Opportunities

Architecting the new Digital Business Platform

Intelligence, Experience, Application, Infrastructure
The new architecture framework
Transforming architecture

Business Architecture

BA overview
Articulating strategies
Capability framework

Case Study

Planning strategy to execution
Value based planning

Performance Architecture

Outcomes, Critical Success Factors, KPIs
Business Motivation Model
Performance framework

Information Architecture

Decision Centric Computing
Cognitive approaches
Data lakes
Data patterns

Application Architecture

Microservices, services, and APIs
CaaS, FaaS
PaaS
DevOps
Rationalization and Technical Debt

Technology Architecture

Hybrid solutions
Cloud transition strategies
Integration

Security Architecture

State of cybersecurity
Four disciplines of security management
Digital trust
GDPR
Blockchain

Conclusion
What's Next?
For more details on how Cutter can help your organization create an architecture for a digital business platform, complete the form below, send an email to your Cutter Account Executive, or call +1 781 648 8700.