Master the art of coaching high-performing agile teams.
Developing proficient Agile Coaches is not easy. Whether your organization is cultivating new coaches or promoting experienced Scrum Masters or Product Owners, they all must learn how to support multiple high-performing teams and teams of teams.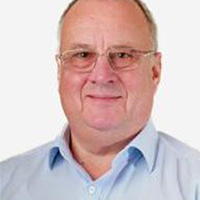 This program developed by Cutter Senior Consultant Jon Ward employs an apprenticeship style of blended learning that includes theory and practice to provide a clear, pragmatic understanding of the art of agile coaching over the course of fourteen weeks. Participants will gain a deep understanding of core agile conventions and benefit from the practical application of observation, analysis of team behavior and performance, and the implementation of a range of interventions based upon agile wisdom.
The structured curriculum includes a two-hour training module every week for fourteen weeks in which participants will work with their agile teams applying new and existing skills. Significant self-study elements accompany the interactive classroom sessions. This training is an in-depth capability development activity.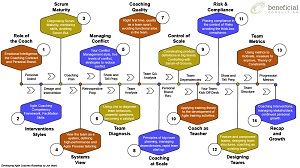 Developing Agile Coaches Roadmap
Course Feedback:
"Delighted to have been given a formal and structured way of learning with others."
"Now I understand that being a coach to help others learn and accomplish far more … is as much about changing oneself and my "normal approach" …. I wasn't expecting that."
"This course is definitely adding value to my knowledge without question …. It will help me to get a more positive interaction with my squad."
Course Description:
This is a framework agnostic capability development program designed to develop agile coaches. The course creates the foundational knowledge for coaching high-performing agile teams. It provides awareness, tools, and techniques necessary to analyze team performance and design appropriate intervention strategies.
This program explains that high-performing teams are coached and designed using agile wisdom from many sources. These same sources are used to evaluate team performance and improve productivity. Many coaches encounter resistance and the training explores how evidence-based techniques are used to increase the impact of coaching.
Learn how a coach may use experiments and guided retrospectives to increase the performance of teams, management and the broader organization.
Some organizations operate big teams. Sessions are included which identify the tools and techniques use to design and coach teams of teams, or agile programs.
Throughout this course, there is an emphasis placed on the use of agile wisdom to enhance skills and increase the impact of coaching. These pragmatic training sessions are supported by related self-study sessions and practice with teams.
The emphasis is to give new coaches or those who wish to become coaches practical tools and approaches to self analyze and continuously improve performance.
Following this course, participants will be able to:
Understand a four-level coaching impact model; self, team, program, and enterprise.
Act as an agile role model with the emotional intelligence required to support and develop single teams and teams of teams.
Prepare and coordinate big room planning events for teams of teams or agile programs.
Improve team performance using analysis techniques, intervention planning and reflective practice.
Create a safe environment for meaningful collaboration and healthy conflict resolution.
Advise teams on the use of advanced agile techniques using guided retrospectives.
Understand the approaches to Agile QA and coach teams in their application at a foundational level.
Use value streams to define and evaluate opportunities to increase efficiency and customer satisfaction.
What's Next?
For more information on how Cutter Consortium can help your organization improve the performance of your Agile coaches and their teams, complete the form below or contact your Cutter Account Executive, or call +1 781 648 8700.