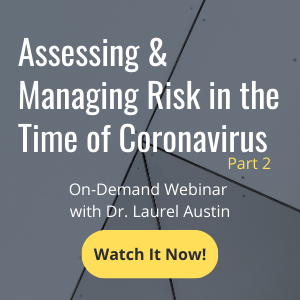 Cutter Expert and Ivey Business School Professor Laurel Austin is a globally recognized behavioural decision scientist. Her work is aimed at improving the risk management competency of individuals, organizations, and stakeholders whose decisions impact them, especially in high-risk situations.
Drawing on her expertise in behavioural science, decision science, and risk management methods, Dr. Austin advises and guides organizations in how people perceive and respond to risk and uncertainly in real world situations, helping them to more successfully prevent and mitigate risks.
Due to her expertise in risk-based decision making, Dr. Austin has had many opportunities to work closely on projects with and for government agencies in North America. These include the US Food and Drug Administration (FDA), US National Library of Medicine, Ontario Electrical Safety Authority, Public Health Agency of Canada, and others. She has worked on stakeholder engagement projects for various  companies and examined risk management decisions in South African mines.
Prior to her position at Ivey Business School, she was an Associate Professor of Strategic Decision Making and Risk Management at Copenhagen Business School (CBS). Previously, she was a management consultant at Andersen Consulting (now Accenture), and has worked at 3M and several research institutes. 
She is a member of Arthur D. Little's AMP open consulting network.
Dr. Austin is widely published and has presented her work at numerous international conferences, in pod-casts and webinars, and to government and private organizations. She is also an award-winning business case author. She can be reached at experts@cutter.com.
Learn about Prof. Austin's recent research!