Memberships

Cutter Consortium Membership — available in several different variations — opens up multiple avenues to interact with Cutter's experts, including inquiry sessions, strategy calls, and event attendance, plus access to Cutter's vast content library via a Research License. Choose the Membership that's right for your organization.
Research Licenses

With a license to the full suite or any combination of Cutter's practices, you'll have fully searchable online access to the practice deliverables, including a continuous flow of Executive Reports and Executive Summaries, Executive Updates, Advisors, and/or Cutter Business Technology Journal articles. Read a description of our research deliverables. Licenses are offered for our entire resource library or for any of our practices and/or Cutter Business Technology Journal.
Cutter Business Technology Journal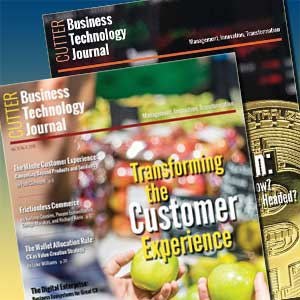 Cutter Business Technology Journal is internationally known for its excellence and objective, comprehensive coverage of the strategies, management techniques and technologies that will help your organization address and capitalize on the opportunities of this digital age. The Cutter Business Technology Journal Resource Center houses current and past issues dating back to 1998, as well as archives of the weekly Cutter Business Technology Advisor.
Newsletter

Cutter Edge
The Cutter Edge is a free biweekly e-mail service that gives you information and advice that you can put to work immediately for your organization. Issues are written by Cutter Consortium's journal authors and Senior Consultants.