Learn to assess risks and make better decisions under pressure.
COVID-19 is a crisis we all must manage. It presents new challenges and decisions every day, perhaps every hour. The outbreak is forcing executives, managers, policy makers, and the rank-and-file within organizations worldwide to quickly assess the risks they face and make business- and life-impacting decisions.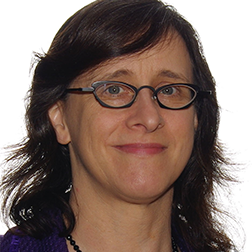 Cutter Consortium can help your organization make better decisions in these highly unpredictable times. Led by Cutter Consortium Senior Consultant Dr. Laurel Austin, these four virtual Executive Education sessions—each blending business school cases and lecture material with facilitated discussion—will prepare your executive leadership to make better decisions in times of crisis.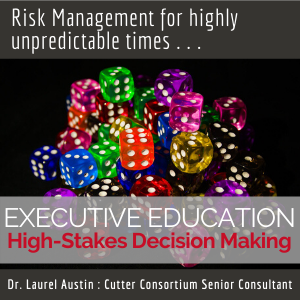 Improving Risk-Based Decision Making in Organizations
A case-based discussion regarding the role of leaders, organizational culture, and performance measurement systems on management and employee risk-based decisions and behavior. Participants will work in small groups to consider how their existing organizational context, given COVID-19, might facilitate or hinder timely risk-based decision-making at all levels.

Judgment Matters! Strategies for Crisis-Driven Decision Making
In this course, participants will individually complete an on-line business school simulation in advance of the session. Then, as a group, participants will de-brief about their experience and use this to learn about the unique challenges that arise when making fast decisions under intense pressure. The group will consider this reality with respect to their current context. They will devise strategies to avoid problems they have identified and improve their own decisions and risk management.

Scenario Planning for Dealing with Uncertainty in the Time of COVID-19
Leaders currently feel pressure to act quickly. Yet the future is highly uncertain; decision making today is especially hard. Using cases, we will discuss the importance of scenario planning to consider key uncertainties in the future, as a way of optimizing decisions we make today. The session will include applying scenario planning processes to participants' current situation.

Reducing Risky Behavior
This short session is aimed at managers and supervisors who are challenged with achieving employee, customer, or supplier compliance with new rules. Dr. Austin will discuss key factors that affect safety behaviors. She will then facilitate discussion to help you determine specific concerns in your organization and work with participants to develop practical ways to develop and implement interventions and communications.
Whether your goal is to help your line managers and supervisors implement safety rule compliance, to use scenario planning to consider key uncertainties in the future, or to meet challenges that arise when making fast decisions under intense pressure, Cutter Consortium can help you succeed.
What's Next?
To learn more about bringing these virtual Executive Education sessions to your organization, complete the form below, or send email to sales@cutter.com, or call us at +1 781 648 8700.