Best Practices for Ideation and Idea Management
Posted June 27, 2019
| Leadership |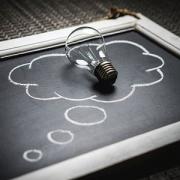 We are entering an era that will demand unheralded levels of creativity because companies will need to constantly innovate and reinvent themselves to succeed in their search for growth and margins. The portion of revenues from breakthrough innovation1 is expected to grow four times faster than that from incremental innovation, according to a recent Arthur D. Little (ADL) survey of large organizations worldwide. Consequently, there will be increasing pressure on companies to generate a steady stream of high-quality ideas to deliver top- and bottom-line growth. 
Typically, companies that face ideation challenges have developed a strategy and have the required resources in place. However, the problem is often with the processes and, sometimes, the organizational structure. The following four best practices can help address these challenges:
Launch "grand" challenges. Launch time-limited ideation challenges that align with company strategy. Each challenge should run for a limited duration (typically a few months) and be advertised to a range of internal and external sources of new ideas. This might involve a Web portal and announcements at research seminars, conferences, and other meetings to raise awareness. To get a valuable response, it is essential not only to ask the right questions but also to ensure that you frame and word them correctly. We describe one such approach in Case Study 1 in our recent Executive Update. Company A's approach catalyzes idea generation in one area and helps ensure that the submitted ideas align with strategy. However, it requires a significant cross-functional backroom effort to assess challenges, consider synergies, enrich ideas, and provide feedback to idea creators. Internal contributors should be asked to comment on submitted ideas as well as on the topic in general. A key benefit of this approach is gathering and aggregating insight from a diverse range of sources to build a holistic understanding of the issue.
 
Allocate resources for idea enrichment. Many tools for idea generation have been developed over the years and most include a selection stage. However, only relying on generating sufficient raw ideas and then hunting down the proverbial needle in a haystack is an inefficient approach. In contrast, top innovators should view the post-creation management of ideas as a distinct enrichment process in which complementary ideas can be combined or rejected ideas can shed light on those taken forward. Case Study 2 shows the implementation of a multistage process to gradually review, enrich, and select ideas — with each selection gate opening the door to increasing resources for investigation:
 
The first review uses qualitative, business-driven criteria and leads to a commitment of minimal resources for investigation into major showstoppers. This will typically involve a few person-hours of effort per project as the key at this stage is to generate far more potentially high-value options than there are resources to develop.
 
The second review uses a broader, cross-functional decision-making committee armed with better information, which potentially permits a more detailed exploration, typically with structured contributions from a multidisciplinary team to enrich and widen the solution space.
 
By the final stage, surviving projects can be plotted on portfolio diagrams to give a holistic view of all projects ready for prioritization. Project proposals are prepared, and the first pivotal "go/reject/hold" decisions are made. Projects are selected to balance the portfolio of activities and will be allocated significant resources as they move into the implementation stage.
 
In all of this, it is important to find an efficient solution because the workload can easily spiral out of control if good organization, reporting, and assessment mechanisms are not developed.
Engage senior leadership. As in so many aspects of innovation, senior engagement and support are key. Creating and enriching good ideas is one of the most challenging activities a company has to perform. Uncertainty and risk are high and often confidence is low, making it too easy to kill good ideas that could blossom. By way of example, one benchmark arranged monthly slots in a diary for ideation to secure VP attention. Another ensured senior business unit champions for every selected idea chartered for development. This provides visibility into the business units' R&D activity and a steadying hand on the tiller.
 
Use a different process for breakthrough ideas. You need to manage breakthrough ideas differently from incremental innovation. Breakthrough ideation requires the suspension of disbelief to prevent the rejection of imperfect ideas because they are not fully developed. In ADL's survey, 60% of participants recognized modifying the ideation process as important or very important, but 75% had either not or only partially implemented the following:
 
Modified selection criteria to manage increased risk and uncertainty and reduced knowledge
 
Increased stages of enrichment (including chartered knowledge or competence building projects if required)
 
Creation of separate organizational groups, if appropriate
 
Development of a "radical" mindset; that is, flexible and open to opportunity without imposing unnecessary constraints
 
Many companies are unsatisfied with their innovation efforts and part of this is undoubtedly due to challenges around ideation and idea management. The required contribution of breakthrough innovation is ever-increasing, adding to this pressure. However, it is clear that some companies have developed strong processes and are reaping the rewards. The best practices outlined in this Advisor can help.
Ask yourself:
Do you know your key strategic challenges? What is stopping you from launching a 100-day targeted challenge?
 
How well do you enrich ideas? Do you just pick and choose, or do you learn from the losers as well?
 
Does your senior leadership team have regular slots in the diary for ideation to support and engage in the ideation process? If not, why not?
 
Do you have separate processes for radical ideas?
 
The good news is that there is a clear set of processes and best practices that your company can implement to greatly enhance the management of ideation. These practices generally don't require extensive organizational change. What you do need, of course, is the will to change.
1 For more on breakthrough innovation, see "The Breakthrough Incubator: A Radical Model for Innovative New Business" and watch the Cutter Consortium webinar "How to Innovate Innovation: Creating New Stepout Businesses."
[For more from the authors on this topic, see "Breakthrough Innovation: Conquering Ideation Challenges."]