Business Architecture's Role in Re-Architecting Technology Solutions
Posted August 23, 2017 in
Business & Enterprise Architecture
---
Business architecture plays an essential role in reframing and re-envisioning technology solutions from a holistic perspective. This reframing includes understanding legacy-state IT architecture dependencies and shortcomings, along with opportunities for reuse, consolidation, or retirement. Even more important is the fact that business architecture provides a basis for defining the target-state IT architecture necessary to move the business toward a cognitive enterprise. 
Figure 1 depicts a business and IT transformation perspective where business strategy is viewed through value streams, capabilities, and information on the left, which in turn are used to frame target-state IT architecture on the right. Note that the sample IT architecture view on the right of Figure 1 depicts a service-oriented architecture, but business architecture and the related transformation perspective are not restricted to any given IT architecture target. To the contrary, business architecture may be used to frame business and IT transformations to any number and variety of traditional or cognitive com­puting architectures. The key point highlighted by Figure 1 is that business architecture provides the disambiguated business perspective necessary to clearly frame automation options, particularly as it relates to moving to a cognitive enterprise. Incorporating IT transformation, as described in the next sections, into the aforementioned cognitive computing scenarios provides more clarity on how organizations might move forward from a technology perspective.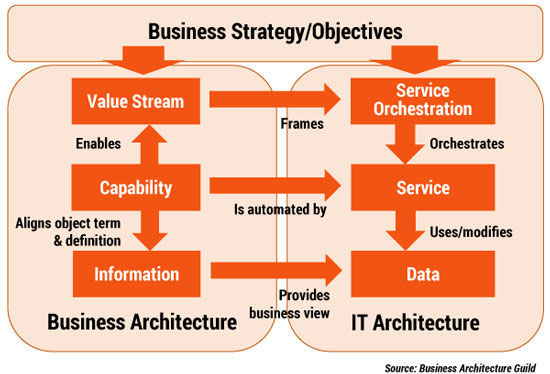 Automated Customer Preference Determination
This first scenario envisions that any customer of any product across any division or region is viewed in a singular, consistent fashion, along with preferences, profile, and related accounts, agreements, orders, and products. Many organizations rely on a cascading series of legacy batch systems, databases, and back-end heuristics to determine if one customer is the same as, related to, or different from another customer. The penalty for this lack of transparency can be steep but to continue this lack of transparency will derail efforts to move to a cognitive enterprise. Seeking a rationalized perspective on customer and related business objects from a technology perspective will likely need to incorporate a mix of cognitive computing technologies as well as back-end legacy system investments. Framing this strategy from an ecosystem-wide business architecture perspective is step one. 
Virtual Product Manager
Product planning is often done by multiple managers across multiple business units with little insight into other planned or deployed products, capability dependencies, and related automation deploy­ments. The virtual product manager in this second scenario would leverage business architecture to deliver rapid assessment of overlapping products across product lines and business units for proposed and existing products. The business architecture knowledgebase incorporates this perspective through a technique called "product mapping," which links products to enabling capabilities. A virtual product manager would require AI or similar technologies to examine a cross-section of capability, stakeholder, business unit, information, and other views and provide recommended product options and even cross-product consolidation and alignment. The virtual product manager would also include a rapid assessment of technology impacts based on business architecture–related impacts on IT architecture. 
Virtual Program Manager
The virtual program manager relies on the business architecture knowledge­base to assess business performance in relation to business objectives and related impacts and then propose initiatives to address these objectives. The business architecture impact analysis would enable a program manager to develop rapid what-if scenarios based on proposed programs and projects. Each scenario would include business and IT architecture impacts and could even generate initial milestone-related roadmaps. In this final scenario, the virtual program manager would leverage existing program management technologies but couple these tools with the intelligence of the business architecture knowledgebase to provide automated analysis of business ecosystem impacts of proposed programs. 
Other scenarios would likely require more invasive impacts on legacy IT systems. As a result, businesses considering a cognitive enterprise strategy should gear up to establish current-state transparency that enables business architecture–positioned impact assessments on IT architectures.
[For more from the author on this topic, see "Business Architecture's Role in Establishing the Cognitive Enterprise."]