A Cautiously Optimistic Outlook for LLMs, A "What Must Go Right" Mindset Imperative, and more!
Posted September 12, 2023
| |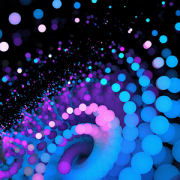 12 September 2023
Welcome to The Cutter Edge. In each free issue, you'll find research, insight, and advice crucial to helping you navigate the spectrum of challenges technology change brings.

A recent Cutter survey of 100 global companies shows interest in using LLMs for advanced NLP tasks, but concern about deployment in production environments linger ... more!

A mindset shift from what could go wrong to what must go right is imperative for senior leaders. Discover how questioning analytics, not excusing technological glitches, and promoting business acumen can help drive business success. More!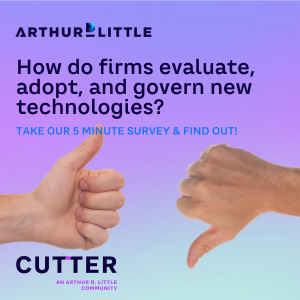 Help us identify how firms evaluate, adopt and govern new technologies and discover how your organization's strategies align with global practices. Take the survey!

Navigating leadership in today's disruptive business climate is a daunting task. Arm yourself with the guidance you need to harness your organization's full potential — sign up now for our bi-monthly Leadership Advisor!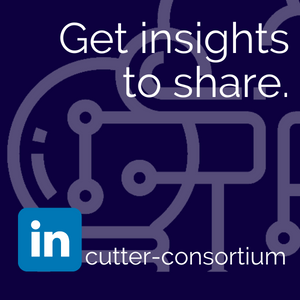 Join our vibrant community of forward-thinking professionals and stay ahead in the ever-evolving business landscape with our exclusive content posted weekly on LinkedIn — start following Cutter today!
The Cutter Edge is a free biweekly email service that gives you information and advice that you can put to work immediately for your organization. Issues are written by Cutter Consortium's Senior Consultants, Fellows and journal authors.