The Cutter Edge: Does an IT Quantum Leap Lie Ahead?
---
8 March 2016
Welcome to The Cutter Edge. In each free issue, you'll find research, insight, and advice crucial to helping you navigate the spectrum of challenges technology change brings.
 New from The Cutter Edge
by Alexandre Rodrigues, Senior Consultant, Cutter Consortium
Well beyond science fiction, quantum computers are just now becoming something the major players in the IT and aerospace worlds are seriously exploring, as they aim to become the innovators and leaders of the "IT quantum leap." More ...
---
 QA – Not Dead Yet!
by Maurizio Mancini, Senior Consultant, Cutter Consortium
As we begin another year and try to predict where quality assurance (QA) will go in the next few years, we need to reflect for a moment on where QA has been — especially with the dire predictions in recent years that QA in software engineering is dead. More ...
---
Tomorrow, March 9, Sheila Cox will lead you through the tricky human factors that could spell success (or failure) for your organization's business transformation. Register now!
---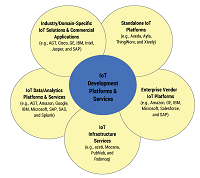 Cutter Consortium industry expert Curt Hall details the available IoT platforms on the market in this new report. Consider all the issues – use coupon code IOTAPPS50 to SAVE 50%. ORDER NOW! 
---

What are some of the social, technical and economic challenges in designing ethical algorithms? Share your insight with us for publication in an upcoming issue of Cutter IT Journal! Send us your article ideas!
---

Register for Summit 2016 before 3/31/16 and save $500 using code SUMMITEARLY. OR bring a colleague for free when you register for two seats using coupon code BOGO2016. Find out more!
---

If your organization is considering or adopting new technologies, please share your insight with us and receive a $50 credit to use in our bookstore. Take the survey!