---
Amplify — Calls for Papers
For more than 35 years, the monthly Amplify (formerly Cutter Business Technology Journal) has served as a forum for thought leaders in academia and industry to present innovative ideas and solutions to the critical issues facing business and technology professionals. Please consider sharing your insight with us! For questions or to submit an abstract/article proposal for any of the upcoming issues, please contact Christine Generali, Publisher, Amplify.

Open Call for Papers
---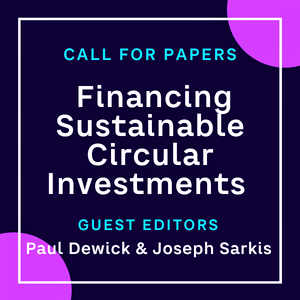 Guest Editors: Paul Dewick and Joseph Sarkis
Abstract Deadline: open
Article Deadline: September 22, 2023
 
The circular economy is a series of practices intended to provide circularity in product and materials usage, for example, by extending the use of products, using fewer resources to provide the same goods and services, and regenerating and restoring eco-systems. These practices are intended to not only contribute economically but environmentally, and toward broad sustainable development goals.
It is expected that investments in circular economy and sustainability initiatives by various investment institutions, organizations, and governments will be in trillions of dollars, with an expected multiplicity of returns. The returns will not only be economic, but socially and environmentally. Investment is meant to achieve 'win-win-win' returns across the triple-bottom line of sustainability initiatives.
But investing entities need to be responsible to their stakeholders. The government is responsible to their constituents, investing organizations are responsible to their investors, organizations are responsible to a broad variety of stakeholders including consumers, supply chain partners, and communities — going beyond just stockholders.
There are concerns associated with these circular economy and sustainability investments. For example, government agencies need to determine what mega-projects to invest in, but also they need to make this investment in an equitable and inclusive way. Investment portfolio managers need to determine which organizations are actually circular economy friendly organizations — a difficult proposition given that even the definition of circular economy is a contested and polysemous term. Organizations need to determine whether the hurdle rates and investment models to support their decisions are appropriate for the circular economy and sustainability.
An upcoming issue of Amplify, with Guest Editors Prof. Dr. Paul Dewick and Prof. Dr. Joseph Sarkis, seeks articles exploring how businesses and public organizations can manage investment in circular economy and sustainability challenges — with preference given to circular economy practices.
Article ideas may include, but are not limited, to the following topics on how businesses and public organizations can:
Monitor and measure investments in circular economy and sustainability, including facilities as well as the entirety of the supply chain, addressing how to overcome data limitations in assessing circular economy performance and risks
Reduce risk exposure and respond to circular economy and sustainability investments
Design strategies for circular economy investments and allocations
Participate in programs and certifications that encourage circular economy investment standards such as ISO and International Financial Reporting Standards (IFRS)
Consider the interactions and management of multiple levels and types of investments including investment funds, international cooperative projects, and organizational decisions.
Determine the technological and information systems needs to support circular economy and sustainability investment determination, allocation and dispersion, deployment, and monitoring.
Provide insights for managers and policymakers on overcoming the many challenges of circular economy and sustainability investments related to ESG.
Evaluate how circular economy investment priorities differ across countries and regions and their implications to organizations and supply chains.
Direct finance toward inclusive circular projects in different institutional contexts.
Optimize investment synergies in circular projects that also mitigate climate change and/or protect biodiversity.

FOR CONSIDERATION: Please send an abstract (~ 300 words or less of the proposed article scope and author(s) bio), to Paul Dewick, Joseph Sarkis, and Christine Generali. The final article length is typically 2,000-3,500 words plus graphics. More editorial guidelines.
---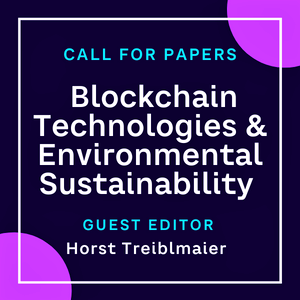 Guest Editor: Horst Treiblmaier
Abstract Deadline: June 30, 2023
Article Deadline: September 8, 2023
 
With the widespread and successful adoption of blockchain technologies in industries such as finance, supply chain management, healthcare, and tourism, there is growing concern for its potential impact on environmental sustainability. This topic is already widely discussed in the public media and previous findings in the literature are often contradictory.
An upcoming issue of Amplify, with Guest Editor Horst Treiblmaier, will provide specific insights on how blockchain technologies can help create more environmentally sustainable solutions. We invite original articles discussing real-world applications of blockchain technologies and their associated implications for sustainability, and particularly applications that have proven to have a positive environmental impact.
Article ideas may include, but are not limited, to the following:
Blockchain applications for natural resource and sustainable energy management
Decentralized systems for carbon accounting and emissions reduction
Blockchain-based traceability and transparency for sustainable supply chains
Smart contracts for environmental conservation and biodiversity protection
Examples of blockchain technology for sustainability in global operations
Blockchain-based incentives and reward systems for sustainable behaviors and practices
Decentralized waste management systems
Blockchain-enabled circular economy models for sustainable consumption and production
Blockchain-based water resource management and conservation applications and initiatives
Blockchain for sustainable agriculture and food systems
Blockchain for sustainable urban planning and transportation

---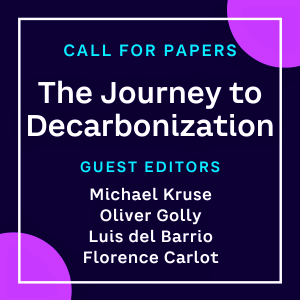 Guest Editors: Michael Kruse, Oliver Golly, Luis del Barrio, and Florence Carlot
Abstract Deadline: August 15, 2023
Article Deadline: September 30, 2023
Decarbonization is one of the most important trends currently impacting the energy sector and is fundamentally reshaping the strategic plans and future investments of entities, both public and private, across industries globally.
The transition to net zero is further complicated owing to carbon regulation, birth of new technologies, emergence of new market players and convergence of industry sectors, to name a few. The timing and speed of this transition varies by region and market, with multiple factors influencing both the direction and pace of the transition. It is imperative for companies across the energy & resources sector to embrace this transformation to be prepared for an increasingly decarbonized world.
An upcoming issue of Amplify, with Guest Editors Michael Kruse, Oliver Golly, Luis del Barrio, and Florence Carlot, will explore the progress being made towards a decarbonized future, the challenges ahead, and the impact on energy and utility players along the value chain.
Article ideas may include, but are not limited, to the following:
How does the pace of decarbonization look across the different regions/countries in the world? Which regions/countries are leaders and which ones are laggards? What factors contribute to the pace of decarbonization?
How does the race for decarbonization balance fostering a sense of security around energy supply?
What key challenges and primary obstacles are being encountered by the energy industry on its net-zero journey? What strategies can be employed to effectively address these challenges?
How are industry players enhancing their portfolio diversification and expediting the decarbonization process?
Which cutting-edge digital technologies are currently being embraced to enhance the customer experience and effectively advance the pursuit of net-zero objectives?
What types of future-proof platforms are currently under development to optimize energy efficiency and enhance user experiences?
What types of integrated offerings are being developed to effectively cater to the escalating customer demand for sustainable products and services?
How are entities (companies, public sector bodies, etc.) actively transitioning towards cleaner and more sustainable energy alternatives?
Which state-of-the-art technologies for carbon and methane capture, utilization, and storage are currently being employed?
How are companies bolstering their renewable energy capacity and expanding their investments in clean and sustainable energy sources?

FOR CONSIDERATION: Please send an abstract (~ 300 words or less of the proposed article scope and author(s) bio), to Michael Kruse, Oliver Golly, Luis del Barrio, Florence Carlot, Shakti Sharma, and Christine Generali. The final article length is typically 2,000-3,500 words plus graphics. More editorial guidelines.
---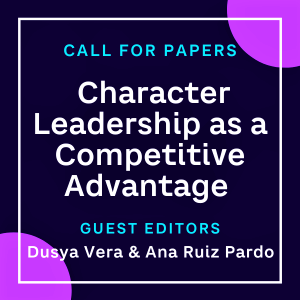 Guest Editors: Dusya Vera and Ana Ruiz Pardo
Abstract Deadline: Sept 15, 2023
Article Deadline: Nov 1, 2023
 
Historically, the success of a leader was primarily attributed to their competency in their role. But is this attribution accurate or sufficient? Examinations of past high profile leadership failures — such as the 2008 financial crisis, Boeing 737 Max, and the Volkswagen emissions scandal — have revealed that, while competency is a necessary component of leadership, it is clearly inadequate as a sole driver of success. This has resulted in an important shift towards cultivating 'who' leaders are, not just what they do — that is, elevating their character alongside their competence in the practice of leadership.
Simply put, character matters. Around the globe there is rising interest in investigating character's pivotal role in leadership: what it is, how to develop it, and how it affects organizations. Character matters not only at the individual level, but also at the group, organization, and societal level. Notably, character's role in leadership is not only important for sustained excellence within an individual or an organization, but also has implications for addressing the grand challenges described by the global Sustainability Development Goals (SDGs). Organizations from around the world have ongoing programs, practices, and strategies dedicated to generating meaningful outcomes on these objectives and are exploring how character plays an impactful role in responding to the SDGs at each (or multiple) levels.
An upcoming issue of Amplify, with Guest Editors Dusya Vera and Ana Ruiz Pardo, will explore the most recent initiatives, approaches, and advancements in answering these key questions centered around character.
Article ideas may include, but are not limited, to the following:
How does character elevate performance and enable success?
How does character impact a leader's response to and management of a crisis?
What is character and how is it developed?
What are character's 'roots' (e.g., philosophy, ethics, theology, psychology)?
What role does character play at the individual, group, organizational, and societal level?
How can character improve well-being?
What role does character play in HR practices such as recruitment, selection, and performance management?
How does character inform, shape, or support an organization's culture, purpose, and/or values?
How is character perceived/defined/assessed from the perspective of equity-deserving groups?
How does character advance the SDGs?
How does character give an organization a strategic advantage?
How does character enable employee activism?

FOR CONSIDERATION: Please send an abstract (~ 300 words or less of the proposed article scope and author(s) bio), to Dusya Vera, Ana Ruiz Pardo, and Christine Generali. The final article length is typically 2,000-3,500 words plus graphics. More editorial guidelines.
---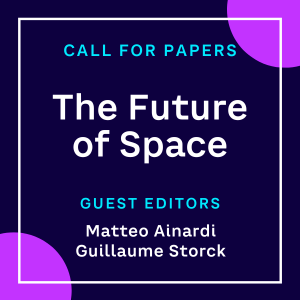 Guest Editors: Matteo Ainardi and Guillaume Storck
Abstract Deadline: October 27, 2023
Article Deadline: December 8, 2023
 
The space sector is experiencing rapid expansion, fueled by its ever-increasing significance in supporting activities on Earth and driven by humanity's willingness to continually push the boundaries of knowledge.
This surge of innovation is profoundly reshaping the landscape, prompting governmental and private organizations worldwide to reevaluate their ambitions, strategies, and engagements within the space sector. The future, however, remains uncertain. On one hand, the exciting potential breakthroughs in mega-constellations, space-based solar power, and in-space resources utilization hold the promise of significantly elevating the industry's value. On the other hand, geopolitical tensions and the non-responsible exploitation of resources both on Earth and in space have the potential to undermine the long-term sustainability and value of the industry.
An upcoming issue of Amplify with Guest Editors Matteo Ainardi and Guillaume Storck, invites articles exploring key challenges, the transformation of the space sector, and the potential evolutionary scenarios that lie ahead.
Article ideas may include, but are not limited, to the following topics:
What is the latest thinking surrounding the utilization of space technologies and infrastructures to bolster and enrich human activities?
What are the benefits, challenges, and obstacles associated with the introduction and adoption of these space technologies and infrastructures?
How are governmental space agencies undergoing strategic redefinition and transforming their methods of operation?
What are the emerging ecosystems and value chains in the space sector?
What pivotal enabling technologies (spanning optics, quantum physics, materials, propulsion, computing, and more) are poised to drive transformative change within the space ecosystem?
What innovative breakthroughs will have a profound impact on the industry?
What transformative evolution can we expect in space technologies and infrastructures once super-heavy lift reusable launchers like Starship become operational?
What types of thinking, strategies and initiatives are shaping the future of human and robotic space exploration?
What types of collaborative models are emerging among countries and between governmental and private entities in the context of space exploration?
What ecosystems will emerge as related to lunar exploration and activities?
How are pioneering space entrepreneurs successfully navigating the transition of their companies from mere start-ups or innovation projects to economically viable and commercially competitive solutions?
To what extent are various space players integrating sustainability principles into their operations and decision-making processes?
What is the present state of the art in the field? What are the foremost best practices, and what critical gaps demand attention and resolution?

FOR CONSIDERATION: Please send an abstract (~300 words or less of proposed article scope and author(s) bio) to Matteo Ainardi, Guillaume Storck, and Christine Generali. Articles should be accessible to non-specialized readers from the space industry and its adjacencies (investors, customers, etc.) Technical discussions should explain the value proposition and the broader implications of these technologies within the ecosystem. Final article length is typically 2,000-3,500 words plus graphics. More editorial guidelines.
---
These notes are intended to give authors some guidance and direction for articles submitted to Amplify for publication. Additional Cutter Consortium editorial guidelines can be found here.
Editorial: Amplify is professionally edited by our team who evaluates articles for content, substance, grammar, and style and provides valuable feedback so that authors can revise and improve their papers before publication. Publishing turnaround times are short. Articles are also peer-reviewed by the Guest Editor who is an expert in the field.
Audience: Publishing with Cutter affords the opportunity to present your insights and research to a global audience of corporate executives, top academics, and leaders in the public and NGO/IGO sectors that is highly interested in emerging developments across the spectrum of business and technology. Typical readers of Amplify range from CxOs and other business leaders to technology executives, program leaders, product managers, engineering managers and development executives, along with professors from universities worldwide. Most work in fairly large organizations: Fortune 500 organizations, universities, NGOs/IGOs, and government agencies. Industries span: finance and banking, education, energy, entertainment, food, healthcare, insurance, travel/transportation and manufacturing. 48% of our readership is outside of the US (15% from Canada, 14% Europe, 5% Australia/NZ, 14% elsewhere).
Length: The average article is 2,000-3,500 words, unless otherwise specified by the Group Publisher.
Article Format: Please send your article in word document format for editing purposes. Please do not send it as a PDF.
Editorial advice: Introductory-level, tutorial coverage of a topic is not very popular with our readership as they are senior-level people. Delete the introductory "fluff" and get to the meat of the topic. Assume you're writing for someone who has been in the industry for 10 to 20 years, is very busy, and very impatient. Assume he or she is mentally asking, while reading your article, "What's the point? What do I do with this information?" Apply the "so what?" test to everything you write.
General comments: We enjoy controversy and strong opinion; we like the fact that we can provide an alternative to standard "refereed" journals that sanitize articles. Because we don't carry any advertising, we can publish critical or negative comments about specific vendors or products. However, we obviously don't want to publish anything libelous or slanderous. Conversely, we don't publish self-serving commercial messages praising one's own product or service.
Style, grammar, and mechanics: For advice on good writing style, we recommend Merriam-Webster's Collegiate Dictionary, The Chicago Manual of Style, and The Elements of Style (Strunk and White). We are fanatics about the editorial quality of Amplify; anything you can do to help us in this regard will be greatly appreciated.
Graphics: Please keep your use of graphics to a minimum and submit original, editable files (not static images). Preferably, create your graphics in MS Office (Word, PowerPoint, Excel) and submit them as a separate editable Office file. If this is not possible, send files as high-res PNG, JPEG, PDF, or Adobe Illustrator CC/EPS. All images owned by another party may only be used with owner's permission. It is the author's responsibility to obtain permission. Copying images off the Internet without permission infringes on copyright and is unacceptable for publication.
All graphics (figures and tables) must include captions and a reference within the text; for example: "(see Figure 1)" or "Figure 1 illustrates…." Please note that we may remove graphics deemed unnecessary. Please be minimalistic in your design: limit colors, shadings, and typefaces. For additional questions, please contact Linda Dias (ldias@cutter.com).
Deadlines: The deadline you agree to when you commit to writing an article is a "hard" deadline; if you're going to be late, let us know and we'll negotiate a mutually agreeable delivery date. If the deadline passes without our having heard from you, we will assume that you have vanished and are unable to provide the article.
Editorial process: Once we get your article, we commence two parallel editorial passes: one for content (by the guest editor) and one for substance, grammar, and style (by a Cutter editor). Either or both of these initial editorial reviews may result in some questions or feedback from us. Most likely, we will send you a first draft "page proof" of your article for your review and approval.
Articles published in the journal must meet certain criteria relating to audience, technical content, and presentation. In the unlikely occurrence that, upon editorial review, your completed article does not meet with these requirements, Cutter Consortium reserves the right to decline the publishing of your article in the journal. Upon final acceptance, the article moves to additional copyediting and proofing stages, including layout. You will receive a PDF in layout form for final approval. We ask that this review take no more than 2-3 days.
Biographical sketch: At the end of each Amplify article, we like to include a brief (200 words or less) biographical sketch of each author along with email address of author(s). Click here for a sample. We also like to provide a color headshot. Please include a high-res color headshot (at least 300x300 pixels) of each author. We accept formal or casual photos that present authors in a professional manner. For samples, see our "Meet the Cutter Experts" section.
Copyrights: When you submit an article to us, you transfer copyright to Arthur D. Little and you warrant that you (or your employer) are the sole owner of the article, that it has not been previously published elsewhere, and that you have full power and authority to grant copyright to Arthur D. Little. You also warrant that it does not infringe on any copyright, violate any property rights, or contain scandalous, libelous, or unlawful matter.
Sourcing Content: When you do draw on the work of other authors and researchers, cite your sources accordingly in the relevant part of the text (using endnote numbers or hyperlinks). Given that Cutter Consortium has no relationships with vendors, we cannot permit the use of references, quotes, statistics, and figures from analyst/research firms with vendor ties (Gartner, MetaGroup, Yankee Group, Forrester, IDC, McKinsey, among others), as the data may be biased. If you feel information from one of these sources is critical to your article, please bring it to our attention early in the editorial process and we will be happy to discuss the issue. Note that Cutter Consortium conducts studies and surveys occasionally in its various practice areas. This data is available for use in your articles or reports. If there is specific data you are looking for to support an argument, please contact us for more information. We will be happy to send you any relevant data. Keep in mind that if your article uses too many sources, it is often an indicator that your piece summarizes research too heavily and lacks original thought. Remember our readers are interested in your insights; above all, speak in an expert voice.
Promotion: Once the issue is published, we will provide you with a PDF of your individual article to share with your colleagues or to post on your website, social networks, academic research bases, etc. We will also provide you with a link to the entire issue to share with your contacts, post on your website, blog, social networks, etc. We ask that once the issue is published, that you do not post the entire issue PDF on any websites or social media sites unless given express permission.
Author Compensation: We are pleased to offer Amplify authors a complimentary online subscription to Amplify upon signing Cutter's license agreement. In addition, we occasionally pull excerpts, along with the author's bio, to include in weekly email Advisors to clients and in our bi-monthly Cutter Edge email newsletter, which reaches another 8,000 readers, and we publish excerpts on the Cutter LinkedIn and Twitter feeds. If you plan to be speaking at industry conferences, we can arrange to make electronic copies of the issue in which you're published available for attendees of those speaking engagements — furthering your own promotional efforts.
Endnotes/References: When you draw on the work of other authors and researchers, please cite your sources. All sources/side commentary must be noted in relevant part of text (using endnote numbers) and listed in sequential order (i.e., order of appearance, not alphabetical order) at end of article in "References." All sources should include basic publishing information (i.e., author(s) name(s), complete title, publisher, date, and hyperlink and/or URL). Sources can be repeated but must be listed as a new endnote. The following are examples of various types of endnotes:
1DeMarco, Tom, and Timothy Lister. Waltzing with Bears: Managing Risk on Software Projects. Dorset House, 2003.
2In this survey, "innovation" refers to any new initiatives to introduce innovative, leading-edge, or unconventional software project development methods, processes, tools, or techniques.
3Hall, Curt. "AI & Machine Learning in the Enterprise, Part XI: Success of AI Application Development Efforts." Cutter Consortium Data Analytics & Digital Technologies, Executive Update, Vol. 19, No. 3, 2019.
4DeMarco and Lister (see 1).
5"About the Sustainability Practice." Cutter Consortium, accessed January 2021 .