Cutter Business Technology Journal — Calls for Papers
For nearly 30 years, the monthly Cutter Business Technology Journal has served as a forum for thought leaders in academia and industry to present innovative ideas and solutions to the critical issues facing business-technology professionals. Please consider sharing your insight with us!
---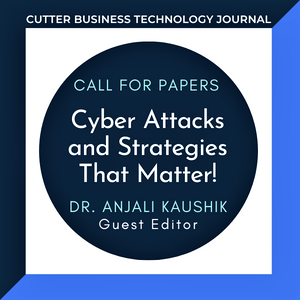 Guest Editor: Anjali Kaushik
Abstract Deadline: November 5 
Article Deadline: November 30, 2021
Although IT security spending is on the rise, the severity, frequency and volume of security incidents are also rising. Cyber crime is becoming more organized, sophisticated, dynamic and cheaper, while the fight against cyber crime is not keeping pace.
Organizations face loss of productivity, revenue and most of all customer trust when cyber attacks happen. Simultaneously, newer threats related to Cloud, mobile, social networking, embedded computing and IoT devices emerge daily. Threats are intertwined – meaning almost every threat comprises multiple components for attacking, infecting and compromising data. The vulnerability many be in technology, configuration, policy, process, or people! In fact, insider threats and the strategies to combat them need special attention as a large number of cases belong to this category. Prevention is critical, but more important is the ability to counter attacks and control damage. The growing dependence on technology makes it essential for businesses to tackle these threats and increase their cyber maturity.
While launching a cyber attack does not cost much, setting up an effective security system entails a substantial monetary investment. As well, while "absolute security" may not be possible, minimization of loss and damages is imperative when an attack occurs, as is keeping one step ahead of the intruders.
An upcoming issue of Cutter Business Technology Journal, with Guest Editor Anjali Kaushik, will address the question "Why are cyberattacks on the rise and what strategies/practices can organizations adopt to address/minimize the chance of these attacks?"
Article ideas may include, but are not limited, to the following:
The role of corporate leaders to enhance preparedness on cyber security
Back of Basics! The technical, operational, and managerial security practices that have always mattered.
Countering attacks from threat vectors on emerging technologies (IoT, IIoT, connected cyber systems, Cloud and Artificial Intelligence)
Trends in ransomware attacks; who is vulnerable; who paid/why; alternatives to paying ransom
Management of supply chain risks
Cyber security training that can enhance organizational preparedness for cyber attacks
Security with third party service providers
Mitigating the insider threat and behavioral security
Corporate perspectives on cyber security
How to remain updated and secure on cyber security
Managed cyber security practices
Cloud security practices
Covid-19 and remote work cyber security practices/risks
Policy intervention and the impact on IoT-enabled digital consumer ecosystems
Building public-private partnership for IoT security capacity building programs
Contingency planning and crisis communication in a cyber security disaster
Incident handling best practices
Mobile security practices
Critical infrastructure security
The ideal spending on cyber security from an organizations perspective
Frameworks on cyber security
Security tips and practices on passwords and emails
Privacy and data protection on global systems
Adequacy of global legal infrastructure on cyber security
FOR CONSIDERATION: Please send an abstract (~ 300 words or less of proposed article scope and author(s) bio) to Anjali Kaushik and Christine Generali. Final article length is typically 2,000-3,500 words plus graphics. More editorial guidelines.
---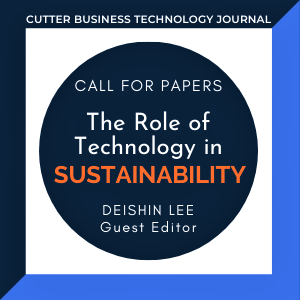 Guest Editor: Deishin Lee
Abstract Deadline: Open
Article Deadline: October 25, 2021
Sustainability is an important element in the mission of nearly every forward-looking organization; it can include both environmental and social dimensions. Technology can play a crucial role in helping these companies and industries move towards sustainability in a number of ways. Two of the most powerful are (1) technology-supported sustainability solutions that innovate business models, and (2) technological advances that improve the way resources are used. Guest Editor Deishin Lee invites you to contribute an article that explores how technology can facilitate sustainability solutions for companies and industries, for an upcoming issue of Cutter Business Technology Journal.
Article ideas may include, but are not limited, to: 
An overview or case study of a completely new technology-enabled business model that uses resources more effectively, and thus, more sustainably.
Sustainability solutions that use material or processing resources in a circular fashion, so that resources can be used in perpetuity.

How technology can enable the cross-industry coordination required for the circular economy.
How technology can play a role in enabling transparency — often the first step towards achieving the coordination necessary for circular supply chain activities, e.g., use of block chain to increase supply chain transparency.

Technological advances that improve the efficiency with which resources are used, e.g., innovations in engine technology for hybrid cars enable higher fuel efficiency. 
How can the environmental footprint of technology itself be mitigated? What innovative solutions address this problem?
FOR CONSIDERATION: Please send an abstract (~ 300 words or less of proposed article scope and author(s) bio) to Deishin Lee and Christine Generali. Final article length is typically 2,000-3,500 words plus graphics. More editorial guidelines.
---
These notes are intended to give authors some guidance and direction for articles submitted to Cutter Business Technology Journal (CBTJ) for publication.
Editorial: Cutter Business Technology Journal is professionally edited by our team who evaluates articles for content, substance, grammar, and style and provides valuable feedback so that authors can revise and improve their papers before publication. Publishing turnaround times are short. Articles are also peer-reviewed by the Guest Editor who is an expert in the field.
Audience: Publishing with Cutter affords the opportunity to present your insights and research to a global corporate audience that is highly interested in emerging developments. Typical readers of CBTJ range from CIOs, CTOs, business technology executives and vice presidents to directors, technology managers, project leaders, and very senior technical staff. Most work in fairly large organizations: Fortune 500 organizations, universities, NGOs/IGOs, and government agencies and spanning industries such as finance and banking, education, energy, entertainment, food, government, healthcare, insurance, and manufacturing. 48% of our readership is outside of the US (15% from Canada, 14% Europe, 5% Australia/NZ, 14% elsewhere).
Length: The average article in CBTJ is 2,000-3,500 words, unless otherwise specified by the Group Publisher.
Article Format: Please send your article in word document format for editing purposes. Please do not send it as a PDF.
Editorial advice: Introductory-level, tutorial coverage of a topic is not very popular with our readership because they're fairly senior-level people. Delete the introductory "fluff" and get to the meat of the topic. Assume you're writing for someone who has been in the industry for 10 to 20 years, is very busy, and very impatient. Assume he or she is mentally asking, while reading your article, "What's the point? What do I do with this information?" Apply the "so what?" test to everything you write.
General comments: We enjoy controversy and strong opinion; we like the fact that we can provide an alternative to standard "refereed" journals that sanitize articles. Because we don't carry any advertising, we can publish critical or negative comments about specific vendors or products. However, we obviously don't want to publish anything libelous or slanderous. Conversely, we don't publish self-serving commercial messages praising one's own product or service.
Style, grammar, and mechanics: For advice on good writing style, we recommend Merriam-Webster's Collegiate Dictionary, The Chicago Manual of Style, and The Elements of Style (Strunk and White). We are fanatics about the editorial quality of Cutter Business Technology Journal; anything you can do to help us in this regard will be greatly appreciated.
Graphics: Please keep your use of graphics to a minimum and submit original, editable files (not static images). Preferably, create your graphics in MS Office (Word, PowerPoint, Excel) and submit them as a separate editable Office file. If this is not possible, send files as high-res PNG, JPEG, PDF, or Adobe Illustrator CC/EPS. All images owned by another party may only be used with owner's permission. It is the author's responsibility to obtain permission. Copying images off the Internet without permission infringes on copyright and is unacceptable for publication.
All graphics (figures and tables) must include captions and a reference within the text; for example: "(see Figure 1)" or "Figure 1 illustrates…." Please note that we may remove graphics deemed unnecessary. Please be minimalistic in your design: limit colors, shadings, and typefaces. For additional questions, please contact Linda Dias (ldias@cutter.com).
Deadlines: The deadline you agree to when you commit to writing an article is a "hard" deadline; if you're going to be late, let us know and we'll negotiate a mutually agreeable delivery date. If the deadline passes without our having heard from you, we will assume that you have vanished and are unable to provide the article.
Editorial process: Once we get your article, we commence two parallel editorial passes: one for content (by the guest editor) and one for substance, grammar, and style (by a Cutter editor). Either or both of these initial editorial reviews may result in some questions or feedback from us. Most likely, we will send you a first draft "page proof" of your article for your review and approval. Articles published in the journal must meet certain criteria relating to audience, technical content, and presentation. In the unlikely occurrence that, upon editorial review, your completed article does not meet with these requirements, Cutter Consortium reserves the right to decline the publishing of your article in the journal. Upon final acceptance, the article moves to additional copyediting and proofing stages, including layout. You will receive a PDF in layout form for final approval. We ask that this review take no more than 2-3 days.
Biographical sketch: At the end of each CBTJ article, we like to include a brief (200 words or less) biographical sketch of each author along with email address of author(s). Click here for a sample. We also like to provide a color headshot. Please include a high-res color headshot (at least 300x300 pixels) of each author. We accept formal or casual photos that present authors in a professional manner. For samples, see our "Meet the Cutter Experts" section.
Copyrights: When you submit an article to us, you warrant that you (or your employer) are the sole owner of the article, that you have full power and authority to copyright it and publish it, and that it has not been previously published elsewhere. You also warrant that it does not infringe on any copyright, violate any property rights, or contain scandalous, libelous, or unlawful matter.
Sourcing Content: When you do draw on the work of other authors and researchers, cite your sources accordingly in the relevant part of the text (using endnote numbers or hyperlinks). Given that Cutter Consortium has no relationships with vendors, we cannot permit the use of references, quotes, statistics, and figures from analyst/research firms with vendor ties (Gartner, MetaGroup, Yankee Group, Forrester, IDC, McKinsey, among others), as the data may be biased. If you feel information from one of these sources is critical to your article, please bring it to our attention early in the editorial process and we will be happy to discuss the issue. Note that Cutter Consortium conducts studies and surveys occasionally in its various practice areas. This data is available for use in your articles or reports. If there is specific data you are looking for to support an argument, please contact us for more information. We will be happy to send you any relevant data. Keep in mind that if your article uses too many sources, it is often an indicator that your piece summarizes research too heavily and lacks original thought. Remember our readers are interested in your insights; above all, speak in an expert voice.
Promotion: We will, at your request, provide you with a link to share with your colleagues and contacts where they can register and receive a complimentary PDF download of your complete article. You can post this link on your website, blog, tweet it, promote on social networks, etc. It is only acceptable for your final, Cutter-edited article to be downloaded from the Cutter site, and it may not be posted anywhere else without express permission from Cutter*. You may also excerpt a passage or section from your article with attribution to CBTJ, and link it back to the full article on the Cutter website. We also ask that once the issue is published, that you do not post the entire issue PDF on any websites or social media sites out of respect for our paid clients/subscribers.
* CBTJ accepts no advertising, has no outside sponsorship, and is completely subscriber-supported. In order for us to continue providing this venue for debate to our authors, and your valuable insights to our subscribers, we thank you in advance for your respect of our copyright.
Author Compensation: We are pleased to offer Journal authors an online, one year complimentary subscription to Cutter Business Technology Journal upon the signing of the license agreement. In addition, we occasionally pull excerpts, along with the author's bio, to include in weekly E-mail Advisors to clients and in our bi-monthly Cutter Edge email newsletter, which reaches another 8,000 readers. We'd also be pleased to quote you, or passages from your article, in Cutter press releases. If you plan to be speaking at industry conferences, we can arrange to make copies of the issue in which you're published available for attendees of those speaking engagements -- furthering your own promotional efforts.
Reprints: If you would like an authorized reprint of your article for promotional purposes or to post on your website, contact Customer Service (Tel: +1 781 648 8700; E-mail: service@cutter.com) for more information. We can arrange for a reprint with the CBTJ cover, logo, and other details.
Endnotes/References: When you draw on the work of other authors and researchers, please cite your sources. All sources/side commentary must be noted in relevant part of text (using endnote numbers) and listed in sequential order (i.e., order of appearance, not alphabetical order) at end of article in "References." All sources should include basic publishing information (i.e., author(s) name(s), complete title, publisher, date, and hyperlink and/or URL). Sources can be repeated but must be listed as a new endnote. The following are examples of various types of endnotes
1DeMarco, Tom, and Timothy Lister. Waltzing with Bears: Managing Risk on Software Projects. Dorset House, 2003.
2In this survey, "innovation" refers to any new initiatives to introduce innovative, leading-edge, or unconventional software project development methods, processes, tools, or techniques.
3Hall, Curt. "AI & Machine Learning in the Enterprise, Part XI: Success of AI Application Development Efforts." Cutter Consortium Data Analytics & Digital Technologies, Executive Update, Vol. 19, No. 3, 2019.
4DeMarco and Lister (see 1).
5"About the Agile Practice." Cutter Consortium, accessed January 2021 .
---