Cutter Business Technology Journal — Calls for Papers
For nearly 30 years, the monthly Cutter Business Technology Journal has served as a forum for thought leaders in academia and industry to present innovative ideas and solutions to the critical issues facing business-technology professionals. Please consider sharing your insight with us for the following topics. For questions or to send article ideas, please contact Christine Generali at cgenerali[at]cutter[dot]com.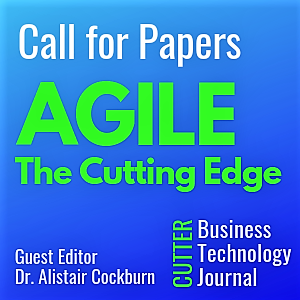 Call for Papers: The Cutting Edge of Agile
Guest Editor: Dr. Alistair Cockburn
Article Deadline: March 1, 2019
Agile was created in 2001 from experience with single-location, small-team, non-life-critical software systems. Since then, it has been applied to every kind of situation imaginable, widely exceeding those initial boundaries. What, then, is the current state of Agile? How has it morphed, where is it being applied, what are the new ideas?
An upcoming issue of Cutter Business Technology Journal, Guest Edited by Dr. Alistair Cockburn, one of the authors of the Agile Manifesto, will examine the leading edge of the agile world.
For this issue, we're seeking insights and perspectives from practitioners, academics, consultants, visionaries and industry experts that address one or more of the following topic areas:
Agile outside of tech
Agile inside the organization
Agile in product management
Re-examinations of agile foundations
Agile at scale
Agile in life-critical systems
Other topics not mentioned that show the cutting edge of agile.
ARTICLE IDEA SUBMISSION GUIDELINES. Please send an email to Alistair Cockburn and Christine Generali with your basic article idea. We wil send you Cutter's editorial guidelines, also listed below, and a reminder email as it gets closer to the March 1 article deadline. 
1ST DRAFT ARTICLE DUE MARCH 1. Please do not write the full article in your best, edited prose (any advanced agile person understands why this is). Instead, write a draft - enough that the editors and evaluators can understand the point you are making, and write just well enough that they can see the style of your writing. If your article is selected, that will be the time to make it beautiful, with the help of the editors. Articles are typically 2,000-3,500 words in length. Please send your article to Alistair Cockburn and Christine Generali by March 1, 2019. More Editorial Guidelines are listed below.
These notes are intended to give authors some guidance and direction for articles submitted to Cutter Business Technology Journal (CBTJ) for publication.
Length: The average article in CBTJ is 2,000-3,500 words, unless otherwise specified by the Group Publisher.
Article Format: Please send your article in word document format for editing purposes. Please do not send it as a PDF.
Editorial: Cutter Business Technology Journal is professionally edited by our team who evaluates articles for content, substance, grammar, and style and provides valuable feedback so that authors can revise and improve their papers before publication. Publishing turnaround times are short. Articles are also peer-reviewed by the Guest Editor who is an expert in the field.
Audience: Publishing with Cutter affords the opportunity to present your insights and research to a corporate audience that is highly interested in emerging developments. Typical readers of CBTJ range from CIOs, CTOs, business executives and vice presidents to directors, technology managers, project leaders, and very senior technical staff. Most work in fairly large organizations: Fortune 500 organizations, universities, large computer vendors, NGOs/IGOs, and government agencies. 48% of our readership is outside of the US (15% from Canada, 14% Europe, 5% Australia/NZ, 14% elsewhere).
Editorial advice: Introductory-level, tutorial coverage of a topic is not very popular with our readership because they're fairly senior people. Delete the introductory "fluff" and get to the meat of the topic. Assume you're writing for someone who has been in the industry for 10 to 20 years, is very busy, and very impatient. Assume he or she is mentally asking, while reading your article, "What's the point? What do I do with this information?" Apply the "So what?" test to everything you write.
General comments: We enjoy controversy and strong opinion; we like the fact that we can provide an alternative to standard "refereed" journals that sanitize articles. Because we don't carry any advertising, we can publish critical or negative comments about specific vendors or products. However, we obviously don't want to publish anything libelous or slanderous. Conversely, we don't publish self-serving commercial messages praising one's own product or service.
Style, grammar, and mechanics: For advice on good writing style, we recommend Merriam-Webster's Collegiate Dictionary, 11th ed., The Chicago Manual of Style, and The Elements of Style (Strunk and White). We are fanatics about the editorial quality of Cutter Business Technology Journal; anything you can do to help us in this regard will be greatly appreciated.
Graphics: If you have created graphics or line drawings, please let us know what format they are in and/or the package you used to create them. We can work with a number of formats, but please check with CBTJ's production editor, Linda Dias (ldias@cutter.com), before sending us numerous graphics files.
Deadlines: The deadline you agree to when you commit to writing an article is a "hard" deadline; if you're going to be late, let us know and we'll negotiate a mutually agreeable delivery date. If the deadline passes without our having heard from you, we will assume that you have vanished and are unable to provide the article.
Editorial process: Once we get your article, we commence two parallel editorial passes: one for content (by the guest editor) and one for substance, grammar, and style (by our managing editor, Cindy Swain). Either or both of these editorial reviews may result in some questions or feedback from us. In any case, we will send you a first draft "page proof" of your article for your review and approval. Articles published in the journal must meet certain criteria relating to audience, technical content, and presentation. In the unlikely occurrence that, upon editorial review, your completed article does not meet with these requirements, Cutter Consortium reserves the right to decline the publishing of your article in the journal.
Biographical sketch: At the end of each CBTJ article, we like to print a brief (200 words or less) biographical sketch of each author. We also like to provide the author's e-mail address so that interested readers can contact you. If you don't have a bio written up and would like to see a sample, please contact Karen.
Copyrights: When you submit an article to us, you warrant that you (or your employer) are the sole owner of the article, that you have full power and authority to copyright it and publish it, and that it has not been previously published elsewhere. You also warrant that it does not infringe on any copyright, violate any property rights, or contain scandalous, libelous, or unlawful matter. If you request, we will grant you, or your designee, copyright of the article providing you extend first-time publishing privileges, in print and electronic formats to Cutter Information LLC; otherwise, the article will be copyrighted by Cutter Information LLC.
Promotion: We will, at your request, provide you with a link to share with your colleagues and contacts where they can register and receive a complimentary PDF download of your complete article. You can post this link on your website, blog, tweet it, promote on social networks, etc. It is only acceptable for your final, Cutter-edited article to be downloaded from the Cutter site, and it may not be posted anywhere else without express permission from Cutter*. You may also excerpt a passage or section from your article with attribution to CBTJ, and link it back to the full article on the Cutter website.
Author Compensation: We are pleased to offer Journal authors an online, one year complimentary subscription to Cutter Business Technology Journal upon the signing of the license agreement. In addition, we occasionally pull excerpts, along with the author's bio, to include in our weekly Cutter Edge email newsletter, which reaches another 12,000 readers. We'd also be pleased to quote you, or passages from your article, in Cutter press releases. If you plan to be speaking at industry conferences, we can arrange to make copies of the issue in which you're published available for attendees of those speaking engagements -- furthering your own promotional efforts.
Reprints: If you would like an authorized reprint of your article for promotional purposes or to post on your website, contact Customer Service (Tel: +1 781 648 8700; E-mail: service@cutter.com) for more information. We can arrange for a reprint with the CBTJ cover, logo, and other details.
* CBTJ accepts no advertising, has no outside sponsorship, and is completely subscriber-supported. In order for us to continue providing this venue for debate to our authors, and your valuable insights to our subscribers, we thank you in advance for your respect of our copyright.
Endnotes: While CBTJ doesn't aspire to be an academic literature review, we do want to give credit where credit is due. When you draw on the work of other authors and researchers, please cite your sources. These should be noted in the relevant part of the text, listed in sequential order (i.e., in the order of appearance, not alphabetical order) at the end, and use the following citation formats:
Books:

DeMarco, Tom, and Timothy Lister. Waltzing with Bears: Managing Risk on Software Projects. Dorset House, 2003.
Highsmith, Jim. Agile Project Management. Addison-Wesley, 2004.

Articles.

Constantine, Larry. "Peer Reviews for Usability." Cutter IT Journal, Vol. 18, No. 1, January 2005, pp. 5-13.
Lindstrom, Lowell, and Kent Beck. "It Gets Worse Before It Gets Better: Changing to XP." Cutter IT Journal, Vol. 16, No. 2, February 2003, pp. 12-17.