Cutter Business Technology Journal — Calls for Papers
For nearly 30 years, the monthly Cutter Business Technology Journal has served as a forum for thought leaders in academia and industry to present innovative ideas and solutions to the critical issues facing business-technology professionals. Please consider sharing your insight with us!
---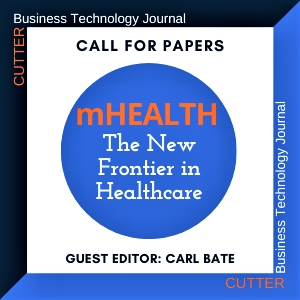 Guest Editor: Carl Bate 
Abstract Deadline: July 17, 2020
Article Deadline: August 20, 2020
As the COVID-19 pandemic encompasses humankind on a global scale, the demand for access to remote healthcare services has reached unparalleled levels. Telehealth has made it possible for doctors to communicate and administer healthcare services to patients remotely while mitigating exposure to the virus. The success of telehealth services during the pandemic has not only emphasized its integral role in the healthcare system, but it has underscored the need for ongoing advances in healthcare innovation to further improve remote patient-to-doctor accessibility, for present use and future crises.
Which brings us to mHealth. mHealth, a subset of telehealth, uses mobile technology and wireless devices to help achieve health care goals both remotely, for example via Remote Patient Monitoring, and within hospital settings.
An upcoming issue of Cutter Business Technology Journal, with Guest Editor Carl Bate, will explore how mHealth can help facilitate the remote delivery of healthcare services, now and in the future. It will also identify the opportunities, challenges, new advances and applications of mHealth innovations.
Articles ideas may include, but are not limited, to the following:
Building on sand? EMR/EHR data is known to be of variable quality. How can mHealth help, but where might it make things worse?
mData: Innovators like doc.ai are putting patients in control of their data. What is the future for medical data in the mHealth world? What are the new risks and opportunities?
Adoption: Physicians face increasing pressures of cognitive workloads. How can mHealth help?
Reimbursement: While the health economics may look compelling, who pays for mHealth, and why?
How can innovations in the AI-field be used in mHealth, and where are we already seeing medical value?
IoT -> IoM: From Internet of things to Internet of Mobile devices, what are the key mHealth innovations turning the phone into a medtech device? E.g. binah.ai, medpic, VisualDx et al
Data Liquidity: Even though there are data standards (HL7, FHIR, IC10), these aren't uniformly applied. What are new challenges and opportunities with mHealth for data integration and sharing across medical systems?
Clinical Trials: What innovations can mHealth bring to trials, who are the trailblazers? E.g. Neurocast et al
More Dr Google? Empowered and engaged patients can lead to better health outcomes. But this can also create tension in the patient-physician relationship. What does this mean for mHealth?
ARTICLE IDEAS. Please send article ideas (short paragraph/outline format) to Carl Bate and Christine Generali. Accepted articles due August 20, 2020. Final article length is typically 2,000-3,500 words plus graphics. More editorial guidelines.
---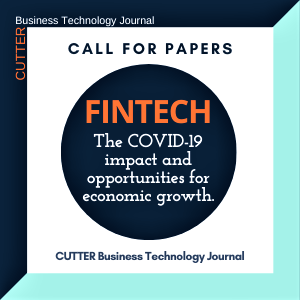 Guest Editor: Phil O'Reilly and Kevin O'Leary
Abstract Deadline: August 15, 2020
Article Deadline: October 1, 2020
The current pandemic has accelerated a shift toward digital transformation and underscored the necessity of having a robust digital infrastructure in place to support operations and a digital platform and business model to serve customers. Many of those who fared well in the financial services industry were already equipped with innovative, digital business models to support their customer's financial needs. An upcoming issue of Cutter Business Technology Journal will explore the impact of COVID-19 on financial institutions, and the opportunities afforded by Fintech to influence economic growth.
Articles ideas may include, but are not limited, to the following:
How are Fintech businesses thriving over traditional financial institutions during this pandemic?
What digital platforms are playing a critical role in the ability of financial institutions to navigate COVID-19, continue business operations, and sustain growth?
What role can digital technologies play in helping financial organizations survive and thrive in the new normal?
What new financial strategies and operating models will enable businesses to respond to the digital disruption of COVID-disrupted traditional business models?
What lessons can be learned from this crisis and applied to future financial business models/operating practices? How can business resilience be improved?
What new Fintech innovations were launched successfully during the COVID-19 crisis?
What new Fintech technology research/innovations are in the works?
What challenges were met by financial institutions during the pandemic and how were they addressed?
How did COVID-19 impact Fintech businesses/traditional banking?
What have the unique impacts of COVID-19 been on financial services in developing nations and how can they accelerate digitization to be better prepared in the future?
How did COVID-19 impact digital payments; remittance services?
How were payment and settlement systems disrupted?
How can SMEs recover with the use of fintech technologies?
What operational risks were encountered during the pandemic such as the unavailability of critical staff, system capacity constraints, cybersecurity risk, FX volatility?
How can a digital workplace be created?
What new Fintech partnerships can we expect to see? What competitive advantage will they gain from these new partnerships?
What will the future of consumer banking look like?
How can Fintech help the gig economy and the underbanked?
ARTICLE IDEAS. Please send article ideas (short paragraph/outline format) to Philip O'Reilly, Kevin O'Leary and Christine Generali. Accepted articles due October 1, 2020. Final article length is typically 2,000-3,500 words plus graphics. More editorial guidelines.
---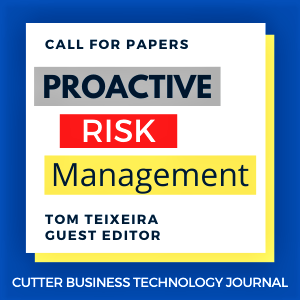 Guest Editor: Tom Teixeira 
Abstract Deadline: closed
Article Deadline: July 20, 2020
COVID-19 presents novel challenges to executives across the globe, testing corporate risk/crisis management and business continuity plans under pressure like never before.
Though some performed well, countless governments, organizations and companies found themselves ill-prepared to address the scale of these challenges. This was due in large part to their reliance on established, static risk management approaches that have proven to be ineffective at scale. These approaches, being considered more and more as outdated by senior management, have hindered decision-making, slowed delegation, and held up implementation of appropriate response measures.
Though we are still in the midst of this crisis, it provides us with an opportunity to rethink our risk management strategies and to build our resilience for the future. Taking a proactive risk management approach empowers leaders with the ability to anticipate, prepare for, and respond to emerging risks in a shifting global business climate.
What does proactive risk management look like?
Shifts risk management thinking from a reactive "measure and manage" approach to an anticipatory "sense and respond" approach
Employs predictive risk identification techniques such as horizon scanning and key risk indicator (KRI) monitoring to detect, predict, and monitor emerging risks
Proactively manages high-velocity emerging risks through executive oversight and a disruptive management team
Utilizes predictive data analytics supported by AI/ML technologies to anticipate emerging risks and create a forward-thinking environment
Leverages new risk models and approaches that can be continually updated to enable accurate understanding and rapid response to a changing business landscape
Stress-tests crisis management plans
Ensures a culture of solid, empathetic leadership and communication
An upcoming issue of Cutter Business Technology Journal with Guest Editor Tom Teixeira will address the strategies, processes, tools, technologies, and culture necessary to ensure a proactive approach to risk/crisis management and business continuity planning.
We welcome your insight on any, or a combination of, the following discussion points:
What best practices can help you identify, prioritize, and respond to emerging risks?
What are some new/updated risk management models?
What tools/strategies will get businesses up and running sooner?
How can you ensure the continuity of business operations during a crisis?
What are the latest trends in risk-based thinking? What technologies enable this thinking?
What technologies can be used to better predict/manage risk?
How can leaders be better prepared for the next crisis?
What leadership style is necessary to sense and respond to emerging risks?
How can the concept of risk velocity be factored into the overall risk assessment and monitoring process?
How can a disruptive management approach be used to proactively manage risk?
What metrics are needed to forecast risk?
What does the new norm look like?
What lessons can be learned from a crisis and applied to future business models/operating practices? How can business resilience be improved?
How can you prepare and adjust for business fluctuations/disruptions?
What forecasting tools are needed to anticipate changes in the business landscape?
What kind of governance is necessary to efficiently manage a crisis?
ARTICLE IDEAS. Please send article ideas (short paragraph/outline format) to Tom Teixeira and Christine Generali (teixeira.tom@adlittle.com and cgenerali@cutter.com). Accepted articles due June 15, 2020. Final article length is typically 2,000-3,500 words plus graphics. More editorial guidelines.
---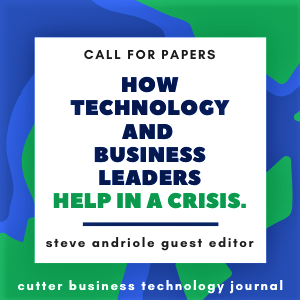 Guest Editor: Steve Andriole 
Abstract Deadline: closed
Article Deadline: May 25, 2020
The COVID-19 pandemic has thrown our world into a state of unprecedented turmoil. Governments have insisted that businesses instruct their employees to work from home, hoping to contain the virus while triggering as little business disruption as possible. Predictably, this "new normal" has brought unique adjustment challenges for employers and employees alike.
We technologists and business leaders must look into our toolboxes for help. What strategies and/or technologies can we adopt to conduct productive distributed team meetings or to facilitate online learning? How can businesses ride out a pandemic with minimal cost cutting measures? How can we enable and maintain positive customer relationships?
An upcoming issue of Cutter Business Technology Journal with Guest Editor Dr. Steve Andriole, a Cutter Consortium Fellow and Professor of Business Technology at Villanova University, will address the priorities technology and business leaders should focus on to conscientiously manage the impact of a pandemic on their business and workforce. We welcome your insight on any, or a combination of, the following discussion points.
What strategies, practices, collaboration tools, and technologies can be leveraged during a crisis to:
Transition your workforce successfully from on-site to remote environments
Effectively manage employees and distributed teams remotely
Inspire employees to stay motivated, engaged, and productive; strengthen company culture; ensure transparency and open communications
Ensure the provision of IT/infrastructure support
Ensure compliance with data privacy/security practices with an increase in remote platform/device usage
Other article ideas might include:
How can relationships, connections, and communications with customers be maintained? How can you provide a consistent customer experience during a crisis?
How can you safeguard the continuity of business operations during a crisis?
How can you prepare and adjust for business fluctuations/disruptions?
How can costs be optimized and business valued delivered?
If necessary, what cost saving/reduction measures can be implemented with minimal disruption?
What creative measures can be taken to avoid layoffs (to preserve company morale and ensure sufficient resources exist to resume operations post-crisis)?
How might business continuity plans be modified to ensure preparation for the next crisis?
What lessons can be learned from a crisis and applied to future business models/operating practices? How can you increase your business resilience?
ARTICLE IDEAS. Please send article ideas (short paragraph/outline format) to Steve Andriole and Christine Generali (steve@andriole.com and cgenerali@cutter.com). Accepted articles due May 15, 2020. Final article length is typically 2,000-3,500 words plus graphics. More editorial guidelines.
---
These notes are intended to give authors some guidance and direction for articles submitted to Cutter Business Technology Journal (CBTJ) for publication.
Length: The average article in CBTJ is 2,000-3,500 words, unless otherwise specified by the Group Publisher.
Article Format: Please send your article in word document format for editing purposes. Please do not send it as a PDF.
Editorial: Cutter Business Technology Journal is professionally edited by our team who evaluates articles for content, substance, grammar, and style and provides valuable feedback so that authors can revise and improve their papers before publication. Publishing turnaround times are short. Articles are also peer-reviewed by the Guest Editor who is an expert in the field.
Audience: Publishing with Cutter affords the opportunity to present your insights and research to a global corporate audience that is highly interested in emerging developments. Typical readers of CBTJ range from CIOs, CTOs, business technology executives and vice presidents to directors, technology managers, project leaders, and very senior technical staff. Most work in fairly large organizations: Fortune 500 organizations, universities, large computer vendors, NGOs/IGOs, and government agencies and spanning industries such as finance and banking, education, energy, entertainment, food, government, healthcare, insurance, and manufacturing. 48% of our readership is outside of the US (15% from Canada, 14% Europe, 5% Australia/NZ, 14% elsewhere).
Editorial advice: Introductory-level, tutorial coverage of a topic is not very popular with our readership because they're fairly senior people. Delete the introductory "fluff" and get to the meat of the topic. Assume you're writing for someone who has been in the industry for 10 to 20 years, is very busy, and very impatient. Assume he or she is mentally asking, while reading your article, "What's the point? What do I do with this information?" Apply the "So what?" test to everything you write.
General comments: We enjoy controversy and strong opinion; we like the fact that we can provide an alternative to standard "refereed" journals that sanitize articles. Because we don't carry any advertising, we can publish critical or negative comments about specific vendors or products. However, we obviously don't want to publish anything libelous or slanderous. Conversely, we don't publish self-serving commercial messages praising one's own product or service.
Style, grammar, and mechanics: For advice on good writing style, we recommend Merriam-Webster's Collegiate Dictionary, 11th ed., The Chicago Manual of Style, and The Elements of Style (Strunk and White). We are fanatics about the editorial quality of Cutter Business Technology Journal; anything you can do to help us in this regard will be greatly appreciated.
Graphics: Please keep your use of graphics to a minimum and submit original, editable files (not static images). Preferred formats include MS Excel for graphs, MS Word for tables (1-2 pages), and MS PowerPoint/MS Word/Adobe Illustrator (v17 or less) for vector art. Please send all other types as high-res JPEG, PDF, PNG, or TIFF. All images owned by another party may only be used with owner's permission. It is the author's responsibility to obtain permission. Copying images off the Internet without permission infringes on copyright and is unacceptable for publication.
All graphics (figures and tables) must include captions and a reference within the text; for example, "(see Figure 1)" or "Figure 1 illustrates…." Please note that we may remove graphics deemed unnecessary. Please be minimalistic in your design: limit colors, shadings, and typefaces. For additional questions, please contact Linda Dias (ldias@cutter.com).
Deadlines: The deadline you agree to when you commit to writing an article is a "hard" deadline; if you're going to be late, let us know and we'll negotiate a mutually agreeable delivery date. If the deadline passes without our having heard from you, we will assume that you have vanished and are unable to provide the article.
Editorial process: Once we get your article, we commence two parallel editorial passes: one for content (by the guest editor) and one for substance, grammar, and style (by our managing editor, Cindy Swain (cswain@cutter.com). Either or both of these editorial reviews may result in some questions or feedback from us. In any case, we will send you a first draft "page proof" of your article for your review and approval. Articles published in the journal must meet certain criteria relating to audience, technical content, and presentation. In the unlikely occurrence that, upon editorial review, your completed article does not meet with these requirements, Cutter Consortium reserves the right to decline the publishing of your article in the journal.
Biographical sketch: At the end of each CBTJ article, we like to include a brief (200 words or less) biographical sketch of each author along with email address of author(s). Click here for a sample. We also like to provide a color headshot. Please include a high-res color headshot (at least 300x300 pixels in size) of each author. We accept formal or casual photos that present authors in a professional manner. For samples, see the "Meet the Cutter Experts" section at https://www.cutter.com/our-experts.
Copyrights: When you submit an article to us, you warrant that you (or your employer) are the sole owner of the article, that you have full power and authority to copyright it and publish it, and that it has not been previously published elsewhere. You also warrant that it does not infringe on any copyright, violate any property rights, or contain scandalous, libelous, or unlawful matter.
Sourcing Content: When you do draw on the work of other authors and researchers, cite your sources accordingly in the relevant part of the text (using endnote numbers or hyperlinks). Given that Cutter Consortium has no relationships with vendors, we cannot permit the use of references, quotes, statistics, and figures from analyst/research firms with vendor ties (Gartner, MetaGroup, Yankee Group, Forrester, IDC, McKinsey, among others), as the data may be biased. If you feel information from one of these sources is critical to your article, please bring it to our attention early in the editorial process and we will be happy to discuss the issue. Note that Cutter Consortium conducts studies and surveys occasionally in its various practice areas. This data is available for use in your articles or reports. If there is specific data you are looking for to support an argument, please contact us for more information. We will be happy to send you any relevant data.
Keep in mind that if your article uses too many sources, it is often an indicator that your piece summarizes research too heavily and lacks original thought. Remember our readers are interested in your insights; above all, speak in an expert voice.
Promotion: We will, at your request, provide you with a link to share with your colleagues and contacts where they can register and receive a complimentary PDF download of your complete article. You can post this link on your website, blog, tweet it, promote on social networks, etc. It is only acceptable for your final, Cutter-edited article to be downloaded from the Cutter site, and it may not be posted anywhere else without express permission from Cutter*. You may also excerpt a passage or section from your article with attribution to CBTJ, and link it back to the full article on the Cutter website. We also ask that once the issue is published, that you do not post the entire issue PDF on any websites or social media sites out of respect for our paid clients/subscribers.
* CBTJ accepts no advertising, has no outside sponsorship, and is completely subscriber-supported. In order for us to continue providing this venue for debate to our authors, and your valuable insights to our subscribers, we thank you in advance for your respect of our copyright.
Author Compensation: We are pleased to offer Journal authors an online, one year complimentary subscription to Cutter Business Technology Journal upon the signing of the license agreement. In addition, we occasionally pull excerpts, along with the author's bio, to include in our weekly Cutter Edge email newsletter, which reaches another 12,000 readers. We'd also be pleased to quote you, or passages from your article, in Cutter press releases. If you plan to be speaking at industry conferences, we can arrange to make copies of the issue in which you're published available for attendees of those speaking engagements -- furthering your own promotional efforts.
Reprints: If you would like an authorized reprint of your article for promotional purposes or to post on your website, contact Customer Service (Tel: +1 781 648 8700; E-mail: service@cutter.com) for more information. We can arrange for a reprint with the CBTJ cover, logo, and other details.
Endnotes/References: When you draw on the work of other authors and researchers, please cite your sources. All sources/side commentary must be noted in relevant part of text (using endnote numbers) and listed in sequential order (i.e., order of appearance, not alphabetical order) at end of article in "Endnotes." All sources should include basic publishing information (i.e., author(s) name(s), complete title, publisher, date, and hyperlink and/or URL). Sources can be repeated but must be listed as a new endnote. The following are examples of various types of endnotes:
1DeMarco, Tom, and Timothy Lister. Waltzing with Bears: Managing Risk on Software Projects. Dorset House, 2003.
2In this survey, "innovation" refers to any new initiatives to introduce innovative, leading-edge, or unconventional software project development methods, processes, tools, or techniques.
3Hall, Curt. "AI & Machine Learning in the Enterprise, Part XI: Success of AI Application Development Efforts." Cutter Consortium Data Analytics & Digital Technologies, Executive Update, Vol. 19, No. 3, 2019.
4DeMarco and Lister (see 1).
   5"Smart grid." Wikipedia.
---
| | | |
| --- | --- | --- |
| Month | Topic | Guest Editor |
| October 2020 | Fintech: COVID 19 Impact and Opportunities for Economic Growth | Phil O'Reilly and Kevin O'Leary |
| September 2020 | mHealth: The New Frontier in Healthcare | Carl Bate |
| August 2020 | Proactive Risk Management | Tom Teixeira |
| July 2020 | How Technology and Business Leaders Help in a Crisis | Steve Andriole |
| June 2020 | Beyond Automation: AI, ML, RPA | San Murugesan |
| May 2020 | Trust: Is IT the Problem or the Solution? | Claude Baudoin |
| April 2020 | Disrupting Agile | Hillel Glazer |
| March 2020 | Want Happy Customers? Make Your Employees Happy! | Robert Scott |
| February 2020 | Digital Shift | Volker Pfirsching |
| January 2020 | Business Technology Trends and Predictions: 2020 | Cutter Consortium |
| December 2019 | Data Architecture is Really About People  | Martijn ten Nepal |
| November 2019 | Blockchain: New Industry Trends, Developments, Use Cases | Karolina Marzantowicz |
| October 2019 | Blockchain: Here to Stay? | Karolina Marzantowicz |
| September 2019 | Digital Architecture: The Spark for Transformation | Gar Mac Críosta |
| August 2019 | Caution! AI Consequences Ahead | Lou Mazzucchelli |
| July 2019 | Is Software Eating the World? | Greg Smith |
| June 2019 | Industry 4.0 | Keng Siau |
| May 2019 | Cutting Edge Agile II | Alistair Cockburn |
| April 2019 | Technology-Empowered Solutions: Redefining Decision Support | Dr. Karen Neville and Dr. Andrew Pope |
| March 2019 | Cutting Edge Agile | Alistair Cockburn |
| February 2019 | The Next Frontier in Automation: Opportunities, Challenges and Impact | San Murugesan |
| January 2019 | Business Technology Trends & Predictions 2019 | Cutter Consortium |
| November/December 2018 | Fintech: Emerging Trends, Future Directions | Steve Andriole |
| October 2018 | Riding the Next Wave of Cloud Computing | Frank Khan Sullivan |
| September 2018 | Building a Digital Business Starts with Data | Barry Devlin |
| August 2018 | The Critical Need for Governance | Claude Baudoin |
| July 2018 | Architecture + Agile: The Yin & Yang of Organizational Agility | Whynde Kuehn |
| June 2018 | Fog/Edge Computing: Opportunities, Case Studies, Challenges  | Cutter Consortium |
| May 2018 | Transforming the Customer Experience | Jeanne Bliss |
| April 2018 | Blockchain: Where Are We Now? Where Are We Headed? | Phil O'Reilly |
| March 2018 | A Disciplined Agile Approach to Business Agility | Scott Ambler and Mark Lines |
| February 2018 | AI: Fear It, Face It, or Embrace It | San Murugesan |
| January 2018 | Business Technology Trends and Predictions 2018 | Cutter Consortium |
| December 2017 | Change Leadership in a Digital Era | Sheila Cox |
| October/November 2017 | Trends in Big Data Technologies and Analytics | Bhuvan Unhelkar |
| September 2017 | Insurtech: Reinventing the Insurance Industry | Steve Andriole |
| August 2017 | Agile Leadership: Foundation for Organizational Agility | Don McIntyre |
| July 2017 | The Industrial Internet: Driving Digital Transformation | C. Patrikakis |
| June 2017 | Leveraging Enterprise Architecture for Digital Disruption | Roger Evernden |
| May 2017 | Beyond Fintech: New Frontiers | Phil O'Reilly |
| April 2017 | The Frontier of Fintech Innovation | Phil O'Reilly |
| March 2017 | Business Opportunities in the New Digital Age | San Murugesan |
| February 2017 | Information Superiority and Digital Capital | Borys Stokalski and Bogumil Kaminski |
| January 2017 | The 21st Century Technology Leader | Paul Clermont |
| December 2016 | Technology Trends, Predictions, and Reflections 2017 | Cutter Consortium |
| November 2016 | FinTech and the Digitization of Financial Services | Philip O'Reilly |
| October 2016 | Cognitive Computing: Applications, Trends, and Implications | Paul Harmon |
| August/September 2016 | Business-Driven Digital Transformation | Whynde Kuehn |
| July 2016 | Security in the Internet of Everything Era | Patrikakis Charlalampos and George Loukas |
| June 2016 | Cultivating Success in Big Data Analytics | Barry Devlin |
| May 2016 | The Role of Ethics in Algorithm Design | Robert Charette |
| April 2016 | IoT Data Management and Analytics | Bhuvan Unhelkar and San Murugesan |
| March 2016 | Technical Debt: The Continued Burden On Software Innovation | Tom Grant |
| February 2016 | Disruption and Emergence: What do they mean for Enterprise Architecture? | Roger Evernden |
| January 2016 | Technology Trends and Predictions: 2016 | Cutter Consortium |