Cutter Business Technology Journal — Calls for Papers
For nearly 30 years, the monthly Cutter Business Technology Journal has served as a forum for thought leaders in academia and industry to present innovative ideas and solutions to the critical issues facing business-technology professionals. Please consider sharing your insight with us for the following topics.
Editorial Guidelines   Editorial Calendar   Sample Issue
---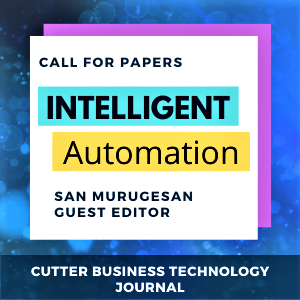 Guest Editor: San Murugesan
Abstract Deadline: April 1, 2020
Article Deadline: May 11, 2020
Automation is rapidly advancing along a few new directions. Traditionally, automation employed 'feedback control' to perform a task or to keep a parameter of interest within a specified limit. It transformed industries in several ways, replacing much of the manual work. Then, robotic process automation (RPA) helped to automate and speed up key business workflows. Now, driven by artificial intelligence (AI), machine learning (ML), autonomous operational capabilities, smart materials, GPS data and other technologies, traditional automation is being enhanced with several advanced features such as intelligence, the ability to work collaboratively, the competency to deal with unknown or uncertain environments, and with the ability to perform satisfactorily even with partial information.
This enhanced automation, known as smart automation, hyper automation, intelligent automation and intelligent RPA (IRPA), is now receiving significant interest among researchers, developers, business and industry. While it is both promising and encouraging, it also raises a few technical, organizational, managerial, social, ethical and regulatory issues and challenges which need to be satisfactorily addressed.
An upcoming issue of Cutter Business Technology Journal, Guest Edited by San Murugesan, aims to examine the emergence of the new face of automation and explore novel ways to address various issues and challenges it presents. It'll also examine the disruptions it might cause and the impact on businesses, the job landscape, and society. Furthermore, it will discuss how the IT industry and IT professionals can get ready to embrace the new frontiers in automation.
For this issue, we're seeking insights and perspectives from practitioners, academics, consultants, visionaries and industry experts that address one or more of the following questions:
How are smart automation, autonomous systems and IRPA being used in domains such as business, finance, manufacturing, smart factories, healthcare, supply chain, tourism, hospitality, and defence? How will automation shape these domains in the future? What new applications and innovations might emerge?
How can two or more such systems work together collaboratively? What are typical use cases?
What are the promises and potential of cobots (collaborative robots), and what new challenges will they pose?
How can an advanced automation system and a human interact and work together, capitalising on the strengths of each other?
How can we implement 'adjustable autonomy,' which requires transfer of decision-making control to other entities (typically an automation system transferring control to human operator, or vice versa) in key situations?
How can automation embrace AI, ML, IoT, GPS data, cloud, robots and smart materials?
What kind of enterprise automation strategy can embrace new advances? What are the challenges in implementing the strategy?
Trust is a critical factor in adoption of advanced automation in practices. How can we establish their trust-worthiness?
How might cyberattacks affect safety, reliability and operations of an autonomous automation system?
What are the issues to be explored further in automation design, implementation and deployment?
What are the major concerns and threats of emerging automation? How might new kinds of automation impact a skilled workforce?
What new opportunities will arise now, and in the near future, for the IT industry and technology professionals?
What are moral and ethical obligations and responsibilities of developers and adopters of advanced automation?
Do automation technologies and applications need be regulated, and if so by whom?
ARTICLE IDEAS. Please send article ideas (short paragraph/outline format) to San Murugesan and Christine Generali (san1@internode.net and cgenerali@cutter.com). Accepted articles due May 11, 2020. Final article length is typically 2,000-3,500 words plus graphics. More editorial guidelines.
---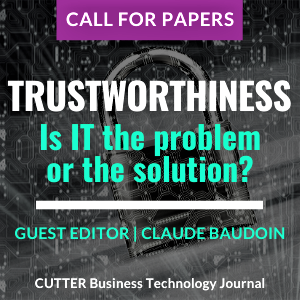 Guest Editor: Claude Baudoin
Abstract Deadline: February 28, 2020
Article Deadline: April 3, 2020
Our ability to rely on information as being truthful – and on its sources as being honest and correct – has been called into question, once again, by a combination of social and technology developments. It is easy to say "people are entitled to their own opinions, but not to their own facts" – but what exactly are the facts in the age of Photoshop and unexplainable neural networks?
The word "trustworthiness" is now appearing with greater frequency in the IT and business world, as well as in society at large. Some of the reasons are:
The ability to create "deep fakes" used to propagate false accusations or conspiracy theories
The meddling in our often antiquated voting systems
The fragmentation of mass media into a large number of communication channels that don't even pretend to be objective sources of news
The "echo chamber" effect of social media platforms
The bias that may be introduced in decision algorithms by training datasets that do not equitably represent all demographic segments
The ability to spoof the origin of an e-mail or a phone call
The propagation of security weaknesses as developers include in their software some open-source components of obscure origin that have not been fully analyzed for vulnerabilities.
As these examples show, information technology itself is often, if not the actual culprit, then at least a facilitator. For example, deep fakes are directly enabled by sophisticated image manipulation algorithms; neural networks reach decisions that can be almost impossible to explain or verify; and robotic process automation is at the heart of robocalls, spamming and e-mail phishing.
But can we imagine that IT "atones for its sins," so to speak, by providing the solutions to those same issues? There are certainly some glimpses of hope in that direction. For example, members of the Object Management Group (OMG) are currently working on developing two standards: one for the provenance and pedigree of entities of all kinds, and another specifically for a Software Bill of Materials (SBOM) that would enable the traceability of vulnerabilities from components to complete applications and systems. Meanwhile, distributed ledger technology (often called "blockchain" after one of its specific realizations) can be used to ensure that information is not tampered with. And there is a growing number of organizations (including ISO and IEEE) and countries where committees have been formed to study AI ethics, elaborate guidelines and recommend best practices.
In this issue of Cutter Business Technology Journal we are soliciting -- from end users, IT suppliers, academia and government actors -- articles that address these challenges and describe potential solutions. While it is necessary to describe the problems, we're encouraging authors to focus on the positive: what innovations or greater adoption of existing technologies can help restore the trust in information and the decisions made from it? And what is needed – in the technical, socially, and legislative or regulatory areas – to make these solutions work?
While we will consider all relevant submissions, we are particularly interested in articles that address the following points:
How can I trust that software does not contain security vulnerabilities or malware – especially software that controls medical equipment, power supplies, defense systems, airplanes, cars, and other critical assets?
How can we trace the origin of information (including text, images and videos) to their source, while at the same time enabling whistleblowers and dissidents in authoritarian countries to report information without fear of retribution?
What are the newest development in voting systems to ensure free and fair elections?
How is it possible to balance the demand for "explainability" of a deep learning algorithm with the intellectual property rights of its inventors?
What are the respective responsibilities of the various actors (users and suppliers of information and systems, regulators and legislators, etc.)?
How much assurance is enough?
ARTICLE IDEAS. Please send article ideas (few sentences/short paragraph) to Claude Baudoin and Christine Generali (cbaudoin@gmail.com and cgenerali@cutter.com). Accepted articles due April 3, 2020. Final article length is typically 2,000-3,500 words plus graphics. More editorial guidelines.
---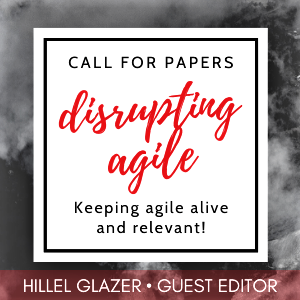 Guest Editor: Hillel Glazer
Abstract Deadline: February 21, 2020
Article Deadline: March 27, 2020
When broadly introduced in the earliest years of the 21st Century, the term "agile" as applied to (mostly) software development brought with it disruptive ideas and practices. What made them so disruptive? What were the conditions that allowed these ideas to be disruptive? Let's suppose that effective disruption happens at the intersection of insufficient status quo and redefining fundamentals. Can it be said that after roughly two decades of practice, "agile" is now itself ready for disrupting? If so, why? And, what would disruption look like?
The introduction of agile practices changed how product development was organized, managed, and executed with the objectives of enhancing customer satisfaction, improving customer and market responsiveness, and cutting out impediments to delivery.
Now that "agile" is clearly popularized in much of the product development world, signals are emerging that these objectives are not being met.
Proponents can justifiably counter that organizations not achieving the promised results of using agile "are not doing it right" or "don't have the environmental fundamentals" to make it work. But what if the very characteristics that made agile successful are no longer enough? Have the underlying assumptions about team size and organization, decision-making authority, product arrangement, and customer involvement run their course?
What is needed to ensure agile practices can be applied in non-ideal contexts, such as in larger and highly regulated organizations, and deliver results? The fundamentals originally introduced by agile now need fundamental changes. What would it take to disrupt agile?
This issue of Cutter Business Technology Journal with Guest Editor Hillel Glazer will explore the premise that disruption is needed to keep agile alive and relevant. We invite your ideas on what that disruption could look like and to consider questions like:
What factors are contributing to the ineffectiveness of agile?
What is needed for agile to operate and deliver results in non-ideal contexts?
Are the underlying assumptions about team size and organization sound?
Where should decision-making authority lay?
Have product arrangement and customer involvement run their course?
What can be changed to keep all that works well in agile while freeing agile to also work in unanticipated situations?
How can disruptive agile improve customer delight?
What's changed in the past two decades that agile can now leverage?
Are there any current, albeit less popular, agile ideas that should be brought into the spotlight?
ARTICLE IDEAS. Please send article ideas (few sentences/short paragraph) to Hillel Glazer and Christine Generali (hillel@entinex.com and cgenerali@cutter.com). Accepted articles due March 27, 2020. Final article length is typically 2,000-3,500 words plus graphics. More editorial guidelines.
---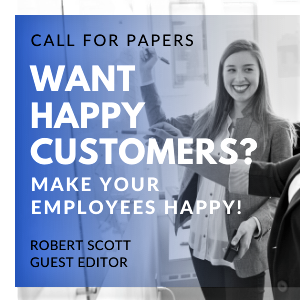 Guest Editor: Robert Scott
Abstract Deadline: January 31, 2020
Article Deadline: February 28, 2020
Much has been written about strategies to improve customer experience. This outward-facing focus is admittedly critical to business success. However, organizations often ignore or forget that a key driver for customer satisfaction is the impact that employees have on the customer experience.
Employee experience is a worker's observations and perceptions about his or her employment within an organization. Experience is often influenced by several factors including the company's physical workspace, the opportunity to take on new or expanded work roles and responsibilities, the work-life balance the company provides and technology that enables productivity and technology.  While often neglected, initiatives aimed at improving employee experience can have an immediate and positive impact on customer satisfaction and ultimately the bottom-line.
In today's complex world, there are several factors contributing to employee engagement at the workplace.
Career Development Opportunities
Career development opportunities are one of the factors contributing to employee engagement at the workplace.  When employers continuously invest both time and money in their employees' development at the workplace, employees will realize that the company is also interested in the progress in their career.
A Learning Culture
One of the factors contributing to employee engagement is by creating a company culture that encourages employees to keep on learning and acquiring new knowledge all the time. An employee who understands that their employer is not only interested in making profits and sales, but also in improving and educating all their staff, will soon learn to appreciate the company's learning culture and will get engaged in the company's goals.
Use of Technology
Increasingly our complex personal lives are being supported and made simpler through services and experiences enabled by digital technology. We book trips, stream our favorite movie or television show or buy a product online to be delivered within 24 hours, all with a few taps on a phone or tablet. We have come to expect seamless digital experiences in our personal lives with expectations that these experiences will delight us with near-flawless technological execution.
However, when we move to our business life, things are often very different. The experience we have as an employee rarely match that we have as a customer at home. While businesses profess that they recognize the importance of employee experience as an enabler of productivity, the reality is often that technology is a source of frustration. Employees struggle to effectively connect with one another; accessing key information in a timely manner is difficult and the available tools are anything but easy and intuitive to use. Workers are asked to navigate through complex processes, systems and structures, often with no straightforward way to get support.
As younger generations enter the workforce expecting to engage others with ease, they are finding a digital workforce experience that does not measure up to their at-home experience. This can cause a great deal of frustration, contributing to a negative workforce experience overall.  Why is this a problem? The quality of the workforce experience is directly connected to productivity and engagement. Higher engagement leads to employee retention, improved service to customers and ultimately to improved business performance.
Cultural Diversity
We are currently in the generation full of multicultural people; thus, cultural diversity is vitally important in a company. Cultural diversity is when companies are open to hiring employees from all sorts of different backgrounds; regardless of ethnicity, religion and culture. Of course, diversity by itself is not enough. Employees also need a sense of inclusion. When companies recruit, retain and develop a diverse pool of people, it brings about innovation and creativity that benefits the company as well as its employees.
Employee Recognition
Great companies know that the employees are the heart of the business. Satisfied and engaged employees would bring in not only positive energy to the workplace but also increase the company's profit and sales. Employees who feel they have a positive personal rapport with their management are more likely to be engaged. Not only that, employees would feel appreciated when they or their work gets noticed and this encourages constructive employee engagement.
An upcoming issue of Cutter Business Technology Journal will address the question: what can be done to increase employee engagement to increase customer satisfaction and ultimately business results?
Article ideas may include (but are not limited to the following):
How can improving employee satisfaction and engagement impact an organization's effectiveness?
How can technology help or hinder employee engagement?
To what extent does having a multi-generational workforce impact engagement?
What HR staffing policies help/hinder employee satisfaction and engagement?
How does a culture of diversity, learning, and recognition contribute to the employee experience?
What trends in technology roles are opportunities to increase employee engagement?
ARTICLE IDEAS. Please send article ideas (few sentences/short paragraph) to Robert Scott and Christine Generali (scottrd1@gmail.com and cgenerali@cutter.com). Accepted articles due February 28, 2020. Final article length is typically 2,000-3,500 words plus graphics. More editorial guidelines.
---
These notes are intended to give authors some guidance and direction for articles submitted to Cutter Business Technology Journal (CBTJ) for publication.
Length: The average article in CBTJ is 2,000-3,500 words, unless otherwise specified by the Group Publisher.
Article Format: Please send your article in word document format for editing purposes. Please do not send it as a PDF.
Editorial: Cutter Business Technology Journal is professionally edited by our team who evaluates articles for content, substance, grammar, and style and provides valuable feedback so that authors can revise and improve their papers before publication. Publishing turnaround times are short. Articles are also peer-reviewed by the Guest Editor who is an expert in the field.
Audience: Publishing with Cutter affords the opportunity to present your insights and research to a global corporate audience that is highly interested in emerging developments. Typical readers of CBTJ range from CIOs, CTOs, business technology executives and vice presidents to directors, technology managers, project leaders, and very senior technical staff. Most work in fairly large organizations: Fortune 500 organizations, universities, large computer vendors, NGOs/IGOs, and government agencies and spanning industries such as finance and banking, education, energy, entertainment, food, government, healthcare, insurance, and manufacturing. 48% of our readership is outside of the US (15% from Canada, 14% Europe, 5% Australia/NZ, 14% elsewhere).
Editorial advice: Introductory-level, tutorial coverage of a topic is not very popular with our readership because they're fairly senior people. Delete the introductory "fluff" and get to the meat of the topic. Assume you're writing for someone who has been in the industry for 10 to 20 years, is very busy, and very impatient. Assume he or she is mentally asking, while reading your article, "What's the point? What do I do with this information?" Apply the "So what?" test to everything you write.
General comments: We enjoy controversy and strong opinion; we like the fact that we can provide an alternative to standard "refereed" journals that sanitize articles. Because we don't carry any advertising, we can publish critical or negative comments about specific vendors or products. However, we obviously don't want to publish anything libelous or slanderous. Conversely, we don't publish self-serving commercial messages praising one's own product or service.
Style, grammar, and mechanics: For advice on good writing style, we recommend Merriam-Webster's Collegiate Dictionary, 11th ed., The Chicago Manual of Style, and The Elements of Style (Strunk and White). We are fanatics about the editorial quality of Cutter Business Technology Journal; anything you can do to help us in this regard will be greatly appreciated.
Graphics: Please keep your use of graphics to a minimum and submit original, editable files (not static images). Preferred formats include MS Excel for graphs, MS Word for tables (1-2 pages), and MS PowerPoint/MS Word/Adobe Illustrator (v17 or less) for vector art. Please send all other types as high-res JPEG, PDF, PNG, or TIFF. All images owned by another party may only be used with owner's permission. It is the author's responsibility to obtain permission. Copying images off the Internet without permission infringes on copyright and is unacceptable for publication.
All graphics (figures and tables) must include captions and a reference within the text; for example, "(see Figure 1)" or "Figure 1 illustrates…." Please note that we may remove graphics deemed unnecessary. Please be minimalistic in your design: limit colors, shadings, and typefaces. For additional questions, please contact Linda Dias (ldias@cutter.com).
Deadlines: The deadline you agree to when you commit to writing an article is a "hard" deadline; if you're going to be late, let us know and we'll negotiate a mutually agreeable delivery date. If the deadline passes without our having heard from you, we will assume that you have vanished and are unable to provide the article.
Editorial process: Once we get your article, we commence two parallel editorial passes: one for content (by the guest editor) and one for substance, grammar, and style (by our managing editor, Cindy Swain (cswain@cutter.com). Either or both of these editorial reviews may result in some questions or feedback from us. In any case, we will send you a first draft "page proof" of your article for your review and approval. Articles published in the journal must meet certain criteria relating to audience, technical content, and presentation. In the unlikely occurrence that, upon editorial review, your completed article does not meet with these requirements, Cutter Consortium reserves the right to decline the publishing of your article in the journal.
Biographical sketch: At the end of each CBTJ article, we like to include a brief (200 words or less) biographical sketch of each author along with email address of author(s). Click here for a sample. We also like to provide a color headshot. Please include a high-res color headshot (at least 300x300 pixels in size) of each author. We accept formal or casual photos that present authors in a professional manner. For samples, see the "Meet the Cutter Experts" section at https://www.cutter.com/our-experts.
Copyrights: When you submit an article to us, you warrant that you (or your employer) are the sole owner of the article, that you have full power and authority to copyright it and publish it, and that it has not been previously published elsewhere. You also warrant that it does not infringe on any copyright, violate any property rights, or contain scandalous, libelous, or unlawful matter. If you request, we will grant you, or your designee, copyright of the article providing you extend first-time publishing privileges, in print and electronic formats to Cutter Information LLC; otherwise, the article will be copyrighted by Cutter Information LLC.
Sourcing Content: When you do draw on the work of other authors and researchers, cite your sources accordingly in the relevant part of the text (using endnote numbers or hyperlinks). Given that Cutter Consortium has no relationships with vendors, we cannot permit the use of references, quotes, statistics, and figures from analyst/research firms with vendor ties (Gartner, MetaGroup, Yankee Group, Forrester, IDC, McKinsey, among others), as the data may be biased. If you feel information from one of these sources is critical to your article, please bring it to our attention early in the editorial process and we will be happy to discuss the issue. Note that Cutter Consortium conducts studies and surveys occasionally in its various practice areas. This data is available for use in your articles or reports. If there is specific data you are looking for to support an argument, please contact us for more information. We will be happy to send you any relevant data.
Keep in mind that if your article uses too many sources, it is often an indicator that your piece summarizes research too heavily and lacks original thought. Remember our readers are interested in your insights; above all, speak in an expert voice.
Promotion: We will, at your request, provide you with a link to share with your colleagues and contacts where they can register and receive a complimentary PDF download of your complete article. You can post this link on your website, blog, tweet it, promote on social networks, etc. It is only acceptable for your final, Cutter-edited article to be downloaded from the Cutter site, and it may not be posted anywhere else without express permission from Cutter*. You may also excerpt a passage or section from your article with attribution to CBTJ, and link it back to the full article on the Cutter website. We also ask that once the issue is published, that you do not post the entire issue PDF on any websites or social media sites out of respect for our paid clients/subscribers.
* CBTJ accepts no advertising, has no outside sponsorship, and is completely subscriber-supported. In order for us to continue providing this venue for debate to our authors, and your valuable insights to our subscribers, we thank you in advance for your respect of our copyright.
Author Compensation: We are pleased to offer Journal authors an online, one year complimentary subscription to Cutter Business Technology Journal upon the signing of the license agreement. In addition, we occasionally pull excerpts, along with the author's bio, to include in our weekly Cutter Edge email newsletter, which reaches another 12,000 readers. We'd also be pleased to quote you, or passages from your article, in Cutter press releases. If you plan to be speaking at industry conferences, we can arrange to make copies of the issue in which you're published available for attendees of those speaking engagements -- furthering your own promotional efforts.
Reprints: If you would like an authorized reprint of your article for promotional purposes or to post on your website, contact Customer Service (Tel: +1 781 648 8700; E-mail: service@cutter.com) for more information. We can arrange for a reprint with the CBTJ cover, logo, and other details.
Endnotes/References: When you draw on the work of other authors and researchers, please cite your sources. All sources/side commentary must be noted in relevant part of text (using endnote numbers) and listed in sequential order (i.e., order of appearance, not alphabetical order) at end of article in "Endnotes." All sources should include basic publishing information (i.e., author(s) name(s), complete title, publisher, date, and hyperlink and/or URL). Sources can be repeated but must be listed as a new endnote. The following are examples of various types of endnotes:
1DeMarco, Tom, and Timothy Lister. Waltzing with Bears: Managing Risk on Software Projects. Dorset House, 2003.
2In this survey, "innovation" refers to any new initiatives to introduce innovative, leading-edge, or unconventional software project development methods, processes, tools, or techniques.
3Hall, Curt. "AI & Machine Learning in the Enterprise, Part XI: Success of AI Application Development Efforts." Cutter Consortium Data Analytics & Digital Technologies, Executive Update, Vol. 19, No. 3, 2019.
4DeMarco and Lister (see 1).
   5"Smart grid." Wikipedia.
---
| | | |
| --- | --- | --- |
| Month | Topic | Guest Editor |
|   |   |   |
| July 2020 | How Technologists Can Help in a Crisis | Steve Andriole |
| June 2020 | Beyond Automation: AI, ML, RPA | San Murugesan |
| May 2020 | Information Trustworthiness/Security | Claude Baudoin |
| April 2020 | Disrupting Agile | Hillel Glazer |
| March 2020 | Want Happy Customers? Make Your Employees Happy! | Robert Scott |
| February 2020 | Digital Shift | Volker Pfirsching |
| January 2020 | Business Technology Trends and Predictions: 2020 | Cutter Consortium |
| December 2019 | Data Architecture is Really About People  | Martijn ten Nepal |
| November 2019 | Blockchain: New Industry Trends, Developments, Use Cases | Karolina Marzantowicz |
| October 2019 | Blockchain: Here to Stay? | Karolina Marzantowicz |
| September 2019 | Digital Architecture: The Spark for Transformation | Gar Mac Críosta |
| August 2019 | Caution! AI Consequences Ahead | Lou Mazzucchelli |
| July 2019 | Is Software Eating the World? | Greg Smith |
| June 2019 | Industry 4.0 | Keng Siau |
| May 2019 | Cutting Edge Agile II | Alistair Cockburn |
| April 2019 | Technology-Empowered Solutions: Redefining Decision Support | Dr. Karen Neville and Dr. Andrew Pope |
| March 2019 | Cutting Edge Agile | Alistair Cockburn |
| February 2019 | The Next Frontier in Automation: Opportunities, Challenges and Impact | San Murugesan |
| January 2019 | Business Technology Trends & Predictions 2019 | Cutter Consortium |
| November/December 2018 | Fintech: Emerging Trends, Future Directions | Steve Andriole |
| October 2018 | Riding the Next Wave of Cloud Computing | Frank Khan Sullivan |
| September 2018 | Building a Digital Business Starts with Data | Barry Devlin |
| August 2018 | The Critical Need for Governance | Claude Baudoin |
| July 2018 | Architecture + Agile: The Yin & Yang of Organizational Agility | Whynde Kuehn |
| June 2018 | Fog/Edge Computing: Opportunities, Case Studies, Challenges  | Cutter Consortium |
| May 2018 | Transforming the Customer Experience | Jeanne Bliss |
| April 2018 | Blockchain: Where Are We Now? Where Are We Headed? | Phil O'Reilly |
| March 2018 | A Disciplined Agile Approach to Business Agility | Scott Ambler and Mark Lines |
| February 2018 | AI: Fear It, Face It, or Embrace It | San Murugesan |
| January 2018 | Business Technology Trends and Predictions 2018 | Cutter Consortium |
| December 2017 | Change Leadership in a Digital Era | Sheila Cox |
| October/November 2017 | Trends in Big Data Technologies and Analytics | Bhuvan Unhelkar |
| September 2017 | Insurtech: Reinventing the Insurance Industry | Steve Andriole |
| August 2017 | Agile Leadership: Foundation for Organizational Agility | Don McIntyre |
| July 2017 | The Industrial Internet: Driving Digital Transformation | C. Patrikakis |
| June 2017 | Leveraging Enterprise Architecture for Digital Disruption | Roger Evernden |
| May 2017 | Beyond Fintech: New Frontiers | Phil O'Reilly |
| April 2017 | The Frontier of Fintech Innovation | Phil O'Reilly |
| March 2017 | Business Opportunities in the New Digital Age | San Murugesan |
| February 2017 | Information Superiority and Digital Capital | Borys Stokalski and Bogumil Kaminski |
| January 2017 | The 21st Century Technology Leader | Paul Clermont |
| December 2016 | Technology Trends, Predictions, and Reflections 2017 | Cutter Consortium |
| November 2016 | FinTech and the Digitization of Financial Services | Philip O'Reilly |
| October 2016 | Cognitive Computing: Applications, Trends, and Implications | Paul Harmon |
| August/September 2016 | Business-Driven Digital Transformation | Whynde Kuehn |
| July 2016 | Security in the Internet of Everything Era | Patrikakis Charlalampos and George Loukas |
| June 2016 | Cultivating Success in Big Data Analytics | Barry Devlin |
| May 2016 | The Role of Ethics in Algorithm Design | Robert Charette |
| April 2016 | IoT Data Management and Analytics | Bhuvan Unhelkar and San Murugesan |
| March 2016 | Technical Debt: The Continued Burden On Software Innovation | Tom Grant |
| February 2016 | Disruption and Emergence: What do they mean for Enterprise Architecture? | Roger Evernden |
| January 2016 | Technology Trends and Predictions: 2016 | Cutter Consortium |