Cutter Business Technology Journal — Calls for Papers
For nearly 30 years, the monthly Cutter Business Technology Journal has served as a forum for thought leaders in academia and industry to present innovative ideas and solutions to the critical issues facing business-technology professionals. Please consider sharing your insight with us!
---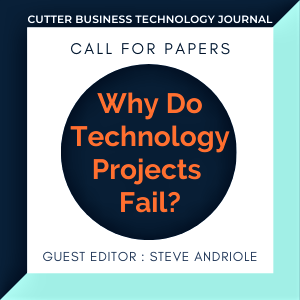 Guest Editor: Steve Andriole
Abstract Deadline: June 16, 2021
Article Deadline: July 20, 2021
Technology projects of all shapes and sizes fail at a dizzying rate – up to 75% for ERP projects and 95% for product innovation projects. Why can't we learn from these mistakes? Are the causes that mysterious? Or can we learn from our failures and develop some best practices to at least reduce the probability of failure?
Before managers and executives launch new technology projects they should anticipate why their projects might fail and craft solutions before they spend millions or even tens of millions of dollars to improve their technology infra-structures, transform their business processes or implement new enterprise software applications.
An upcoming issue of Cutter Business Technology Journal, with Guest Editor and Cutter Fellow Steve Andriole, will address the recurring problem of project failure and what factors play a major role in an organization's ability to deliver projects, programs, and business strategies successfully.
Article ideas may include, but are not limited, to the following:
What role do talent assessments, team dynamics, executive support, and corporate culture play in successful project delivery?
How does inexperience with major technology projects and weak corporate technology leadership play a role in project failure? What type of leadership is needed?
What type of executive support including that from stakeholders and sponsors is necessary?
How does an inadequate internal or extended talent pool for technology projects add to project failure? How can it be addressed? How can we attract and retain digital talent?
How can a team of both digital and non-digital employees improve problem-solving?
How can a weak or non-existent technology culture feed into project failure? How can barriers to cultural change be overcome?
How can companies best attract, retain and develop talent - benefits/compensation/advancement/work location?
What type of decision-making culture is necessary to succeed?
How can we ensure the right teams are recruited? What skills are necessary?
How does training play into project success? What investments in learning & development are most crucial for executives to endorse?
FOR CONSIDERATION: Please send an abstract (~ 300 words or less of proposed article scope and author(s) bio) to Steve Andriole and Christine Generali. Final article length is typically 2,000-3,500 words plus graphics. More editorial guidelines.
---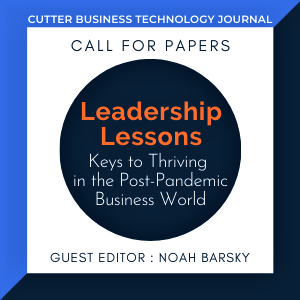 Guest Editor: Noah Barsky
Abstract Deadline: April 23, 2021
Article Deadline: May 21, 2021
Companies scrambled to respond to the upheaval caused by the COVID-19 pandemic. Over a year later, many organizations wonder what the post-pandemic future holds. To help leaders prepare to navigate the "Next Normal" of the business world, this special issue seeks articles that identify, analyze and explore the implications of recent business agility needs, digital acceleration, remote work expectations, emerging technologies and uncertain market dynamics. Specifically, articles will focus on key "lessons learned" during the pandemic that will have lasting and substantive effects on business for the intermediate and longer term.
Regardless of industry, sector or geographies, businesses will need significant technological investment, oversight, and expertise. C-suite executives are grappling with long-term strategies to differentiate from competitors and provide value to customers. Boards are deliberating the consequences of not moving fast enough to gain market share and solidify customer loyalty, while keeping a close watch on governance and compliance responsibilities. All of this turmoil creates both great risk and opportunity.
Performance measurement will also undergo greater scrutiny in the upcoming years. Strategic imperatives and digital transformation need adequate funding. Will new business models yield sufficient margins and generate sufficient cash flow to justify such expenditures? How will fintech and novel liquidity arrangements facilitate business change? How will investors and creditors view and value new business alliances? Links between performance, incentives and compensation are also likely to evolve to match changing business expectations.
An upcoming issue of Cutter Business Technology Journal with Guest Editor Noah Barsky invites articles that address leadership lessons learned and lasting best management practices that arose from the myriad challenges of the pandemic. Each submission should substantively address the timeless question that challenges executives: will leaders shape the future or allow it to define them?
Article ideas may include, but are not limited, to the following:
Which recent leadership lessons and success stories are transferrable across industries/sectors/geographies?
What are the lasting lessons that will change senior leadership skills/approaches/incentives?
What are the best practices for technology leaders to be responsive to remote work expectations?
What governance issues are most pertinent for board agendas?
How can startup/small/medium size businesses keep pace with the technology resource advantages of larger organizations?
How do cloud technologies alter IT budgets/responsibilities/performance metrics?
Will simply restoring IT budgets to pre-pandemic levels really help tech teams stressed to support remote work, modernize customer experiences and mitigate cyber threats?
How can companies simultaneously spur innovation while maintaining core operations in the facing of rapidly changing market forces?
Many companies will be in need of turnaround leadership. What are characteristics should boards seek when hiring such executives?
How should c-suite leaders direct strategy development, operational goal setting and financial expectations?
How can companies best manage escalating technical debt?
How can companies best attract, retain and develop talent - benefits/compensation/advancement/work location?
How can companies best plan to adopt and integrate new AI and other emerging technologies into business operations?
What is the future for data and analytics technologies/departments/consultants?
How will business risk modeling/management/disclosure evolve?
What are examples of companies that were well-prepared for pandemic's challenges? What advantages and resources did they bring?
How will cybersecurity concerns and technology advances shape management's future decisions?
What policies, procedures, practices, and training should be implemented to ensure the integrity, performance and accountability of remote work?
What investments in learning & development are most crucial for executives to endorse and support in the next year/five years/decade?
Businesses work with governments and other organizations to accelerate vaccines and support public health initiatives. What are the implications, challenges and prospects of future business and public sector partnerships?
FOR CONSIDERATION: Please send an abstract (~ 300 words or less of proposed article scope and author(s) bio) to Noah Barsky and Christine Generali. Final article length is typically 2,000-3,500 words plus graphics. More editorial guidelines.
---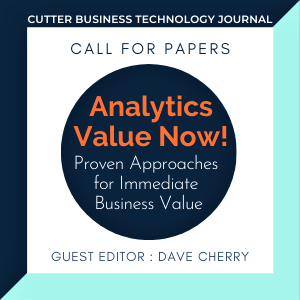 Guest Editor: Dave Cherry
Abstract Deadline: April 19, 2021
Article Deadline: May 21, 2021
Over the last 20+ years, many organizations have turned towards analytics to deliver business value, drive digital transformations and improve their competitive advantage. However, most are not successful. A majority of analytics projects fail to deliver the expected ROI. Reports on success rates of specific advanced analytics capabilities including cognitive, machine learning and more suggest even lower rates of success.
Yet as analytics leaders continue to expand their breadth and impact in organizations, out from the furthest depths of the IT department to seats at the table of the executive leadership team with Chief Data Officers and Chief Analytics Officers, collectively we must improve the value delivery from analytics to remain there. While many have put forth reasonable (yet often incomplete) definitions of "Analytics", I advocate for this value-based definition: "Analytics is the use of advanced mathematical techniques to identify, explain or predict patterns in data that improve decision making confidence to create value."
Essentially, it we are not delivering value from analytics, our efforts will simply become interesting business anecdotes, reserved for casual conversation and susceptible to elimination at the hand of cost cutting reorganizations designed to optimize organizational efficiencies.
So as organizations continue to make meaningful and lasting progress along the analytics maturity curve, we must help them identify priority actions (critical in value, volume or both) where improved confidence in decision-making is necessary. Next, we must deliver analytics models using the most appropriate techniques to swiftly and accurately deliver results in a timely and business-friendly method. And we must measure the value creation!
With that in mind, an upcoming issue of Cutter Business Technology Journal with Guest Editor Dave Cherry invites articles that address the latest trends in analytical capabilities along with proven tactical approaches to ensure that they deliver measurable business value.
Article ideas may include, but are not limited, to the following:
How can an organization accurately and efficiently measure the business value generated by analytics projects?
How can an organization identify and prioritize the most important opportunities for analytics to drive incremental business value?
What attributes of specific industries either enhance or inhibit the potential for analytics to deliver business value?
What attributes of specific organizational designs, communities of practice, or specific leaders either enhance or inhibit the potential for analytics to deliver business value?
How can organizations ensure that analytics projects are smarter, more practical/implementable and also scalable?
How can organizations leverage massive disparate data sets across numerous applications, data warehouses, data lakes and more to deliver value without massive investment and long duration efforts?
What new analytical capabilities may enhance or accelerate value creation?
What skillsets are required by both business leaders, analytics leaders and data scientists to ensure that they can collaborate and communicate effectively in the common pursuit of business value?
How can we identify the "right" data set that is necessary to deliver impactful insights that improve decision making confidence? How can we bust the myth that "more data is better"?
How can analytics operations learn from agile and devops practices to create similar models of efficiency for developing, testing and deploying analytics models at scale?
What approach or organizational model is best equipped to enable analytics to become fully embedded in the business operational processes so that analytics becomes a core business function?
How do we ensure there is no longer a stand-alone analytics strategy, but just a business strategy enabled by analytics?
How have consumer behaviors, capabilities and expectations changed that impact how an organization must leverage analytics to meet these expectations and deliver value?
Has the COVID-19 pandemic impacted the potential for business value from analytics? If so, how and what can organizations do to adapt?
How does the workforce need to adapt to improve the probability that analytics projects deliver on the promise of business value?
Discuss the emerging trends that can be leveraged to improve an organization's ability to achieve value from analytics projects.
FOR CONSIDERATION: Please send an abstract (~ 300 words or less of proposed article scope and author(s) bio) to Dave Cherry and Christine Generali. Final article length is typically 2,000-3,500 words plus graphics. More editorial guidelines.
---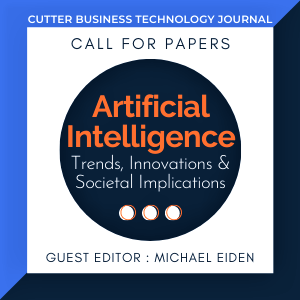 Guest Editor: Michael Eiden
Abstract Deadline: March 29, 2021
Article Deadline: April 30, 2021
Advances in AI technology, development, and adoption have accelerated in the past year, most notably in the healthcare industry. The global pandemic amplified the urgency to adopt AI solutions or to fast-track AI innovations in progress. Healthcare deployed AI-enabled technologies for contact tracing, modelling, testing and virus diagnosis, data analysis and insight, and outbreak prediction. Beyond medicine, other industries have made significant investments in AI research and implementation to ensure survival and competitive advantage in a turbulent business economy.
But along with the good AI brings, comes controversy. Issues such as privacy violations stemming from the use of facial recognition technologies, AI's role in furthering bias in the workplace, and its enablement of discriminatory lending practices raises alarms over the ethical basis of AI technologies. This calls into question the policies and practices necessary to ensure AI's objectivity and accountability.
An upcoming issue of Cutter Business Technology Journal with Guest Editor Michael Eiden invites articles that address new research, emerging trends, innovations, applications, and solutions offered by AI-enabled technologies as well as ethical considerations and social implications.
Articles ideas may include, but are not limited, to the following:
What new AI technology trends/research/innovations are in the works?
What AI technologies/applications/solutions are helping the world address COVID-19 and other challenges?
What industries have been transformed by AI and how?
Discuss the emerging market for technology and applications enabled by AI and ML systems such as IoT, automation, edge AI, data and AI democratization, NLP, facial recognition, autonomous vehicles, RPA, AI engineering, federated AI, etc.
How will AI impact the adoption of cloud solutions?
How can the enduring issue of AI and unintended consequences be addressed?
How can AI technologies be secured; how can personal privacy and data be safeguarded?
What about AI and ethics? How can the bias and discrimination in algorithmic decision-making be avoided (ie. with loan applications, hiring, prison sentencing, parole)?
How can AI solutions advance a more diverse and inclusive workplace?
Considering recent enforcement actions by the FTC on the misuse of facial recognition technology by Everalbum, what implications will this have on current and future development of AI technologies and applications; will it hinder innovation?
What policies, procedures, practices, and training should be implemented to ensure the integrity, transparency, and accountability of algorithms, AI-enabled applications, or automated processes?
What does an AI-enabled future look like?
How can AI help countries recover from the pandemic?
FOR CONSIDERATION: Please send an abstract (~ 300 words or less of proposed article scope and author(s) bio) to Michael Eiden and Christine Generali. Final article length is typically 2,000-3,500 words plus graphics. More editorial guidelines.
---
These notes are intended to give authors some guidance and direction for articles submitted to Cutter Business Technology Journal (CBTJ) for publication.
Length: The average article in CBTJ is 2,000-3,500 words, unless otherwise specified by the Group Publisher.
Article Format: Please send your article in word document format for editing purposes. Please do not send it as a PDF.
Editorial: Cutter Business Technology Journal is professionally edited by our team who evaluates articles for content, substance, grammar, and style and provides valuable feedback so that authors can revise and improve their papers before publication. Publishing turnaround times are short. Articles are also peer-reviewed by the Guest Editor who is an expert in the field.
Audience: Publishing with Cutter affords the opportunity to present your insights and research to a global corporate audience that is highly interested in emerging developments. Typical readers of CBTJ range from CIOs, CTOs, business technology executives and vice presidents to directors, technology managers, project leaders, and very senior technical staff. Most work in fairly large organizations: Fortune 500 organizations, universities, large computer vendors, NGOs/IGOs, and government agencies and spanning industries such as finance and banking, education, energy, entertainment, food, government, healthcare, insurance, and manufacturing. 48% of our readership is outside of the US (15% from Canada, 14% Europe, 5% Australia/NZ, 14% elsewhere).
Editorial advice: Introductory-level, tutorial coverage of a topic is not very popular with our readership because they're fairly senior-level people. Delete the introductory "fluff" and get to the meat of the topic. Assume you're writing for someone who has been in the industry for 10 to 20 years, is very busy, and very impatient. Assume he or she is mentally asking, while reading your article, "What's the point? What do I do with this information?" Apply the "so what?" test to everything you write.
General comments: We enjoy controversy and strong opinion; we like the fact that we can provide an alternative to standard "refereed" journals that sanitize articles. Because we don't carry any advertising, we can publish critical or negative comments about specific vendors or products. However, we obviously don't want to publish anything libelous or slanderous. Conversely, we don't publish self-serving commercial messages praising one's own product or service.
Style, grammar, and mechanics: For advice on good writing style, we recommend Merriam-Webster's Collegiate Dictionary, The Chicago Manual of Style, and The Elements of Style (Strunk and White). We are fanatics about the editorial quality of Cutter Business Technology Journal; anything you can do to help us in this regard will be greatly appreciated.
Graphics: Please keep your use of graphics to a minimum and submit original, editable files (not static images). Preferably, create your graphics in MS Office (Word, PowerPoint, Excel) and submit them as a separate editable Office file. If this is not possible, send files as high-res PNG, JPEG, PDF, or Adobe Illustrator CC/EPS. All images owned by another party may only be used with owner's permission. It is the author's responsibility to obtain permission. Copying images off the Internet without permission infringes on copyright and is unacceptable for publication.
All graphics (figures and tables) must include captions and a reference within the text; for example: "(see Figure 1)" or "Figure 1 illustrates…." Please note that we may remove graphics deemed unnecessary. Please be minimalistic in your design: limit colors, shadings, and typefaces. For additional questions, please contact Linda Dias (ldias@cutter.com).
Deadlines: The deadline you agree to when you commit to writing an article is a "hard" deadline; if you're going to be late, let us know and we'll negotiate a mutually agreeable delivery date. If the deadline passes without our having heard from you, we will assume that you have vanished and are unable to provide the article.
Editorial process: Once we get your article, we commence two parallel editorial passes: one for content (by the guest editor) and one for substance, grammar, and style (by a Cutter editor). Either or both of these initial editorial reviews may result in some questions or feedback from us. Most likely, we will send you a first draft "page proof" of your article for your review and approval. Articles published in the journal must meet certain criteria relating to audience, technical content, and presentation. In the unlikely occurrence that, upon editorial review, your completed article does not meet with these requirements, Cutter Consortium reserves the right to decline the publishing of your article in the journal. Upon final acceptance, the article moves to additional copyediting and proofing stages, including layout. You will receive a PDF in layout form for final approval. We ask that this review take no more than 2-3 days.
Biographical sketch: At the end of each CBTJ article, we like to include a brief (200 words or less) biographical sketch of each author along with email address of author(s). Click here for a sample. We also like to provide a color headshot. Please include a high-res color headshot (at least 300x300 pixels) of each author. We accept formal or casual photos that present authors in a professional manner. For samples, see our "Meet the Cutter Experts" section.
Copyrights: When you submit an article to us, you warrant that you (or your employer) are the sole owner of the article, that you have full power and authority to copyright it and publish it, and that it has not been previously published elsewhere. You also warrant that it does not infringe on any copyright, violate any property rights, or contain scandalous, libelous, or unlawful matter.
Sourcing Content: When you do draw on the work of other authors and researchers, cite your sources accordingly in the relevant part of the text (using endnote numbers or hyperlinks). Given that Cutter Consortium has no relationships with vendors, we cannot permit the use of references, quotes, statistics, and figures from analyst/research firms with vendor ties (Gartner, MetaGroup, Yankee Group, Forrester, IDC, McKinsey, among others), as the data may be biased. If you feel information from one of these sources is critical to your article, please bring it to our attention early in the editorial process and we will be happy to discuss the issue. Note that Cutter Consortium conducts studies and surveys occasionally in its various practice areas. This data is available for use in your articles or reports. If there is specific data you are looking for to support an argument, please contact us for more information. We will be happy to send you any relevant data. Keep in mind that if your article uses too many sources, it is often an indicator that your piece summarizes research too heavily and lacks original thought. Remember our readers are interested in your insights; above all, speak in an expert voice.
Promotion: We will, at your request, provide you with a link to share with your colleagues and contacts where they can register and receive a complimentary PDF download of your complete article. You can post this link on your website, blog, tweet it, promote on social networks, etc. It is only acceptable for your final, Cutter-edited article to be downloaded from the Cutter site, and it may not be posted anywhere else without express permission from Cutter*. You may also excerpt a passage or section from your article with attribution to CBTJ, and link it back to the full article on the Cutter website. We also ask that once the issue is published, that you do not post the entire issue PDF on any websites or social media sites out of respect for our paid clients/subscribers.
* CBTJ accepts no advertising, has no outside sponsorship, and is completely subscriber-supported. In order for us to continue providing this venue for debate to our authors, and your valuable insights to our subscribers, we thank you in advance for your respect of our copyright.
Author Compensation: We are pleased to offer Journal authors an online, one year complimentary subscription to Cutter Business Technology Journal upon the signing of the license agreement. In addition, we occasionally pull excerpts, along with the author's bio, to include in our weekly Cutter Edge email newsletter, which reaches another 12,000 readers. We'd also be pleased to quote you, or passages from your article, in Cutter press releases. If you plan to be speaking at industry conferences, we can arrange to make copies of the issue in which you're published available for attendees of those speaking engagements -- furthering your own promotional efforts.
Reprints: If you would like an authorized reprint of your article for promotional purposes or to post on your website, contact Customer Service (Tel: +1 781 648 8700; E-mail: service@cutter.com) for more information. We can arrange for a reprint with the CBTJ cover, logo, and other details.
Endnotes/References: When you draw on the work of other authors and researchers, please cite your sources. All sources/side commentary must be noted in relevant part of text (using endnote numbers) and listed in sequential order (i.e., order of appearance, not alphabetical order) at end of article in "References." All sources should include basic publishing information (i.e., author(s) name(s), complete title, publisher, date, and hyperlink and/or URL). Sources can be repeated but must be listed as a new endnote. The following are examples of various types of endnotes
1DeMarco, Tom, and Timothy Lister. Waltzing with Bears: Managing Risk on Software Projects. Dorset House, 2003.
2In this survey, "innovation" refers to any new initiatives to introduce innovative, leading-edge, or unconventional software project development methods, processes, tools, or techniques.
3Hall, Curt. "AI & Machine Learning in the Enterprise, Part XI: Success of AI Application Development Efforts." Cutter Consortium Data Analytics & Digital Technologies, Executive Update, Vol. 19, No. 3, 2019.
4DeMarco and Lister (see 1).
5"About the Agile Practice." Cutter Consortium, accessed January 2021 .
---