Amplify — Calls for Papers
For nearly 30 years, the monthly Amplify (formerly Cutter Business Technology Journal) has served as a forum for thought leaders in academia and industry to present innovative ideas and solutions to the critical issues facing business and technology professionals. Please consider sharing your insights with us!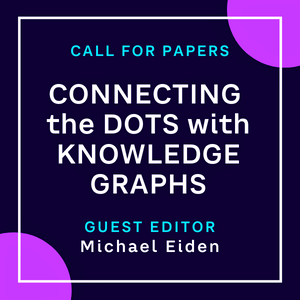 Guest Editors: Michael Eiden
Abstract Deadline: May 20, 2022
Article Deadline: June 24, 2022
Gaining access to timely and relevant data is key to sustaining competitive advantage. Knowledge Graphs offer meaningful insight into data, empower employees, and facilitate decision making. Historically used by larger tech companies like Amazon, Facebook, and Google, its untapped potential is becoming more evident with an increase in the number of use cases and adoption across multiple industries.
An upcoming issue of Amplify, with Guest Editor Michael Eiden, seeks submissions exploring new trends, applications, use cases, challenges, recent achievements, and novel research relating to Knowledge Graphs (KGs).
Article ideas may include, but are not limited, to the following:
What are some real-world/novel applications of KGs?
How are KG applications being used across industries?
What are the business benefits of KGs? What are the challenges/limitations?
How can CxOs/business leaders benefit from KGs?
What are some examples of KG use cases?
What are some novel research findings pertaining to KGs?
How do KGs differ from current data management technologies?
How can KGs be successfully integrated with AI/ML?
What are some examples of state-of-the-art KG-enabled AI?
What are the implications of KGs on AI systems?
How can KGs address the issue of Explainable AI?
What are some KG applications for social good?
What role do KGs play in gaining deeper insight into the COVID-19 crisis?
What is the role of KGs in complexity science?
How can the quality of KGs be assessed and validated?
What are the trust, privacy, and security considerations for KGs?
FOR CONSIDERATION: Please send an abstract (~ 300 words or less of proposed article scope and author(s) bio) to Michael Eiden and Christine Generali. Final article length is typically 2,000-3,500 words plus graphics. More editorial guidelines.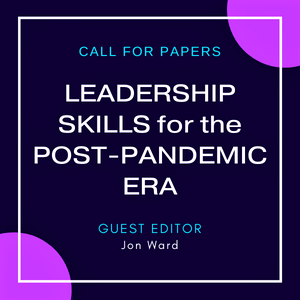 Guest Editors: Jon Ward
Abstract Deadline: March 25, 2022
Article Deadline: April 26, 2022
Oh boy! We once thought that VUCA would be an adequate descriptor for the management environment for the early twenty-first century. Little did we know! Covid has amplified every dimension of VUCA and added new and significant elements. The question now is how business leaders should react to this volatility.
One thing for certain is that leadership is vital and has to be more dynamic, engaging and focused than in the past. For over a hundred and twenty years, management theory has focused on functional efficiency and the approaches Fredrick Winslow Taylor and Scientific Management suggested. This style is often called command and control. Indeed, the proliferation of McGregor's Theory X leadership style isn't going to hack it!
Why Change? If the data is believed, only 30% of people who come to work are actively engaged. Meaning that 70% of the people employed leave their brains and energy at the door when they clock in! Scientific management has reduced your effective workforce by more than half. Or you are paying twice more than you should for each employee's output.
In this post-pandemic new age, our markets and employees demand alternative ways of working, which some call agile. Agile has its roots in software development but increasingly is becoming applied in a much broader business context. At its core, agile has concepts such as self-managing teams, which are the antithesis of Scientific Management and closely aligned to theory Y.
So, what needs to change? – the fact is that it is leadership. It is said that the manager's role in an agile world all but disappears; however, leadership is in huge demand. A lot has been written about agile leadership; servant - leader from Robert Greenleaf; leader - leader from Robert Greiner; intent-based leadership from David Marquet. However, is a new leadership model needed to harness all employees' creativity, motivation, and energy? I think leaders need to make this happen using a style that creates workforce autonomy.
Fostering workforce autonomy requires a radical alteration of organizational design. Unfortunately, historical command and control concepts pervade our thoughts of how leaders should behave and how organizations should function. New era leadership, therefore, needs to embrace vision and bravery. Vision is required to identify the fundamental changes necessary. Bravery to step away from organizational norms. Collaboration and facilitation skills to fertilize and mobilize change.
The other concern I have is how does an organization grow new leaders? With remote or hybrid working, self-managed teams, and fewer managerial positions, what are the career paths? How are people promoted and how are potential new leaders selected? Traditional job families are locked into the old ways of working. Promotion systems serve the previous organizational norms. HR processes and practices reinforce the application of scientific management.
To explore these questions and possible answers, an upcoming issue of Amplify with Guest Editor Jon Ward will address the question, "What does leadership look like in the new era post-pandemic?"
Article ideas may include, but are not limited, to the following:
Can we frame a new Leadership model which can be used to create the skills and capabilities for New-Era Leadership?
What does leadership look like in twenty years?
How can organizations develop leadership skills?
What does an empowered workforce organization look like, and what are the implications for management and leadership?
Is management no longer needed? And if so, can these activities be undertaken by teams?
What leadership behaviors can lead to better employee and team engagement?
What are the leadership implications from an organization constructed of cross-functional, specialty, distributed, and self-managing teams?
FOR CONSIDERATION: Please send an abstract (~ 300 words or less of proposed article scope and author(s) bio) to Jon Ward and Christine Generali. Final article length is typically 2,000-3,500 words plus graphics. More editorial guidelines.
---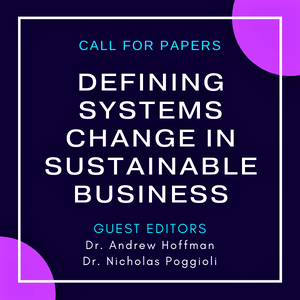 Guest Editors: Andrew Hoffman and Nicholas Poggioli
Abstract Deadline: March 2, 2022
Article Deadline: April 1, 2022
Climate change, in its truest sense, is more than an environmental issue. It is a systems breakdown with widespread implications for human life by impacting weather patterns, growing conditions, disease proliferation, coastal flooding, droughts, wildfires and more. Adding urgency, climate change is just one planetary boundary that scientists warn we are crossing in what has been termed the Anthropocene. By exceeding the sustainable boundaries for land system use, nitrogen and phosphorous waste and novel chemical releases, we are causing elevated rates of species extinction, reduced agricultural productivity, and degraded marine ecosystems across the globe. These deep systemic breakdowns pose an existential threat to health and well-being everywhere on Earth, leading to widespread calls for systems change to prevent the worst projected outcomes from occurring. The costs for climate change alone have been projected as high as $23 trillion in reduced annual global economic output.
With that as a rather dark introduction, this special issue probes the necessary scope and scale of solutions that can be provided by the market. It does so by exploring the concept of "systems change" itself. What does systems change mean, in a conceptual and tangible way, when thinking about, analyzing and realizing the future worlds we want and need?
Many have argued that systems change means we need to fundamentally alter the form of our economic, political and social institutions as well as the subsystems within them. Proposed solutions include moving business from reducing unsustainability and toward creating sustainability, from enterprise integration toward market transformation, from incremental adjustment toward transformative change, or from our present state toward Regenerative Capitalism, Donut Economics or a host of other reorienting models. The levels of these transitions have been depicted at the sectoral scale, such as moving from automobiles to mobility, and the economy and societal scale, calling out the need for a new form of capitalism with new systems of material flows and supply-chains, corporate governance, valuation techniques and metrics, legal and tax structures, global ethics, cultural values and more. Some compare the scale of change before us to the societal transformations experienced in the Enlightenment, the Scientific Revolution and the Reformation. All of this testifies to scale of the massive systemic shift before us, but leave us unclear on its specifics.
To explore these questions and possible answers, an upcoming issue of Amplify with Guest Editors, Dr. Andrew Hoffman and Dr. Nicholas Poggioli, will address the question, "What does 'systems change' mean for the future of sustainable business in the Anthropocene?"
Article ideas may include, but are not limited, to the following:
How can we conceptualize systems change at the local, regional, national or international levels; and/or at the sectoral or economy-wide scales?
What does systemic change look like in 2030, 2050 or 2200?
How does government fit into the idea of systems change? What kinds of policies can be deployed to move the economy, the market and capitalism towards a new set of systemic structures that address the challenges of the Anthropocene?
What kinds of metrics might we apply that link natural and economic systems? What measures and outcomes would indicate that systems change has been achieved and further change is unneeded?
What does systems change mean in the context of non-human stakeholders like animals, plants, landscapes, and sacred sites?
Which elements of business management are conceptualized as systems, which are not, and why?
For elements seen as systems, what about them needs to change, how do we measure change, and what new state is needed to be considered sustainable?
Does the desired outcome affect how we conceptualize and measure systems and systems change? For example, are the management systems that matter to preventing climate change above 1.5 Celsius the same or different from systems that matter to reducing species extinction, reduced agricultural productivity, and degraded marine ecosystems across the globe?
What are the political implications of a focus on systems change? For example, who benefits by leaving the systems as they are or systems change undefined? How do specific stakeholders attempt to influence the definition of systems change? Who benefits from a focus on systems change?
What are the social equity considerations in a shift to systems change? How does systems change impact human rights, social inclusion and equal opportunity around the world?
What conflicts, if any, exist between sustainable business and our current system of organizing business by industry, sector, nation, etc.? What alternative ways of organizing the market might accelerate the kind of systems change we need?
How have specific industries or stakeholders conceptualized systems change? For example, what has systems change meant in the global agribusiness, automotive or energy sectors, Chinese manufacturing, or United States financial services? How have management scholars, Fortune 500 executives, or trade associations conceptualized systems change?
FOR CONSIDERATION: Please send an abstract (~ 300 words or less of proposed article scope and author(s) bio) by March 2 to Dr. Andrew Hoffman, Dr. Nicholas Poggioli and Christine Generali. Final article length is typically 2,000-3,500 words plus graphics. More editorial guidelines.
---
These notes are intended to give authors some guidance and direction for articles submitted to Amplify for publication. Additional Cutter Consortium editorial guidelines can be found here.
Editorial: Amplify is professionally edited by our team who evaluates articles for content, substance, grammar, and style and provides valuable feedback so that authors can revise and improve their papers before publication. Publishing turnaround times are short. Articles are also peer-reviewed by the Guest Editor who is an expert in the field.
Audience: Publishing with Cutter affords the opportunity to present your insights and research to a global audience of corporate executives, top academics, and leaders in the public and NGO/IGO sectors that is highly interested in emerging developments across the spectrum of business and technology. Typical readers of Amplify range from CxOs and other business leaders to technology executives, program leaders, product managers, engineering managers and development executives, along with professors from universities worldwide. Most work in fairly large organizations: Fortune 500 organizations, universities, NGOs/IGOs, and government agencies. Industries span: finance and banking, education, energy, entertainment, food, healthcare, insurance, travel/transportation and manufacturing. 48% of our readership is outside of the US (15% from Canada, 14% Europe, 5% Australia/NZ, 14% elsewhere).
Length: The average article is 2,000-3,500 words, unless otherwise specified by the Group Publisher.
Article Format: Please send your article in word document format for editing purposes. Please do not send it as a PDF.
Editorial advice: Introductory-level, tutorial coverage of a topic is not very popular with our readership as they are senior-level people. Delete the introductory "fluff" and get to the meat of the topic. Assume you're writing for someone who has been in the industry for 10 to 20 years, is very busy, and very impatient. Assume he or she is mentally asking, while reading your article, "What's the point? What do I do with this information?" Apply the "so what?" test to everything you write.
General comments: We enjoy controversy and strong opinion; we like the fact that we can provide an alternative to standard "refereed" journals that sanitize articles. Because we don't carry any advertising, we can publish critical or negative comments about specific vendors or products. However, we obviously don't want to publish anything libelous or slanderous. Conversely, we don't publish self-serving commercial messages praising one's own product or service.
Style, grammar, and mechanics: For advice on good writing style, we recommend Merriam-Webster's Collegiate Dictionary, The Chicago Manual of Style, and The Elements of Style (Strunk and White). We are fanatics about the editorial quality of Amplify; anything you can do to help us in this regard will be greatly appreciated.
Graphics: Please keep your use of graphics to a minimum and submit original, editable files (not static images). Preferably, create your graphics in MS Office (Word, PowerPoint, Excel) and submit them as a separate editable Office file. If this is not possible, send files as high-res PNG, JPEG, PDF, or Adobe Illustrator CC/EPS. All images owned by another party may only be used with owner's permission. It is the author's responsibility to obtain permission. Copying images off the Internet without permission infringes on copyright and is unacceptable for publication.
All graphics (figures and tables) must include captions and a reference within the text; for example: "(see Figure 1)" or "Figure 1 illustrates…." Please note that we may remove graphics deemed unnecessary. Please be minimalistic in your design: limit colors, shadings, and typefaces. For additional questions, please contact Linda Dias (ldias@cutter.com).
Deadlines: The deadline you agree to when you commit to writing an article is a "hard" deadline; if you're going to be late, let us know and we'll negotiate a mutually agreeable delivery date. If the deadline passes without our having heard from you, we will assume that you have vanished and are unable to provide the article.
Editorial process: Once we get your article, we commence two parallel editorial passes: one for content (by the guest editor) and one for substance, grammar, and style (by a Cutter editor). Either or both of these initial editorial reviews may result in some questions or feedback from us. Most likely, we will send you a first draft "page proof" of your article for your review and approval.
Articles published in the journal must meet certain criteria relating to audience, technical content, and presentation. In the unlikely occurrence that, upon editorial review, your completed article does not meet with these requirements, Cutter Consortium reserves the right to decline the publishing of your article in the journal. Upon final acceptance, the article moves to additional copyediting and proofing stages, including layout. You will receive a PDF in layout form for final approval. We ask that this review take no more than 2-3 days.
Biographical sketch: At the end of each Amplify article, we like to include a brief (200 words or less) biographical sketch of each author along with email address of author(s). Click here for a sample. We also like to provide a color headshot. Please include a high-res color headshot (at least 300x300 pixels) of each author. We accept formal or casual photos that present authors in a professional manner. For samples, see our "Meet the Cutter Experts" section.
Copyrights: When you submit an article to us, you transfer copyright to Arthur D. Little and you warrant that you (or your employer) are the sole owner of the article, that it has not been previously published elsewhere, and that you have full power and authority to grant copyright to Arthur D. Little. You also warrant that it does not infringe on any copyright, violate any property rights, or contain scandalous, libelous, or unlawful matter.
Sourcing Content: When you do draw on the work of other authors and researchers, cite your sources accordingly in the relevant part of the text (using endnote numbers or hyperlinks). Given that Cutter Consortium has no relationships with vendors, we cannot permit the use of references, quotes, statistics, and figures from analyst/research firms with vendor ties (Gartner, MetaGroup, Yankee Group, Forrester, IDC, McKinsey, among others), as the data may be biased. If you feel information from one of these sources is critical to your article, please bring it to our attention early in the editorial process and we will be happy to discuss the issue. Note that Cutter Consortium conducts studies and surveys occasionally in its various practice areas. This data is available for use in your articles or reports. If there is specific data you are looking for to support an argument, please contact us for more information. We will be happy to send you any relevant data. Keep in mind that if your article uses too many sources, it is often an indicator that your piece summarizes research too heavily and lacks original thought. Remember our readers are interested in your insights; above all, speak in an expert voice.
Promotion: Once the issue is published, we will provide you with a PDF of your individual article to share with your colleagues or to post on your website, social networks, academic research bases, etc. We will also provide you with a link to the entire issue to share with your contacts, post on your website, blog, social networks, etc. We ask that once the issue is published, that you do not post the entire issue PDF on any websites or social media sites unless given express permission.
Author Compensation: We are pleased to offer Amplify authors a complimentary online subscription to Amplify upon signing Cutter's license agreement. In addition, we occasionally pull excerpts, along with the author's bio, to include in weekly email Advisors to clients and in our bi-monthly Cutter Edge email newsletter, which reaches another 8,000 readers, and we publish excerpts on the Cutter LinkedIn and Twitter feeds. If you plan to be speaking at industry conferences, we can arrange to make electronic copies of the issue in which you're published available for attendees of those speaking engagements — furthering your own promotional efforts.
Endnotes/References: When you draw on the work of other authors and researchers, please cite your sources. All sources/side commentary must be noted in relevant part of text (using endnote numbers) and listed in sequential order (i.e., order of appearance, not alphabetical order) at end of article in "References." All sources should include basic publishing information (i.e., author(s) name(s), complete title, publisher, date, and hyperlink and/or URL). Sources can be repeated but must be listed as a new endnote. The following are examples of various types of endnotes:
1DeMarco, Tom, and Timothy Lister. Waltzing with Bears: Managing Risk on Software Projects. Dorset House, 2003.
2In this survey, "innovation" refers to any new initiatives to introduce innovative, leading-edge, or unconventional software project development methods, processes, tools, or techniques.
3Hall, Curt. "AI & Machine Learning in the Enterprise, Part XI: Success of AI Application Development Efforts." Cutter Consortium Data Analytics & Digital Technologies, Executive Update, Vol. 19, No. 3, 2019.
4DeMarco and Lister (see 1).
5"About the Sustainability Practice." Cutter Consortium, accessed January 2021 .
---