---
Amplify — Calls for Papers
For nearly 30 years, the monthly Amplify (formerly Cutter Business Technology Journal) has served as a forum for thought leaders in academia and industry to present innovative ideas and solutions to the critical issues facing business and technology professionals. Please consider sharing your insight with us! For questions or to submit an abstract/article proposal for any of the upcoming issues for 2022 or 2023, please contact Christine Generali, Publisher, Amplify.
NOW ACCEPTING ABSTRACTS FOR THE FOLLOWING AMPLIFY ISSUES:
Disruption in the Banking & Financial Services Industries
► Publication date: January 2023
Advancing Workplace Equity
► Publication date: February 2023
Digital Twins in Practice
► Publication date: March 2023
Biodiversity & Business
► Publication date: April 2023
Navigating Geopolitical Risks
► Publication date: June 2023
ESG Reporting Trends
► Publication date: August 2023
---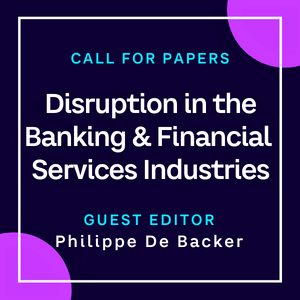 Guest Editor: Philippe De Backer
Abstract Deadline: December 12, 2022
Article Deadline: January 5, 2023
Publication date: January 2023
As neobanks and digital native banks profit from scalable business models, traditional banks face extinction as they wrestle with high labor costs, capital costs, and the erosion of brand loyalty as customers become increasingly footloose within a context of blurring industry lines.
To survive and thrive, traditional banks need to adopt a more exploration-oriented mindset. It is also imperative for leaders to act quickly to implement radical changes on all fronts and balance short-term value drivers with innovation to spur growth and transformation.
An upcoming issue of Amplify, with Guest Editor Philippe De Backer, seeks submissions exploring the future of financial services and the need for banking transformation and innovation in a market where the rules have fundamentally changed.
Article ideas may include but are not limited to the following:
What are the key features of future banks?
What opportunities do universal banks have to leverage their unique assets and pre-empt new entrants from dominating the market?
How is Open Banking reshaping the financial landscape, and how can both traditional banks and challengers benefit from this new opportunity?
What opportunities in embedded banking and BaaS have yet to be realized by new and existing players?
How are evolving customer experiences and changing customer expectations impacting banks?
What are some winning strategies in terms of customer trust and brand loyalty in financial services?
How will the future of money, transactions, and the decline of cash impact the financial landscape?
How can bank boards and management work together to ensure alignment with a bank's strategic direction?
How can innovation be prioritized on a bank transformation roadmap?
How can core banking capabilities be transformed for a digital era? How can agility help in the shift towards a digital culture?
What are some lessons-learned by "explore-oriented" businesses focusing on experimentation, risk-taking, discovery and innovation?
What is the impact of emerging technologies and continuous technology changes?
How can data be maximized and monetized across the banking landscape?
How can cloud and SaaS technology drive more customer-centric banking experiences?
What are the benefits and risks of increased automation in financial services?
How can omnichannel banking be developed?
How are APIs reshaping the banking world?
What is the outlook for M&As?
How is the relationship between challengers and banks evolving from competition to collaboration?
How can partnerships create real benefits for customers?
What is the impact of backward looking regulatory regimes?
How can customer data (PSD2) and new competitive models be accessed?
What are the challenges of fraud and AML during a time of rapid change?
FOR CONSIDERATION: Please send an abstract (~ 300 words or less of proposed article scope and author(s) bio), to Philippe De Backer and Christine Generali. Final article length is typically 2,000-3,500 words plus graphics. More editorial guidelines.
---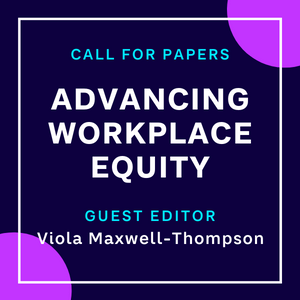 Guest Editor: Viola Maxwell-Thompson
Abstract Deadline: January 27, 2023
Article Deadline: February 15, 2023
Publication date: February 2023
Equity, as defined by Merriam Webster, is justice according to natural law or right. Specifically, freedom from bias or favoritism. This definition seems very straightforward to me, and still in various settings we see and experience countless acts of inequity. The Bureau for Labor Statistics reports show how the economy continues to be inequitable towards people of color in terms of job growth. Among major worker groups, Black and Latinx workers have a larger percentage of joblessness compared to their white counterparts.
There can often be a lack of clarity and comprehension when applying equity versus equality to a situation. Sometimes people strive to create equality in the workplace, not realizing that this may not yield an equitable environment for all involved. An article published by George Washington University entitled, "Equity vs. Equality: What's the Difference?" states that, "While the terms equity and equality may sound similar, the implementation of one versus the other can lead to dramatically different outcomes for marginalized people. Equality means each individual or group of people is given the same resources or opportunities. Equity recognizes that each person has different circumstances and allocates the exact resources and opportunities needed to reach an equal outcome."
An upcoming issue of Amplify, with Guest Editor Viola Maxwell-Thompson, will provide focused insights on leadership's role in creating equitable pathways for all employees, especially for women of color in the technology industry.
Article ideas may include, but are not limited, to the following topics on how businesses can:
How do we help clarify the differences between equity and equality in the work environment?
What steps need to be taken to address the equity disparities that still exist for people of color in the work environment?
What is the role of C-suite leadership and Board Directors in creating equitable opportunities across the organization and in the boardroom?
What is the role of senior leaders in creating more equitable work environments?
What can companies do differently to create equitable opportunities for women of color in a meaningful, sustainable, and measurable way?
If you encounter or observe inequitable practices, what should you do?
FOR CONSIDERATION: Please send an abstract (~300 words or less of proposed article scope and author(s) bio) to Viola Maxwell-Thompson and Christine Generali.  Final article length is typically 2,000-3,500 words plus graphics. More editorial guidelines.
---
Guest Editor: Ron Zahavi
Abstract Deadline: January 25, 2023
Article Deadline: February 24, 2023
Publication date: March 2023
Digital Twins are a core component of digital transformation and the emerging enterprise Metaverse. According to the Digital Twin Consortium (DTC), "A digital twin is a virtual representation of real-world entities and processes, synchronized at a specified frequency and fidelity". In the last two years, since our first publication and the creation of the DTC, we have seen rapid market growth and adoption and the transition from early experiments and pilots to deployment of real digital twin solutions. There are great examples across every industry sector, and even more traditional sectors are becoming early adopters, seeing the benefits of insights and improved decision making.
Economic uncertainty has been both a market driver and a downside. During COVID we saw a transition to remote working and greater emphasis to digital transformation and digital twins. Economica downturns can also drive adoption through the need to improve cost efficiency and sustainability efforts. But they can also slow down adoption in some industries through slower spending. And there are still integration and security challenges to address through consortia and standards communities.
It is at this critical juncture that sharing some real examples of value and return on investment can help organizations determine the best places to invest for the short and long term.
An upcoming issue of Amplify, with Guest Editor Ron Zahavi, will present the latest case studies, lessons learned, and strategies for meeting emerging digital twins needs.
Article ideas may include, but are not limited, to the following:
Real client/end user case studies and ROI
The latest frameworks, capability, and maturity models for digital twins
Types of models required to implement digital twin solutions
The role of digital twins in digital transformation and the emerging metaverse
Establishing the right data foundation for digital twins
Lessons learned from digital twin implementations
The latest digital twin standards and problems they address
How digital twins are applied and used in different vertical industries
Digital twin simulations
Digital twin interoperability and security concerns
Business opportunities that can be leveraged utilizing digital twins
FOR CONSIDERATION: Please send an abstract (~300 words or less of proposed article scope and author(s) bio) to Ron Zahavi and Christine Generali. Final article length is typically 2,000-3,500 words plus graphics. More editorial guidelines.
---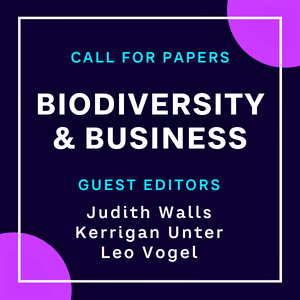 Guest Editors: Judith Walls, Kerrigan Unter, and Leo Vogel
Abstract Deadline: December 16, 2022
Article Deadline: February 17, 2023
Publication date: April 2023
We are currently in the midst of the Sixth Period of Mass Extinction, with a nearly 70% drop in mammal, bird, fish, reptile, and amphibian populations since the 1970s. And, as global warming from climate change increases, so do the negative impacts on biodiversity. Business depends on and impacts biodiversity both directly and indirectly, and biodiversity represents both a source of business risk as well as an opportunity for value creation. Yet, as P.J. Stephenson and Judith Walls highlight in their recent article for Amplify, "96% of business leaders are not well-informed about biodiversity."
Biodiversity is the variability of living organisms across all ecosystems. Declines in biodiversity negatively impact ecosystem functions and services which can, in turn, affect the ability of businesses to operate. Further, the wide-ranging impacts of biodiversity loss extend to all of society, constituting it as an urgent and critical issue. At the same time, nature-based solutions can be an effective pathway to mitigate climate change. Businesses can therefore be an important contributor to maintaining and protecting biodiversity for the health of our natural ecosystems, and by extension, help to mitigate climate change.
The goal of this special issue is to open an avenue for business leaders to become better informed about biodiversity. How can we bridge the gap between current failures to protect biodiversity and businesses' lack of knowledge and resources to change their actions impacting the health of ecosystems? This special issue focuses on highlighting practical solutions for how businesses can contribute to addressing biodiversity loss towards regenerating nature.
An upcoming issue of Amplify, with Guest Editors Prof. Dr. Judith Walls, Dr. Kerrigan Unter, and Leo Vogel, seeks short articles (2,000-3,500 words) exploring how businesses can manage biodiversity challenges.
Article ideas may include, but are not limited, to the following topics on how businesses can:
Monitor and measure their impact on biodiversity, including facilities as well as the entirety of the supply chain, including how to overcome data limitations in assessing biodiversity performance and risks
Reduce risk exposure and respond to biodiversity challenges both on- and off-site
Design strategies for biodiversity preservation, conservation, and restoration
Participate in programs and certifications that encourage biodiversity monitoring and protection
Manage non-corporate stakeholder relationships with local communities, government authorities, and NGOs to address biodiversity challenges
Enact solutions with social and economic equity and justice outcomes for employees and local communities around biodiversity
FOR CONSIDERATION: Please send an abstract (~300 words or less of proposed article scope and author(s) bio) to Dr. Judith Walls, Dr. Kerrigan Unter, Leo Vogel and Christine Generali. Final article length is typically 2,000-3,500 words plus graphics. More editorial guidelines.
---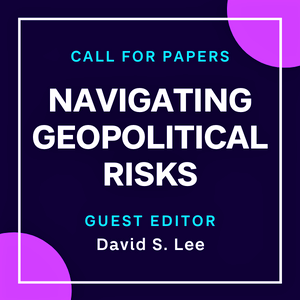 Guest Editor: David S. Lee
Abstract Deadline: April 1, 2023
Article Deadline: May 12, 2023
Publication date: June 2023
Geopolitics is impacting today's global business environment in profound ways. From armed conflict to pandemic policies to strategic and technological competition between China and the West, business organizations and their leaders are dealing with an operating environment that is much more volatile and unpredictable than anything most have previously navigated. Consequently, most organizations and leaders are unprepared to traverse this new business landscape.
Of course, politics has always impacted business in some way but the confluence of globalization, technology, and strategic competition makes today different. A recent Harvard Business Review article, "How Companies Can Navigate Today's Geopolitical Risks" by David S. Lee and Brad Glosserman describes this new operating environment as the "new national security economy." The new national security economy is framed by four key factors: 1) the changing and disruptive nature of globalization, 2) competition between China and the West across multiple arenas (e.g., militarily, technological, financial, etc…), 3) the role of critical technologies in dictating geopolitical winners and losers, and 4) the increasing role that business is playing, often reluctantly, in such geopolitical competition. Of course, there are additional approaches that help to capture the broad impact of geopolitics on business. Irrespective of approach, however, it is critical to acknowledge that the outsized impact of geopolitics on business is here to stay and businesses hoping things will return to the way things were is neither helpful nor realistic.
Accordingly, this upcoming issue of Amplify, with Guest Editor David S. Lee, will focus on describing the challenges that businesses and theirs leaders face due to the rise of geopolitics, how to manage specific geopolitical business risks, and offer principles to guide leaders and organizations through an operating environment that is growing increasingly complex due to such geopolitical considerations.
Article ideas may include, but are not limited, to the following topics:
Exploring and analyzing how geopolitics and related risks affect business
How to incorporate geopolitical risk into organizational strategy and decision-making processes in a comprehensive, holistic way as opposed to an ad hoc manner
Enhancing organizational knowledge relevant for navigating geopolitical risk, especially at the board and C-suite level
How the evolution of globalization and related interdependency and connectedness has not only provided benefits like free trade but also contributed to increased geopolitical instability and volatility
Ways that firms in countries outside of strategic competitors balance competing demands (e.g., how a South Korean semiconductor company with meaningful exposure in both China and the United States navigates between demands placed on them by both countries)
Ways in which industry can inform and shape government strategic policies and regulations
How businesses can better recognize, navigate, and work within the parameters of regulatory restrictions (e.g., CFIUS, export controls)
How business values, principles, and purpose are translated and manifested in the face of increasing nationalism, strategic competition, and/or geopolitics
How might reputational risk be considered and managed in a heightened geopolitical context
FOR CONSIDERATION: Please send an abstract (~300 words or less of proposed article scope and author(s) bio) to David S. Lee and Christine Generali.  Final article length is typically 2,000-3,500 words plus graphics. More editorial guidelines.
---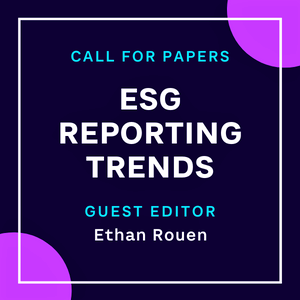 Guest Editor: Ethan Rouen
Abstract Deadline: March 15, 2023
Article Deadline: April 30, 2023
Publication date: August 2023
Regulators have failed to keep pace with the growing demand for information about companies' environmental and social impact. Investors, governments, employee groups, and others are demanding information about these issues, but companies and executives still have insufficient guidance on what information to report or how to report it.
The result is a hodgepodge approach to the discussion of non-financial impact, with information being disclosed across various forums and in formats that make comparability a challenge, frustrating many who hope to depend on this information to make decisions. More broadly, tumultuous labor markets and increasing environmental threats make the need for this information increasingly dire, and global regulators have listed the disclosure of non-financial impact high on their agendas.
An upcoming issue of Amplify seeks submissions examining the pitfalls and promise of the current non-financial reporting landscape, and offering insights into how this type of reporting will evolve in the near future. It will be Guest Edited by Harvard Business School (HBS) Assistant Professor of Business Administration Ethan Rouen, faculty co-chair of the HBS Impact-Weighted Accounts Project.
Article ideas may include, but are not limited, to the following topics on how businesses can:
What would a uniform disclosure mandate look like?
How are current disclosures useful and where can they be improved?
What is the role of intermediaries like auditors and ratings agencies, and are they currently accomplishing the goals they were intended to accomplish?
How can corporate executives communicate their non-financial performance to a broad audience?
How can corporate executives identify and communicate the relation between financial and non-financial performance?
FOR CONSIDERATION: Please send an abstract (~300 words or less of proposed article scope and author(s) bio) to Ethan Rouen and Christine Generali.  Final article length is typically 2,000-3,500 words plus graphics. More editorial guidelines.
---
These notes are intended to give authors some guidance and direction for articles submitted to Amplify for publication. Additional Cutter Consortium editorial guidelines can be found here.
Editorial: Amplify is professionally edited by our team who evaluates articles for content, substance, grammar, and style and provides valuable feedback so that authors can revise and improve their papers before publication. Publishing turnaround times are short. Articles are also peer-reviewed by the Guest Editor who is an expert in the field.
Audience: Publishing with Cutter affords the opportunity to present your insights and research to a global audience of corporate executives, top academics, and leaders in the public and NGO/IGO sectors that is highly interested in emerging developments across the spectrum of business and technology. Typical readers of Amplify range from CxOs and other business leaders to technology executives, program leaders, product managers, engineering managers and development executives, along with professors from universities worldwide. Most work in fairly large organizations: Fortune 500 organizations, universities, NGOs/IGOs, and government agencies. Industries span: finance and banking, education, energy, entertainment, food, healthcare, insurance, travel/transportation and manufacturing. 48% of our readership is outside of the US (15% from Canada, 14% Europe, 5% Australia/NZ, 14% elsewhere).
Length: The average article is 2,000-3,500 words, unless otherwise specified by the Group Publisher.
Article Format: Please send your article in word document format for editing purposes. Please do not send it as a PDF.
Editorial advice: Introductory-level, tutorial coverage of a topic is not very popular with our readership as they are senior-level people. Delete the introductory "fluff" and get to the meat of the topic. Assume you're writing for someone who has been in the industry for 10 to 20 years, is very busy, and very impatient. Assume he or she is mentally asking, while reading your article, "What's the point? What do I do with this information?" Apply the "so what?" test to everything you write.
General comments: We enjoy controversy and strong opinion; we like the fact that we can provide an alternative to standard "refereed" journals that sanitize articles. Because we don't carry any advertising, we can publish critical or negative comments about specific vendors or products. However, we obviously don't want to publish anything libelous or slanderous. Conversely, we don't publish self-serving commercial messages praising one's own product or service.
Style, grammar, and mechanics: For advice on good writing style, we recommend Merriam-Webster's Collegiate Dictionary, The Chicago Manual of Style, and The Elements of Style (Strunk and White). We are fanatics about the editorial quality of Amplify; anything you can do to help us in this regard will be greatly appreciated.
Graphics: Please keep your use of graphics to a minimum and submit original, editable files (not static images). Preferably, create your graphics in MS Office (Word, PowerPoint, Excel) and submit them as a separate editable Office file. If this is not possible, send files as high-res PNG, JPEG, PDF, or Adobe Illustrator CC/EPS. All images owned by another party may only be used with owner's permission. It is the author's responsibility to obtain permission. Copying images off the Internet without permission infringes on copyright and is unacceptable for publication.
All graphics (figures and tables) must include captions and a reference within the text; for example: "(see Figure 1)" or "Figure 1 illustrates…." Please note that we may remove graphics deemed unnecessary. Please be minimalistic in your design: limit colors, shadings, and typefaces. For additional questions, please contact Linda Dias (ldias@cutter.com).
Deadlines: The deadline you agree to when you commit to writing an article is a "hard" deadline; if you're going to be late, let us know and we'll negotiate a mutually agreeable delivery date. If the deadline passes without our having heard from you, we will assume that you have vanished and are unable to provide the article.
Editorial process: Once we get your article, we commence two parallel editorial passes: one for content (by the guest editor) and one for substance, grammar, and style (by a Cutter editor). Either or both of these initial editorial reviews may result in some questions or feedback from us. Most likely, we will send you a first draft "page proof" of your article for your review and approval.
Articles published in the journal must meet certain criteria relating to audience, technical content, and presentation. In the unlikely occurrence that, upon editorial review, your completed article does not meet with these requirements, Cutter Consortium reserves the right to decline the publishing of your article in the journal. Upon final acceptance, the article moves to additional copyediting and proofing stages, including layout. You will receive a PDF in layout form for final approval. We ask that this review take no more than 2-3 days.
Biographical sketch: At the end of each Amplify article, we like to include a brief (200 words or less) biographical sketch of each author along with email address of author(s). Click here for a sample. We also like to provide a color headshot. Please include a high-res color headshot (at least 300x300 pixels) of each author. We accept formal or casual photos that present authors in a professional manner. For samples, see our "Meet the Cutter Experts" section.
Copyrights: When you submit an article to us, you transfer copyright to Arthur D. Little and you warrant that you (or your employer) are the sole owner of the article, that it has not been previously published elsewhere, and that you have full power and authority to grant copyright to Arthur D. Little. You also warrant that it does not infringe on any copyright, violate any property rights, or contain scandalous, libelous, or unlawful matter.
Sourcing Content: When you do draw on the work of other authors and researchers, cite your sources accordingly in the relevant part of the text (using endnote numbers or hyperlinks). Given that Cutter Consortium has no relationships with vendors, we cannot permit the use of references, quotes, statistics, and figures from analyst/research firms with vendor ties (Gartner, MetaGroup, Yankee Group, Forrester, IDC, McKinsey, among others), as the data may be biased. If you feel information from one of these sources is critical to your article, please bring it to our attention early in the editorial process and we will be happy to discuss the issue. Note that Cutter Consortium conducts studies and surveys occasionally in its various practice areas. This data is available for use in your articles or reports. If there is specific data you are looking for to support an argument, please contact us for more information. We will be happy to send you any relevant data. Keep in mind that if your article uses too many sources, it is often an indicator that your piece summarizes research too heavily and lacks original thought. Remember our readers are interested in your insights; above all, speak in an expert voice.
Promotion: Once the issue is published, we will provide you with a PDF of your individual article to share with your colleagues or to post on your website, social networks, academic research bases, etc. We will also provide you with a link to the entire issue to share with your contacts, post on your website, blog, social networks, etc. We ask that once the issue is published, that you do not post the entire issue PDF on any websites or social media sites unless given express permission.
Author Compensation: We are pleased to offer Amplify authors a complimentary online subscription to Amplify upon signing Cutter's license agreement. In addition, we occasionally pull excerpts, along with the author's bio, to include in weekly email Advisors to clients and in our bi-monthly Cutter Edge email newsletter, which reaches another 8,000 readers, and we publish excerpts on the Cutter LinkedIn and Twitter feeds. If you plan to be speaking at industry conferences, we can arrange to make electronic copies of the issue in which you're published available for attendees of those speaking engagements — furthering your own promotional efforts.
Endnotes/References: When you draw on the work of other authors and researchers, please cite your sources. All sources/side commentary must be noted in relevant part of text (using endnote numbers) and listed in sequential order (i.e., order of appearance, not alphabetical order) at end of article in "References." All sources should include basic publishing information (i.e., author(s) name(s), complete title, publisher, date, and hyperlink and/or URL). Sources can be repeated but must be listed as a new endnote. The following are examples of various types of endnotes:
1DeMarco, Tom, and Timothy Lister. Waltzing with Bears: Managing Risk on Software Projects. Dorset House, 2003.
2In this survey, "innovation" refers to any new initiatives to introduce innovative, leading-edge, or unconventional software project development methods, processes, tools, or techniques.
3Hall, Curt. "AI & Machine Learning in the Enterprise, Part XI: Success of AI Application Development Efforts." Cutter Consortium Data Analytics & Digital Technologies, Executive Update, Vol. 19, No. 3, 2019.
4DeMarco and Lister (see 1).
5"About the Sustainability Practice." Cutter Consortium, accessed January 2021 .