Decoding Digital Transformation — A CIO's Perspective
Posted September 15, 2016 in
Business Technology & Digital Transformation Strategies
The digital economy clearly has arrived. For consumers, this means the ability to stay connected across physical and virtual worlds any time and any place, which allows for better insights into buying decisions. For businesses, it demands the opening up of new business models to tap this hyperconnected consumer economy and requires dramatic changes to existing operational models. It signifies unprecedented opportunities as well as challenges for CIOs, forcing them to revisit and decode the entire IT value chain — from channels all the way to increasingly using digital transformation levers in the IT operation.
Businesses need to face the connected consumer-led economy with clear-cut imperatives that are aligned in lockstep with business and IT. Every prior enterprise transformation journey has been enabled by IT, but the digital technology transformative imperative changes the equation. Most digital transformations lose their way due to the complexity of overlapping boundaries at a high level between traditional and digital IT.
Although traditional and digital IT both enable information across the enterprise, a closer look shows opposing characteristics in terms of people, process, and technology. As an example, digital initiatives require teams that are agile and have the ability to deliver in quick sprints in a continuous fashion, compared to traditional IT's fixed release schedule. The desire to launch digital initiatives that are not linked to business improvement has resulted in further silos in an already complex IT stack. All the above creates a compelling reason for CIOs to have a clear-cut linkage to transformation initiatives, and at the same time, requires a balancing act in evolving capabilities across traditional and digital IT.
Understanding the Transformation Strategy
The first step in any transformation journey lies in understanding the organization's competitive strategy. To win in the marketplace, a company needs to be competitive across the three dimensions as shown in Figure 1 (see Treacy and Wiersema): customer intimacy, operational excellence, and product leadership. According to Michael Treacey and Fred Wiersema, to be a market leader, the organization needs to excel in one of the dimensions while meeting industry standards in the other two.

                     Figure 1 – How organizations compete and win in the marketplace.
Linking the Transformation Strategy to Digital IT Strategy 
The next important step is for the CIO to ensure that the business and IT are in lockstep by providing the linkages to business imperatives for the IT transformation journey to provide the value outcomes needed.
An organization that has chosen customer intimacy as the discipline in which to excel, for example, has to put customer intimacy in lockstep with the digital transformation journey to ensure that the investment in various foundational digital elements that are built during the journey return the desired value outcome to the business. Customer intimacy can be enabled in the digital world by making the journey for the customer across the channel touchpoints seemless so that the customer's experience is the same over a product's lifetime.
Identifying Capabilities and Changes Across the Digital Transformation
Digital transformation deals with an existing IT estate; hence, it is not only about identifying capabilities but also about the changes across the organization that are required to successfully shift the existing IT organization toward digital initiatives. Digital capabilities bring a set of capabilities with composite characteristics across people, process, and technology, and are not limited to technology-centric notions like mobile, cloud, and big data.
Below are a number of elements that are shaping digital transformation across customer-, product-, and operation-centric enterprises:
Structure. Traditionally, IT has been aligned to information enablement along functional lines of business, resulting in vertical-role boundaries and siloed thinking. In the world of digital consumers, where agility prevails, organizations favor soft boundaries and horizontal roles across lines of business. Digital perfectly fits the bill of agility over rigidity. The general trend for most organizations is to create a separate digital structure, enabling rapid innovation, and then distributing digital capabilities at scale across the enterprise.

Processes. The core fabric of digital organizations is rapid response to customer needs. This clearly calls for a very light touch in governance and in the release process. Organizations need to balance these dual aspects within the existing IT framework by providing the right incentives to people to help them transition from a traditional into a digital organization.

Technology. Digital capabilities should aim to promote a technology ecosystem whose components are open, loosely coupled, secure, and scalable, thereby promoting the idea of platforms compared to a traditional IT landscape predominantly dominated by applications that are tightly coupled, limiting the ability of an enterprise to respond to digital disruption.

Operations enablement. Operations enablement refers to the IT4IT Reference Architecture capabilities traditional IT estates have relied on (e.g., configuration management database, ITIL) as enablers to carry out the day-to-day operations of IT. Similarly, digital operations enablement needs to act as the foundation for the overarching transformation journey (e.g., continuous delivery, continuous integration, and DevOps).

Culture. Culture is an essential aspect of any transformation. Given the magnitude of change required across the IT estate — and, in the case of digital transformation, with varying speeds — it is essential to keep culture as a key focus area. One critical success factor in the digital world is reskilling people on digital technologies as the IT delivery value chain collapses and activities like testing, infrastructure setup, and release are automated. To enable rapid agility across teams, especially from the point of view of DevOps, organizations are revisiting the very layout of workplaces to enable transparency in information sharing over documenting process. In short, digital culture requires dialogues over process.
Transformation Paths with a Clear-Cut Balancing Act Between Traditional and Digital IT
Although the CIO has a pressing need to digitize the estate, a pragmatic approach is to ensure the balance between the digital and traditional IT footprints during the journey. As mentioned above, although "information enablement" is the primary focus of traditional IT, in the world of digital IT, "information innovation" is the key focus. Information innovation is the ability of the IT system to get new insights into customer behaviors in real time and innovatively correct course to address the market needs from an operational standpoint.
Figure 2 shows various paths to transformation to achieve holistic digital capabilities, which improve customer intimacy with digital characteristics. "Digital solutions" represent the collection of unique digital capabilities enterprises need to increase the degree of digitalization. "Customer centricity" represents the ability of the enterprise to win in the marketplace using one or more of the above-mentioned disciplines.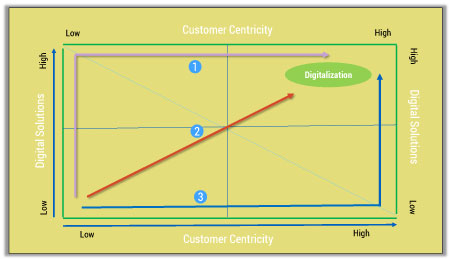 Figure 2 – Paths to transformation.
 
In Approach 1, organizations embark on building a digital capabilities platform based on a digital-first approach and later identify customer touchpoints to enable high levels of digitalization by porting applications into the digital platform. The traditional IT balancing act occurs during porting to a digital platform.
Approach 2 works on the principle that organizations work closely with traditional IT and digital IT, trimming traditional IT for cost reduction and reinvesting with the digital capabilities required to stay in lockstep with customer-centric touchpoints.
In Approach 3, organizations first create clear-cut channel capabilities with the current stack and then, when scale is reached, they port those capabilities to digital solutions, eventually taking the shape of the platform while reducing traditional IT.
This bring us to an interesting question: how do you choose the right path for a given transformation? While there is no single right answer, a guiding principle is to choose based on the combination of "information intensity" and pragmatic understanding of how the enterprise wins in the marketplace. For example, information-intensive industries like media, which can be digitalized from production to delivery, will have a much more compelling reason to embark on building a digital platform first and then quickly porting the traditional IT stack, starting with customer touchpoints to remain relevant to the trends.
Conclusion
Pure-ply, technology-centric approaches can only bring new technologies into the IT estate, which does not by itself guarantee holistic transformation. This is why some of the pseudo-digital initiatives across enterprises to Cloudify or mobile apps has not resulted in any revenue growth unless they have been linked to a clear-cut business proposition that aids the enterprise's go-to-market strategy.
The time is ripe for CIOs to sort through the plethora of digital technology options and embed a culture of digital thinking along with business to ensure the IT organization of the future has the right set of skills, technology, and culture to help enterprises decode the digital transformation journey and set directions for winning in the new hyperconnected world.