Healthcare's Transformation Requires a Shift from "Digital" to "Data-Driven"
Posted September 27, 2023
| Technology |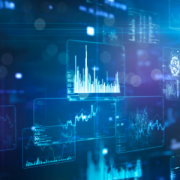 We are living in an era where every activity of our lives is going digital. So how does that impact the healthcare industry when, primarily, the success of any health organization requires the pursuit of three aims:
Quality — guaranteeing the effectiveness of care and improving the experience of patients

Access — providing proactive care or facilitating entry into the healthcare system upon recognizing a need

Efficiency — improving healthcare processes and reducing per capita costs of healthcare while guaranteeing quality and access
The digital transformation of healthcare is key to achiev­ing these objectives, especially since this indus­try lags sectors like media, financial services, and wholesale trade, which have gained clear advantages from global digitalization. But, clearly, people miss human contact when interacting with an artificial intelligence (AI) system. Moreover, healthcare facilities approve few digital initiatives, and a significant number of these facilities have not even introduced relevant new technologies in their strategic plans.
From Digital Health to Data-Driven Healthcare
New definitions of eHealth and digital health are continuously emerging. The World Health Organization (WHO) defines eHealth as "the use of information and communication technologies in support of health," while digital health is described more broadly as an umbrella term covering areas including eHealth, telehealth, and more.
During the next decade, the healthcare industry will undergo a profound transformation as many important technologies, including AI, reach mainstream adoption. Clinical workflow will become more agile by virtue of AI and advanced analytics that automate decision-making processes. The emergence of these technologies requires a transformation from mere digital health to data-driven healthcare given the fundamental role of data in automated decision-making (see Figure 1).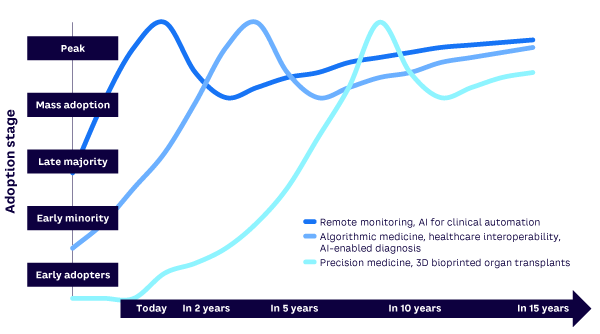 Big data, in particular, is the trigger to move the health­care industry forward. Big data analysis aggregates information and makes possible the identification of patterns and trends. For the healthcare industry, big data can provide several important benefits, including:
More accurate staffing — helps hospitals estimate future admission rates

Facilitation of chronic care — facilitates effective management of a population risk cohort by creating lean processes for continuous and standardized treatments

Lower rate of medication errors — can identify and flag any inconsistencies between a patient's health conditions and drug prescriptions and alert health professionals and patients of any discrepancy
[For more from the authors on this topic, see: "What's Driving Data-Driven Healthcare?"]