Minimizing the Carbon Footprint with a Focus on Scope 3 Emissions
Posted September 6, 2023
| Sustainability |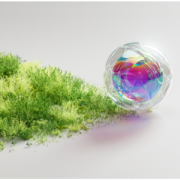 One of the most challenging aspects of environmental reporting involves calculating greenhouse gas (GHG) emissions. This issue stretches back to at least 2001, when the Greenhouse Gas Protocol organization set out a framework for business standards on carbon reporting. The simple system classifies emissions as Scope 1, 2, or 3.
Scope 1 involves GHGs stemming from the direct production of goods and services; Scope 2 involves emissions from indirect energy consumption, such as office electricity. Most organizations have become steadily more effective in how they measure and mitigate emissions from their Scope 1 and Scope 2 sources.
Scope 3 sources (GHGs produced by external suppliers and customer activities) represent the largest opportunity to lower emissions, making up at least 70% of overall emissions for most industries. As such, companies that are serious about minimizing their carbon footprint must focus strongly on Scope 3 (see Figure 1).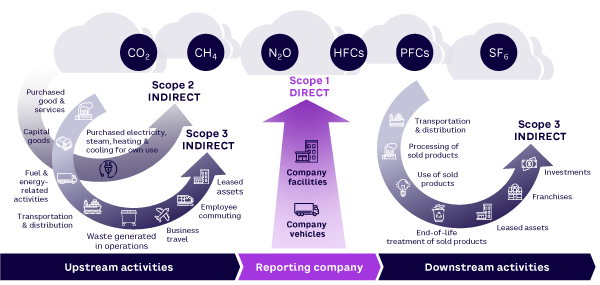 For example, computer peripheral maker Logitech says Scope 3 emissions make up 99.8% of its current global GHG emissions. That overwhelming percentage is due to the company reportedly reducing its Scope 1 and Scope 2 emissions to "negligible" levels.
Logitech plans to cut its Scope 3 emissions in half or more by 2030 by refurbishing more products for resale and incorporating lower-carbon materials into production.
Despite the obvious environmental and financial benefits of reducing emissions, only 47% of companies currently include Scope 3 planning in their efforts to reach net-zero emissions by 2050. This situation stems from the fact that gauging emissions from external suppliers, let alone reducing them, is much more difficult than creating internal programs to measure and reduce emissions from in-house processes and systems. Scope 3 requires proof that emissions in a business's extended supply chain be reduced, something that can't be done without the active contribution of suppliers and customers.
The path to reduce emissions requires an inside-outside approach. Internally, organizations need to become more efficient in managing resources, energy, manufacturing plants, and transportation systems. Business leaders must analyze where and how their organizations are most wasteful and develop action plans for mitigation. For IT departments, this includes scrutiny of interrelated factors like data center energy use, cloud adoption, enterprise architecture sustainability, end-user-device decarbonization, and deploying environmental-monitoring software.
Externally, organizations must become more collaborative in how they work with suppliers to drive mutual gains in meeting targets. Most emissions reductions will come not from selecting different suppliers, but from continuous improvements and innovations developed by (or jointly with) suppliers. Organizations that build the most collaborative relationships with suppliers will have an opportunity to realize a long-term competitive advantage in their markets.
To address the Scope 3 challenge, companies must closely align their efforts across all supplier networks. Working together, partners can develop structural innovations that will allow them to share, lease, reuse, repair, refurbish, and recycle existing materials as a way of reducing their overall environmental impact. This collective approach serves as the basis for a longstanding strategy known as a "circular economy."
[For more from the author on this topic, see: "Using a Circular Economy to Slash Supply Chain Emissions."]