In the Navy Now: New Project Highlights Digital Twin Potential
Posted October 25, 2023
| Technology |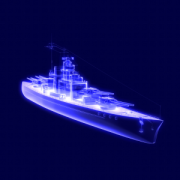 To demonstrate the degree to which digital twins are becoming a powerful tool, this Advisor examines a digital twin framework that was used to create, adjust, and deploy a digital twin of a North Atlantic Treaty Organization (NATO) member's naval ship. The digital twin framework can ingest multiple forms of 3D models/3D data and convert them to a standardized format. This allows any twin created using the framework to be modified without changing the original data, creating an environment in which ingested data can quickly be used to create new applications.
A Naval Ship Digital Twin
A NATO member country's navy sought a digital solution to display assets (e.g., naval ships) in a digital format it could use for training, engineering, and operational activities. The project involved creating a tool to support the conversion and management of assets, processes, documentation, and applications into interconnected digital objects, addressing requirements for all lifecycle activities. The tool would also be used during design reviews.
The first phase of the project involves creating a digital twin of a single piece of equipment; the second phase involves creating a digital twin of a naval ship.
The navy provided engineering CAD files for a piece of naval ship equipment in the form of .dgn files. The equipment has roughly 100,000 polygons and consists of between 100 and 300 objects. The data for the ship has more than 1 million polygons and approximately 4,000 objects, each with 30 key metadata attributes. The navy is performing its own light detection and ranging (LiDAR) scanning using Leica RTC360 scanners.
The ingestion process to convert this data into the format used in the digital twin framework was nearly identical to one used in a separate project, so those pipelines could be used with only small alterations. The navy intends to perform the ingestion process itself in the future, so the UI was improved for ease of use.
Station IX was used to visualize the digital twin for naval leaders, training groups, and design review teams, all of whom can view the digital assets in a highly immersive way.
Two types of digital twin applications are being created for the navy: training and engineering operations. For ship-familiarization training, users will be able to walk through various parts of the ship, click on items to see more information about them, and extend bridges/move cranes to better understand how they work.
For engineering design reviews, teams will be able to view all or part of the digital twins using 3D visualization in Station IX, move and manipulate assets, and view data associated with these assets. They can also compare design drawings to physical parts scanned using LiDAR. In the near future, engineers will be able to edit parts and add metadata and notes to 3D assets; this will become a regular part of design-review meetings.
[For more from the author on digital twin applications, see: "Exploring Digital Twin Potential for Energy & Defense."]