Bring the Power of Modern Analytics to Software Development
Is your software development organization getting the best return on its assets? Are you managing your mix of development work optimally?
In today's fast-paced business climate, it takes constant learning about your operation to compete. Although you recognize that improving your software development process will free up assets to devote to innovation, many of today's realities — from framework wars to "one size fits all" methodologies — make it nearly impossible to accurately estimate, plan, track, and govern software development work at the team, project, program and portfolio levels.
Cutter's software development analytics consulting, led by Cutter Senior Consultant Dr. Murray Cantor, delivers real-time knowledge about your software development operation and the adjustments you can make to deliver optimal business value — whether the goal is better financial outcomes, faster time to market, or operational efficiency. You'll move from the subjective analysis of your software development process to a quantitative one, from the "belief" that your software development methods are effective to an evidence-based situation, one that enables you to measure progress and make modifications where necessary.

Murray Cantor
This program helps you assess your mix of software development efforts, determine your process debt, create actionable goals for achieving hoped-for outcomes, and employ measures and feedback loops to set and track goals.
Cutter's software development analytics consulting is customized to meet your organization's needs. Whether you want to introduce analytics on a specific pilot project, or overhaul your decision-making process for investing in your project portfolio, Cutter's experts have the experience and vision to help you reach your destination. Benefit from one or all of these software development analytics offerings:
Process Debt Assessment
Cutter's process debt assessment helps you identify inefficiencies in your software development process so that you can fine-tune your operation and work advantageously. Dr. Cantor will help you inventory your current development efforts by sorting ongoing projects into 3 buckets, each according to its innovation class (see Figure 1). The level of required innovation determines the kind of performance measures that will be applied to a project. Together, you'll identify context-based patterns, such as the range of development types from maintenance projects to bringing a brand new product to market; the size of the development group; etc., that are specific to your organization. At the end of this assessment, you'll receive a report on the findings, a briefing of the initial assessment, and recommendations for moving forward.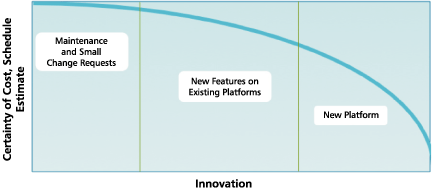 Enhanced Predictability Workshop
During this workshop, Dr. Murray Cantor will help you develop a way to plan and monitor your software delivery process that emphasizes greater predictability. Using predictive analytics, you'll learn how to determine the probability distribution associated with the estimated schedule and use models to determine the likelihood of your project falling in range of your goals. Predictive analytics will help you get the best possible view of your status based on current project information, and receive continual feedback as the information grows. You'll identify what actions you can take to improve your odds of success and revisit your estimation as the program progresses. You'll learn how to use the uncertainty of a given estimate, and its margin of error, to your advantage.
Quantitative Software Portfolio Management
It's an ongoing challenge to determine which investments have the most strategic value and deliver the greatest business benefit, as well as just how much — in terms of resources and associated costs — should be invested to achieve various goals. What is the appropriate spending level for an application or project given the risks and rewards? Which investments will deliver the most value in this regard? In the absence of tools to measure uncertainty, prudent use of funds is extremely difficult. The impact to the business becomes judgmental, with different people having different yardsticks.
Cutter's Quantitative Software Portfolio Management service provides a rigorous method for evaluating and comparing candidate investments, based on risks and benefits. This service is designed to improve the investment decision-making process by delivering an instrumentation framework and modeling tool template for determining and incorporating known and uncertain measurements of risks and benefits, so that you can balance your portfolio between innovative efforts and low-hanging fruit. The outcome of this engagement includes a tailored, quantitative investment model-building plan, suitable for "what-if" scenario building.
Agile Management Workshop: Building a Responsive Organization
Many organizations have already adopted an agile framework or method, and while agile methods can be very effective, they pose specific challenges to management, beginning with where you should use agile practices and what level of control you should exhibit over agile initiatives. This workshop provides managers with the information they need to successfully lead their organization on their agile journey. You'll explore in detail the two schools of thought on addressing risk management concerns, the three kinds of software development, the impact of the Lean movement, modern product flow and Kanban, and the roles of DevOps and Lean Agile. At the end of this workshop, you'll know how to track progress and manage risk, determine your role on the team, communicate priorities and backlog management, and work with the project stakeholders.
What's Next?
For more details on how to bring Murray Cantor to your organization for these software development analytics workshops, contact your Cutter Account Executive by email, call +1 781 648 8700, or complete the form below.