Identify and Close the Innovation Gaps
Discover how to make innovation a core competency that leads to new markets, products, services, and strategies.
---
Organizations that know how to foster innovation and tap creative, valuable outcomes are the ones that will succeed. An enterprise that has learned to innovate reliably and regularly can transform ideas into economic value. These are the companies that understand that innovation is a key source of sustainable competitive advantage and support activities that lead to new markets, products, services, and strategies.
But not every organization possesses a culture of innovation. Transforming to one first requires a realistic assessment of the current culture. Then the organization needs to develop an effective set of initiatives to guide the transition. Innovation Mapping is the tool you can use to get you there.
Innovation Mapping, developed by Cutter Consortium Fellow, Dr. Robert D. Austin, compares organizations, teams, and people along a number of dimensions that impact innovation performance. Based on his research, Dr. Austin has developed a robust capabilities assessment methodology that yields insights into an organization's management principles, processes, and practices in terms of innovation capability.
What if your organization's innovation maps look like these?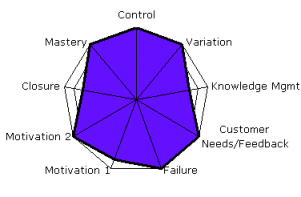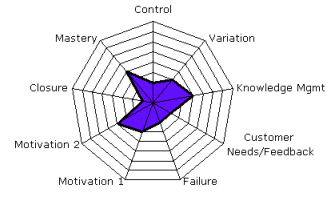 After surveying and interviewing key players in your organization, Dr. Austin and his team will pinpoint how well aligned the perception of innovation capabilities are within your organization, and will also compare your organization's innovation capability against world-class innovators to determine how well it is aligned with those successful organizations. His results can then be used to design a strategy to address and overcome obstacles to innovation and to leverage your areas of strength.
Armed with the knowledge of where the innovation gaps lie between members and groups in your organization and advice from Rob Austin and his team, your organization can begin to close the gaps and make innovation a core competency.
Why Rob Austin?
Dr. Austin is a professor of IT management at the Richard Ivey School of Business (Canada). Prior to his appointment at Ivey, he was Professor of Management of Innovation and Digital Transformation at Copenhagen Business School. For many years, Dr. Austin served as Chair of Harvard Business School's executive program for CIOs and is a former HBS Professor in economics, financial reporting, IT, and operations management for MBAs and executives. Dr. Austin's research deals with IT management and, more specifically, management of knowledge-intensive activities with a particular focus on innovation.
What's Next?
For more details on how to bring Rob Austin to your organization to help you create and implement an innovation strategy that differentiates your organization, contact your Cutter Account Executive.