Enterprise Architecture: How to Create Value and Avoid Obstacles During Acquisitions
In the digital era, mergers and acquisitions (M&As) can be especially rife with challenges. Many CIOs find it nearly impossible to determine how long it will take to integrate a company. It could be three months. It could be three years. But with a relentless focus on using enterprise architecture (EA) to catalyze acquisitions, you can mitigate the challenges. Cutter Consortium Senior Consultants Gustav Toppenberg and Stefan Henningsson can help your organization examine its process for acquisitive growth and explore how advances in EA practices can not only help overcome obstacles, but also enable value creation.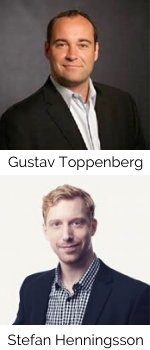 During this engagement, Toppenberg and Henningsson, coauthors of Architecting Growth in the Digital Era, will take your team through a few case studies of Fortune 500 companies that grew through acquisition. They will demonstrate how these organizations were able to unlock value through the lens of the M&A leader, and from the perspective of the EA professional. They will show you how EA catalyzed the acquisitions these companies made, and how you can apply the same practices.
Toppenberg and Henningsson will also explore how EA can help orchestrate the strategic transformation that acquisitions entail in a way that reduces time-to-synergies and leaves fewer remaining issues. They will provide your organization with hands-on guidance that will help you maximize EA's contribution to the acquisition process and expert insight and advice on the journey ahead.
How can an advanced EA capability contribute to the different phases of an acquisition?
Building resources to make the company 'ready to acquire'
Identifying opportunities for—and threats to—resource combination
Diagnosing and implementing integration mechanisms
Addressing the inefficiencies created during the integration
Discover how EA can unlock the value potential of acquisitions without inducing long-term issues that will eventually force your company to undertake a major organizational restructure. Learn how your EA program can become an integral part of any transformation, whether it be acquisitions, mergers, restructures, or business unit investments. Bring Gustav Toppenberg and Stefan Henningsson to your organization today.
For more details on how Gustav Toppenberg and Stefan Henningsson can help your organization unlock the value potential of acquisitions, complete the form below or contact your Cutter Account Executive. (Typically an inhouse engagement, Gustav and Stefan can conduct this workshop entirely remotely if circumstances require virtual delivery.)