Blockchain Technologies & Environmental Sustainability — Opening Statement
Posted September 27, 2023
| Sustainability | Technology | Amplify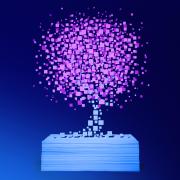 AMPLIFY  VOL. 36, NO. 9
  
As humanity grapples with the urgent need to address environmental, economic, and social challenges, the global discourse on sustainability has taken center stage. In this context, blockchain technology has been suggested as a promising ally in the pursuit of a more sustainable future. At closer inspection, the relationship between blockchain and sustainability is complex and multifaceted, encompassing a wide range of opportunities and applications with the potential to reshape industries, value chains, and the way we impact the environment.
The first online deployment of blockchain was introduced by the pseudonymous Satoshi Nakamoto as one of the building blocks of the cryptocurrency bitcoin.1 Even though the true identity of the inventor was never revealed, blockchain began to attract substantial attention in the industry and academia, and numerous ideas were generated on how to use it beneficially.2 Due to the decentralized nature of blockchain and its emergent properties, it has already begun to transform value networks and business relationships. Many new applications go beyond cryptocurrencies and increasingly involve end users and consumers.3
Given the need to address the aforementioned sustainability challenges, blockchain has become the technological foundation for innovative solutions that help reduce negative environmental impact, foster economic fairness, and promote social justice. Academic research has identified several ways blockchain can contribute to the circular economy, including decentralization, transparency, trust, traceability, information sharing, low transaction costs, and the opportunity to enhance business collaboration.4
A systematic investigation of previous studies confirmed the potential of blockchain to positively contribute to several of the United Nations Sustainable Development Goals (UN SDG), including affordable and clean energy, industry innovation and infrastructure, sustainable cities and consumption, climate action and forests, and desertification and biodiversity.5 However, on closer inspection, numerous ongoing initiatives specifically defined as "blockchain for good" projects seem to favor the status quo rather than transformative change and face sustainability dilemmas.6
Further research is needed to increase our understanding of the technology and identify use cases in which specific blockchain characteristics can provide value and foster sustainability, ideally without significant trade-offs. In other words, we need inspirational examples that give us a glimpse into the future and point business leaders and technology developers toward applications that can serve as beacons for organizations that need to overcome similar challenges.
In this issue of Amplify, we delve into the intricate connections between blockchain technologies and sustainability, highlighting how transparency, traceability, and decentralization can empower individuals, organizations, and governments to address pressing sustainability issues, from energy grids and sustainable forestry to agri-food ecosystems and regenerative finance (ReFi). As we explore this dynamic development, it becomes evident that blockchain is not merely a technological innovation: it can serve as a catalyst for transformative change that aligns with the global imperative to create a more sustainable and equitable world.
In This Issue
This issue clarifies the complex relationship between blockchain and sustainability and provides inspiring examples of how the technology can be successfully applied to yield environmental benefits.
In our first article, I elaborate on the complex concepts of blockchain and sustainability, both of which are comprehensive and frequently misunderstood. My piece illustrates how the technology offers a multitude of capabilities (e.g., immutability of data, shared access, programmability, security) that can yield numerous beneficial outcomes for sustainability efforts.
Next, Ali Arabnya and Amin Khodaei explore blockchain's potential to create the sustainable energy grid of the future. One of the defining features of the technology is decentralization, which perfectly matches with the idea of distributing the production, trading, and consumption of energy. This transition is going to be complex, and the authors do an excellent job of outlining what needs to be done and which challenges need to be overcome to produce more robust and efficient energy systems.
The third article presents an interview with Michael Marus, conducted by Cutter Expert Curt Hall and me. Marus is CIO and director of IT at the Forest Stewardship Council, an organization governed by a global network of more than 1,000 individuals and member organizations with the mission to protect forests worldwide. It has been testing and applying blockchain since 2021 to enable sustainability with forest-based materials and has found that blockchain's traceability helps it achieve integrity and credibility for its certification system. Marus provides exciting details about the organization's practical experiences and offers his outlook on how blockchain might provide further value in the future.
Next, Malni Kumarathunga and Athula Ginige address the important topic of sustainable agri-food ecosystems, an issue that affects all of us. The amount of global food waste is alarming and, not surprisingly, has a huge detrimental impact on natural resources. Blockchain can enhance trust along the supply chain and improve the situation, especially for smallholder farmers. The authors' suggested model simultaneously reduces greenhouse gas emissions, allows for better resource use, and improves the livelihood of farmers.
Finally, Cutter Expert Simon J.D. Schillebeeckx and Marco Schletz dive deep into the field of ReFi, a concept that enhances financial practices through decentralization and focuses on environmental and societal systems. The authors highlight several key problems of the space and point out that genuinely disruptive ReFi models are still in their infancy. The good news is that ReFi's potentials are manifold and exciting. In the not-too-distant future, we might see financial applications backed by blockchain that can enhance data credibility, exchangeability, and transparency to redefine how corporations create and apportion environmental value.
This insightful issue of Amplify not only exemplifies how blockchain technology can help create solutions that benefit the environment, it should also inspire business leaders to further investigate the topic and seek out solutions not yet considered.
References
1 Nakamoto, Satoshi. "Bitcoin: A Peer-to-Peer Electronic Cash System." Bitcoin, accessed September 2023.
2 Treiblmaier, Horst, et al. "What's Next in Blockchain Research? An Identification of Key Topics Using a Multidisciplinary Perspective." The Data Base for Advances in Information Systems, Vol. 52, No. 1, February 2021.
3 Treiblmaier, Horst, and Elena Petrozhitskaya. "Is It Time for Marketing to Reappraise B2C Relationship Management? The Emergence of a New Loyalty Paradigm Through Blockchain Technology." Journal of Business Research, Vol. 159, April 2023.
4 Rejeb, Abderahman, et al. "Modeling Enablers for Blockchain Adoption in the Circular Economy." Sustainable Futures, Vol. 4, August 2022.
5 Parmentola, Adele, et al. "Is Blockchain Able to Enhance Environmental Sustainability? A Systematic Review and Research Agenda from the Perspective of Sustainable Development Goals (SDGs)." Business Strategy and the Environment, Vol. 31, No. 1, September 2021.
6 Tomlinson, Bill, et al. "Analyzing the Sustainability of 28 'Blockchain for Good' Projects Via Affordances and Constraints." Information Technology for Development, Vol. 27, No. 3, October 2020.