Cutter Edge: Considering Group Dynamics in Agile Adoption
Posted November 3, 2015 in
---
Welcome to The Cutter Edge. In each free issue, you'll find research, insight, and advice crucial to helping you navigate the spectrum of challenges technology change brings.

---
by Bhuvan Unhelkar, Senior Consultant, Cutter Consortium
Understanding individuals and how they interact with each other is one of the key priorities of Agile. In fact, the very first statement of the flagship Agile Manifesto highlights this priority. When individuals interact positively with each other, they promote the group's common goal. This is collaboration. Honest collaboration invariably challenges the inherently territorial nature of humans. We love to hold on to our spaces and boundaries (both geographical and mental). Collaboration permeates those boundaries and makes them porous. The need to break down the territorial mindset in humans is perhaps the hardest thing to comprehend and accept in an Agile culture change. More ...
---
Startup Barriers for Connected IoT Applications and Services
In a recent survey on the Internet of Things, Curt Hall examined the issues concerning organizations as they pursue IoT initiatives.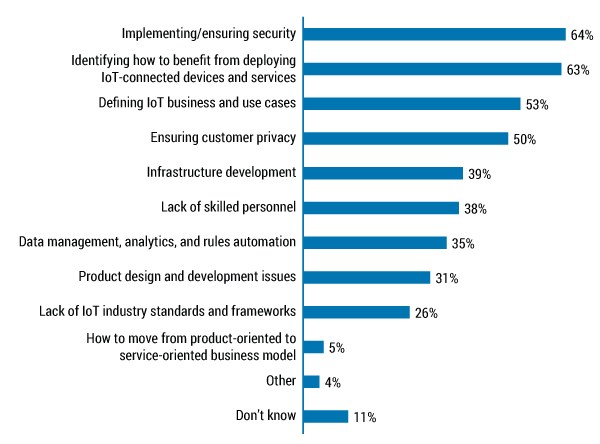 "Security is paramount when it comes to IoT initiatives; the more objects a company connects, the more it opens itself up to possible attack," according to Curt Hall. He asserts that "Frequent reports of attacks on a range of businesses and industrial facilities by security agencies like the NSA, and Chinese, Russian, and criminal hackers — with the intention of conducting commercial and industrial espionage — are forcing many organizations to think long and hard about the possibility of actually ensuring the security of IoT offerings and applications. This is evident in the answers to a follow-on question we asked organizations regarding whether or not they thought that today's security technologies and practices could be successfully adapted to support IoT-connected solutions. ... the majority of those surveyed believe that the IoT requires some new form of security model and practices if it is to achieve widespread adoption by mainstream organizations." More ...
* Excerpted from "The Internet of Things, Part II: Benefits, Drivers, and Impediments," (

) Data Analytics & Digital Technologies Executive Update Vol. 15 No. 9
Spotlight on Esther Derby
Esther Derby
  is an expert in team and organizational dynamics and a leading thinker on managers' roles in Agile organizations. Explore her thoughts on the balance between team freedom and  responsibility in 
It All Comes Down to Doing
.  
Editor's Pick, Kara Letourneau
Have you ever entered into a contract and discovered your notion of the spirit of the contract was completely different than that of the other party involved? Share your stories with us in the comments section of Sara Cullen's new article, "The Legal Implications of the Psychological Contract in Outsourcing." Then, register for Sara's upcoming webinar.
Upcoming Webinars
Participate in these webinars and get top-notch advice from Cutter's expert Senior Consultants -- experts who provide the advice you really need, not just what you expect to hear.  
Save 50% on your new Cutter IT Journal subscription!
 No other journal brings together so many cutting-edge thinkers, and lets them speak so bluntly on critical issues. Subscribe now and save 50% off the next year of global perspectives and solutions to today's hottest business-technology issues.
Subscribe today
!