Designing a Hybrid Cloud Strategy for Competitive Advantage
Posted November 10, 2018 in
Business Technology & Digital Transformation Strategies, Data Analytics & Digital Technologies Cutter Business Technology Journal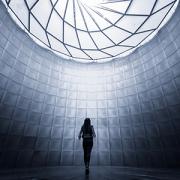 CUTTER BUSINESS TECHNOLOGY JOURNAL  VOL. 31, NO. 10
  
Many organizations are now focusing on a hybrid cloud strategy: moving part of their IT capabilities to the cloud, while maintaining core elements in-house, hosted on-premises. The hybrid model is becoming immensely customary among organizations, as it enables them to optimally allocate their resources while keeping their current IT infrastructure operating at low risk. A hybrid cloud strategy not only prepares an organization for the future but also protects its investment today.
Cloud computing, one of the most disruptive trends in the IT market over the past decade, has fueled digital disruption and has enabled businesses to pursue digital transformation. Today's competitive business environment needs constant connectivity — the lifeblood of digital transformation — between customers, devices, and organizations. Consequently, organizations of all sizes are exploring the myriad ways that disruptive technologies, particularly cloud, can enable them to stay connected with customers through any device, irrespective of location and time. The results of this exploration are providing endless opportunities for organizations to reinvent themselves by creating new markets and new business models. But to keep pace with ever-growing competition, organizations need to deploy an IT infra­structure that is agile and can rapidly align with fast-changing business needs. Cloud computing is that infrastructure. For several years now, we have witnessed the great migration of IT from traditional on-premises locations to the cloud platform, with organizations leveraging cloud benefits in terms of degree of scalability, pay-per-use flexibility, and agility.
There has been a rapid increase in the number of organizations adopting cloud computing. Moreover, organizational spend on cloud-specific solutions is expected to grow at more than six times the rate of general IT spending through 2020. As cloud computing became ever-more prevalent, private and hybrid cloud models received less consideration than public clouds, largely due to the popularity of public cloud IT ser­vices being offered by industry leaders (i.e., Amazon, Microsoft, and Google), which users can easily and quickly access. Initially, these IT services were mainly related to test and development environments in need of fast deployment and with less criticality than pro­duction workloads. But over the years, organizations have realized that concerns over performance, control, compliance, and security threats outshine the benefits of moving to the public cloud.
In view of these challenges, many organizations are now focusing on a hybrid cloud strategy: moving part of their IT capabilities to the cloud, while maintaining core elements in-house, hosted on-premises. The hybrid model is becoming immensely customary among orga­nizations, as it enables them to optimally allocate their resources while keeping their current IT infrastructure operating at low risk. A hybrid cloud strategy not only prepares an organization for the future but also protects its investment today.
Defining Hybrid Cloud
In simple terms, a hybrid cloud model integrates an organization's private cloud infrastructure with one or more public clouds. Different organizations, as well as cloud service providers, have explained the term "hybrid cloud" in several ways; Table 1 summarizes a few definitions. The definition from the National Institute of Standards and Technology (NIST) is the most accepted: a hybrid cloud is "a composition of two or more distinct cloud infrastructures … that remain unique entities but are bound together by standardized or proprietary technology that enables data or application portability."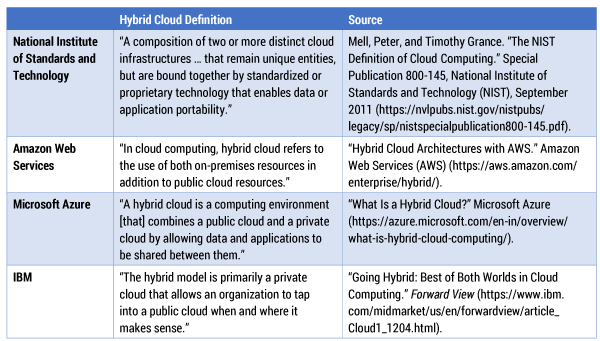 Hybrid cloud is sometimes confused with multicloud, but there is a difference in each of these strategies. The multicloud strategy involves using a mix of cloud services from different cloud vendors for specific nonconnected workloads, while the hybrid cloud strategy creates a mix of on-premises private cloud and third-party public cloud services, which may be from different vendors, with orchestration between the two. One of the most attractive benefits of the multicloud strategy is the risk avoidance of vendor lock-in, as switching to a different cloud vendor for a specific workload will not impact other cloud-based applications. Data sovereignty may be another reason to select a multicloud strategy, since with certain countries, laws and regulations require organizations to store data in the country in which they operate.
Hybrid Cloud Market
The size of the global hybrid cloud market, which was valued at US $36 billion in 2017, is expected to reach $171 billion by 2025, growing at a compound annual growth rate of 21.7% from 2018 to 2025. The global hybrid cloud market can be segmented by component (solution or service), service model (infrastructure as a service, platform as a service, or software as a service [SaaS]), organization size (small, medium, or large), industry vertical (healthcare, BFSI [banking, financial services, and insurance], retail, transportation and logistics, IT, and telecom), or geographic region. Microsoft, Hewlett Packard Enterprise (HPE), VMware, Amazon Web Services (AWS), Rackspace, Dell Technologies, Google, and Alibaba Cloud are among the key players in the global hybrid cloud market. 
Hybrid Cloud Benefits
In the following sections, we look at the benefits of hybrid cloud, including security and compliance, scalability, and cost-effectiveness.
Security and Compliance
Cloud service providers claim to ensure the security of data and applications for all cloud models, but recent data breaches of public clouds have raised concerns.1 Such breaches have caused organizations to revisit their cloud model choice as they seek to ensure better security. Indeed, security is the key reason for organizations migrating their workloads and applications from public cloud to either on-premises or private cloud. Hybrid clouds not only provide a higher level of security for sensitive data but also ensure implementation of compliance requirements for a specific industry. A majority of the organizations adopting hybrid cloud belong to banking and financial services organizations, a sector in which data security and compliance is of paramount importance. Organizations implementing hybrid cloud continue to enjoy the various benefits of public cloud–based solutions for better customer engagement while ensuring compliance with regu­lations and control of customer data, which is kept securely inside the bank's or financial services organi­zation's firewall using on-premises or private cloud.
Scalability
Scalability refers to a system's ability to expand output on demand when resources are added. Hybrid clouds allow organizations to leverage their legacy IT investments and to seamlessly scale them up to the cloud based on the fluctuating demands of the business, all without compromising data security.  
Cost-Effectiveness
Scalability and cost-effectiveness go hand in hand with hybrid clouds. Hybrid cloud implementation saves organizations from investing a huge amount on creating IT resources to meet fluctuating demand. Hybrid cloud implementation results in using cost-effective, on-premises IT resources along with premium-priced, flexible, public cloud resources to handle short-term spikes in demand. Thus, organizations have the flexi­bility of paying for the use of public cloud–based IT resources only for a short period of time, as needed, instead of making a huge capital investment in expanding their on-premises or private cloud, which could remain idle for long periods of time.  
Designing a Hybrid Cloud Strategy
Successful implementation of a hybrid cloud strategy requires alignment with the business strategy. Hybrid cloud strategy is not limited to the incorporation and balance of new versus legacy technology. Rather, it should be designed to help organizations leverage emerging technologies for rapid business transformation in today's fast-paced digital world, ensuring operational efficiency and keeping costs under control. Let's take a look at a four-step hybrid cloud strategy.
Step 1: Align Hybrid Cloud Goals to Business Goals and Objectives
Designing a hybrid cloud strategy is not only about understanding technical issues but also requires a thorough understanding of the business perspective of the organization. Understanding the business perspective helps identify how to use a hybrid cloud model to optimize IT asset utilization and to respond rapidly to changing business needs while maintaining necessary controls.
The very first step is to identify business needs as well as pain points. Business needs and pain points may be related to any of the functional areas, be it marketing, sales, HR, finance, or manufacturing. The next step is to identify whether cloud-based IT solutions can help solve business problems or reduce the impact of business pain points. Assuming the answer is yes, the final step is to select the hybrid cloud deployment model (i.e., whether to go for a traditional data center and/or private cloud and a public cloud or choose a managed private cloud and a public cloud). This critical decision depends on various factors, such as the size and maturity level of the organization, the size and capabilities of the in-house IT team, the organization's financial strategy with respect to IT investments, customer location, access to the applications, compliance and regulations related to data management, flexibility of the service-level agreement, and the organization's preference around the control of data and intellectual property.
Step 2: Design Technology Portfolio
Technical aspects that can help with the decision as to whether a workload/application should reside on an on-premises/private cloud or on a public cloud include an evaluation on four parameters: performance, security, integration, and data volume. Workloads with significant performance needs, security requirements, multiple back-end integrations, or large data volume are better on private clouds. On the other hand, workloads with minimal performance integration or storage requirements tend to be better suited for public clouds and possibly SaaS solutions. Other important factors include scalability requirements, customizations, and support needs. Analyzing these factors can help produce a clear understanding of which applications/workloads should move to/remain on an on-premises/ private cloud and what can be managed on the public cloud.
Step 3: Plan Migration
Migration to the hybrid cloud should be done in stages. Initial stages may involve migrating noncritical work­loads, while later stages may include business-critical workloads. The organization needs to carry out a detailed assessment of the application portfolios moving to the cloud. The results of this assessment, based on parameters such as security, performance, and so on, determine migration priority.
An organization may select different approaches for migrating different workloads, taking into consideration how to take maximum advantage of capabilities available only on a cloud platform. The most com­mon approaches for cloud migration include rehost, replatform, repurchase, refactor, retire, and retain, commonly known as the "six Rs." The selection of a migration strategy will be on a case-by-case basis. For example, if business pain points are related to management of data servers, then refactoring may be the best option; on the other hand, employee-leave reporting issues may be best solved through rehosting.
It is important to include key employees from multiple departments because migration to a cloud platform may require changes in business processes across the organization. These employees can help the migration team assess the workload importance and identify the specific security and regulatory requirements to which they must adhere. This will help the team not only prioritize the workload for migration but also design a better hybrid cloud strategy.
During migration planning, the organization should also assess the skill sets both of employees who will manage cloud-based applications and of employees who will use them. It is important to ensure that the in-house team that may need to manage the on-premises/private cloud part of the hybrid cloud have the required skills and knowledge. In the event of a skills gap, the organization will need to decide whether to provide training or to hire new resources.
The organization must provide communication regarding the migration to the hybrid cloud to every stakeholder. It is imperative to sensitize every stakeholder to the benefits of the hybrid cloud deployment; benefits that may include an increase in operational efficiency, improved accessibility of applications, reduction in costs, and so on. Communication is criti­cal, as well-informed stakeholders who understand the benefits will appreciate the efforts involved in the migration process, will have less resistance to any changes in business processes, and will accept the hybrid cloud model faster. Finally, testing of the hybrid cloud before going live, including data exchange between the on-premises/private cloud and the public cloud, is of utmost importance to ensure that there is no room for error. 
Step 4: Manage Hybrid Cloud
Hybrid cloud management is complex, as both the public and private cloud have their own native APIs and resources for managing storage, networking, provisioning, security, and so forth. Thus, organizations with diverse IT portfolios require a single interface that can combine information from the different clouds to reduce complexity and provide a greater sense of control when managing a hybrid cloud environment.
The process of implementing a hybrid cloud is an evolving one. Organizations may start migration with a small number of workloads or applications and expand the portfolio later after evaluating outcomes. In addition, new advancements in cloud-based technology may persuade organizations to change their hybrid cloud strategy.
Conclusion
Today's wave of digital disruption is unprecedented. Hybrid cloud, in particular, is changing the management and delivery of IT services, while enabling organizations to search for innovative business models and maximize their operational efficiencies without exceeding the IT budget. The pace at which organizations are migrating to a hybrid cloud model is remark­able. However, hybrid cloud implementation poses challenges. Though cloud vendors claim to ensure a smooth migration to a hybrid cloud environment, the integration of an on-premises/private cloud with a public cloud still remains a key concern. Some challenges that organizations face while implementing a hybrid cloud, and which must be carefully considered while designing a hybrid cloud strategy, are management of the complexity of the technology portfolio to be migrated, creation of a governance structure to manage the hybrid cloud, compatibility issues, and, the most critical challenge, ensuring security. Despite these concerns, the future of hybrid cloud has a silver lining, as cloud service vendors are constantly innovating and collaborating in order to provide cloud-based solutions that are safe, scalable, and available globally. It will be interesting to witness how technology revolutionizes the next wave of cloud computing.