Digitally Transforming Airlines to Stay Competitive in Turbulent Times
Posted May 31, 2023
| Industry | Amplify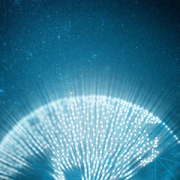 AMPLIFY  VOL. 36, NO. 5
  
ABSTRACT
Cutter Expert Curt Hall looks at how artificial intelligence (AI), cloud computing, big data, machine learning (ML), computer vision, and Internet of Things (IoT) are being leveraged to combat disruptive forces such as pandemic-caused economic uncertainty, growing public awareness of climate change, and rising fuel prices. Hall describes which airlines are using which technologies for what purpose, such as shifting to cloud applications to help them scale and deploying AI to increase fuel efficiency and solve crew-staffing problems. Predictive analytics are helping airlines with weather forecasts, flight operations (reducing speed or altitude to lower fuel costs), and aircraft selection. On the ground, a combination of AI, IoT, and ML is reducing turnaround times, streamlining gate assignments to reduce taxi times, and even reducing food waste.
The airline industry is grappling with a number of disruptive forces: an economic hangover from the pandemic, uncertainty about fuel availability and costs, and growing public awareness of climate change and the impact that air travel has on global warming. Like other travel-related industries, the airline industry was largely unprepared for the pandemic. It was forced to take drastic measures to keep operating in a highly unpredictable environment that disrupted flight operations worldwide, trashed bottom lines, and left a sour taste in the mouths of countless customers.
Today, the cost of aviation fuel remains one of the most unpredictable issues facing the industry, uncertainty that's exacerbated by the war in Ukraine and ongoing troubles in the Middle East.1 The industry is also under increasing pressure to reduce its carbon footprint and other climate impacts from governments, shareholders, grassroots initiatives, and green-conscious consumers inspired by celebrity climate activists like Greta Thunberg, who has challenged consumers to consider their participation in air travel through "flight shaming."2
Airlines are preparing for future disruptions by digitally transforming aircraft operations and other commercial activities to make them more resilient and competitive in the face of current and future threats. This includes investing in artificial intelligence (AI) and supporting technologies, specifically cloud computing, big data, machine learning (ML) and other advanced analytics, computer vision, and the Internet of Things (IoT).
This article examines how airlines are striving to remain competitive and respond to threats in turbulent times by applying AI, cloud, and analytics technologies in two main areas:
Flight operations, such as flight planning/routing and crew planning/scheduling

Ground operations, such as gate assignments, maintenance, and other aircraft turnaround operations
Mass Movement to the Cloud
Airlines are increasingly moving their IT operations to the cloud to alleviate issues associated with modernizing their legacy systems and to leverage the dynamic scaling capabilities of cloud architectures and applications. This includes more efficiently implementing new applications that can take advantage of AI, IoT, ML, mobile, and other emerging technologies. Over the past few years, many major airlines have announced partnerships or undertaken important projects with leading cloud-platform providers:
American Airlines. Microsoft Azure is the preferred cloud platform for this airline's digital transformation efforts. This includes migrating its strategic operational workloads (data warehousing and legacy applications) into a single operations hub running on Azure, which the airline sees as essential to increasing the efficiency of its operations and meeting its sustainability goals.3

Delta Airlines. Delta is using Amazon Web Services (AWS) as its main cloud provider, including its digital business transformation efforts and developing secure infrastructure that will support more data-driven insights. Delta is training employees on AWS to increase cloud adoption and further the development of client-facing and internal applications.4

Lufthansa Airlines. Although it's using several cloud providers (AWS, Microsoft Azure, and Google), Lufthansa has made Google a strategic partner in optimizing its airline operations. This includes combining previously disparate systems and data sources into a unified platform using Google's cloud infrastructure and ML capabilities.5

Scandinavian Airlines. This airline is using Microsoft Azure to lower infrastructure costs and gain agility for its development teams, including Azure data center services and ML tools to build predictive models to support its operations.6

Southwest Airlines. Southwest is using AWS, its preferred provider, to carry out a large-scale modernization of its data architecture using a cloud data warehouse. The airline plans to deliver cloud-based analytics to data scientists, analysts, and business users across all of its operations.7

Swiss International Airlines. This airline has a broad partnership with Google to use cloud technology, including AI. It has developed a flight-operations platform that integrates data from various operating units to make the airline more efficient and sustainable.8

United Airlines. United uses AWS as its preferred cloud provider, including supporting its digital innovation initiatives with cloud-based ML, IoT, analytics, data management, computing, storage, and security services.9
Note that many of the AI applications discussed in this article were developed and deployed on commercial cloud platforms.
AI Applications for Flight Operations
Flight operations involve a range of activities necessary for the safe and efficient operation of aircraft. Table 1 provides an overview of AI applications in use or under development by airlines for flight operations. These applications do not represent all those deployed or in development, but they are a good cross-section of the types of applications airlines are developing and the technologies they are using.
According to the information provided in Table 1, airlines are applying AI to support flight operations in two main areas:
Flight planning, such as assisting planners in developing more optimized and fuel-efficient routes

Crew planning and scheduling, such as helping airlines solve crew-staffing problems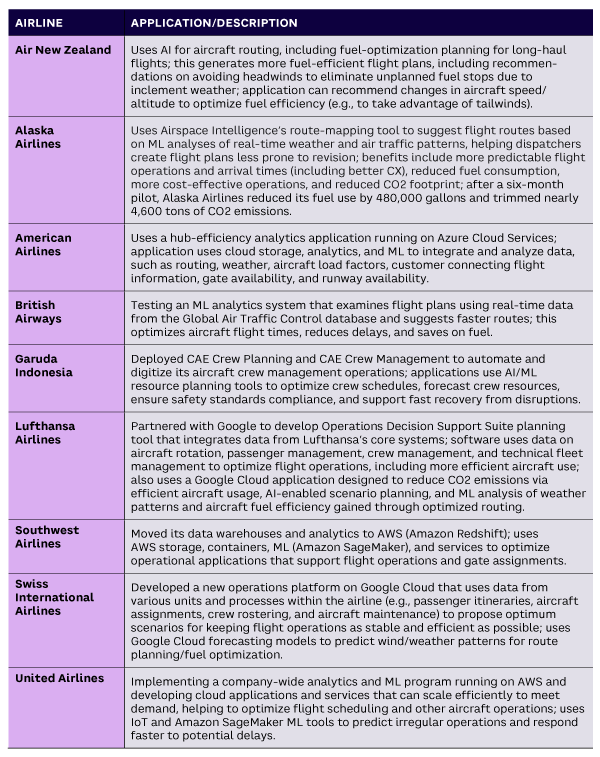 In general, airlines are implementing AI applications with the goal of applying prediction, analysis, and forecasting capabilities to add flexibility and resiliency to their operations (including more efficient utilization of aircraft and support services and the ability to recover quickly and efficiently from disruptions) and to support their customer experience (CX) and sustainability initiatives.
The major airlines are also implementing comprehensive applications designed to facilitate AI-based scenario planning for a range of flight operations. For example, the software could offer suggestions to planners on optimizing flight schedules based on changing weather forecasts or predicted airspace congestion.
Increasingly, airlines are implementing AI applications that can consider multiple factors (e.g., impact on sustainability, resiliency, and CX) when generating decisions or offering advice. Additionally, because they are designed to support multiple airline hub operations, these applications can employ big data analytics and ML to integrate and analyze data sourced from various operational systems.
For example, Lufthansa is experimenting with Google's Vertex AI Forecast service to better predict the Bise wind, which blows from the northeast to southwest in Switzerland and can have a major impact on flight schedules. Google says the service can accurately predict the Bise hours in advance with a more than 40% relative improvement in accuracy over Lufthansa's internal heuristics.10
Flight Planning, Routing & Fuel Optimization
Most major airlines are using some form of AI to optimize their aircraft flight-planning and routing operations. Goals include reduced flight times, fewer unscheduled interruptions, and better fuel consumption (allowing aircraft to fly longer routes without having to land and refuel).
These goals both improve the CX and reduce CO2 emissions, supporting airline sustainability efforts. The ability to conduct longer flights also helps airlines meet growth initiatives, giving them the ability to fly to new destinations and/or service new markets.
Advanced Weather Modeling
Airlines are also focused on improving their weather modeling. This includes applying predictive analytics and other ML techniques to develop applications that not only support more accurate weather forecasts but also recommend changes in aircraft flight operations (e.g., reduced speed, altitude) to optimize fuel use and shorten flight times.
Several airlines are turning to AI experts at major cloud providers to assist their efforts. Lufthansa and Swiss International are both working with Google to build predictive analytics for advanced weather modeling, and other airline flight operations using BigQuery and Vertex AI.
Aircraft Utilization/Flight Rotation
Flight rotation management (FRM) is the process of selecting the aircraft best suited for a particular flight, and it's key to optimizing flight operations and decreasing fuel consumption.
Aircraft selection is a complex problem that must take into account aircraft availability, capacity, range, fuel consumption, weather, and maintenance schedules. Consequently, airlines have made FRM a key target for applying AI. Several airlines are experimenting with AI as a tool to improve FRM, including Lufthansa.11
Crew Scheduling
Airlines are upgrading their crew management capabilities to optimize flight operations and improve their ability to respond to staffing problems. To meet their needs, vendors of commercial airline solutions are building AI and analytics into their tools. For example, CAE (a Canadian manufacturer of simulation technologies) has added ML to its crew-planning/crew management resource-planning tools to improve crew-resource forecasting and help airlines recover faster from disruptions (e.g., a storm that results in large numbers of crew members not being able to get to their assignments).
AI in Ground Operations
Airline ground operations include aircraft gate scheduling and assignment and the many other activities and processes required to maintain and prepare an aircraft for flight. Table 2 provides an overview of AI applications currently in use or under development by airlines for ground operations.
Table 2 describes applications in which airlines are combining AI with IoT, predictive analytics and other ML techniques, mobile, and machine vision technologies to perform aircraft maintenance (including predictive maintenance) and to optimize their gate-scheduling and various other aircraft-turnaround activities.
The efficiency with which ground operations are conducted can have a huge impact on airline flight operations. Consequently, airlines are intensely focused on applying AI to ground operations as a way to improve overall operational efficiency, reduce turnaround times, and streamline gate assignments to eliminate confusion and reduce the need for lengthy taxis.
These goals are also essential to reducing fuel usage, which would lower costs and reduce CO2 emissions (helping airlines meet their net-zero goals). The ability to maintain on-time departure and arrival schedules also has a positive effect on passenger satisfaction and can help airlines comply with regulations.
Intelligent Gate Assignment
Gate assignment is complex. It must take into account walking distances for passengers (including transfers), baggage-handling distances, connecting flight schedules, aircraft/gate-size compatibility, gate availability, time restrictions on an aircraft remaining at a gate, and taxi distances.12 Airlines first started using rule-based AI systems in the late 1980s to automate gate assignments. Today, many are applying updated ML and AI techniques to optimize gate assignment.
American Airlines operates an intelligent gating system at its largest hub, Dallas Fort Worth International Airport (DFW), where it has 136 gates. The cloud-based application combines ML and analytics to conduct real-time analysis on routing and runway information to assign the nearest-available gate to arriving aircraft. American says the application reduces aircraft taxi times, saving the airline thousands of gallons of jet fuel each year. The application's decision-making also factors in connecting customer information, allowing extra time for passengers to catch their next flight.13
Previously, gating decisions for American aircraft at DFW required more manual involvement from gate planners. The new application can analyze multiple data points simultaneously for hundreds of daily arrivals, shaving more than a minute of taxi time per flight. This adds up to 10 hours of reduced taxi time per day, lower fuel usage, and reduced CO2 emissions.
Maintenance & Aircraft Turnaround
Aircraft turnaround involves considerably more than gate scheduling. Upon gating, an aircraft must be deplaned, refueled, cleaned, catered, safety-checked, and boarded. Every second a plane remains on the ground can result in lost revenue, and a variety of advanced tools are being used or considered by airlines.14
Computer Vision
Smart camera systems are being deployed to monitor and analyze turnaround processes. The data can be used to improve multiple aircraft-preparation processes, including gate assignments, alerting, delay prediction, safety compliance, and sustainability. British Airways, Lufthansa, Swiss International, and the Greater Toronto Airports Authority are all using (or plan to deploy) such applications to replace manual, error-prone processes that require collecting data from various maintenance units.
These systems apply ML to video imagery acquired from cameras deployed in various scenarios. For example, Assaia ApronAI analyzes captured images to determine the exact time each turnaround process starts and ends, tracking whether or not each task was being performed on time.15 Analysis is performed in real time to show what is happening on the apron (the area around the parked aircraft), allowing planners, gate schedulers, mechanics, and other ground-support staff to better understand the current situation as it is developing. To ease performance demands, smart cameras typically perform processing on edge or near-the-edge devices (i.e., cameras). This also ensures the system complies with the General Data Protection Regulation (GDPR), California Consumer Privacy Act, and other data-protection and privacy regulations.
Predictive Analytics for Fresh Food Optimization
Airlines are using ML to more accurately predict the volume of food loaded preflight onto an aircraft. Goals include less food waste, lower costs, and improved customer satisfaction. British Airlines and Scandinavia Airlines are using or testing such systems.
Combining AI, Analytics & Mobile to Speed Aircraft Turnaround
Airlines are implementing mobile apps that allow maintenance personnel, ground crews, pilots, flight attendants, and gate agents to collaborate to ensure that flights depart on time. These apps give ground personnel access to the information they need to prepare the aircraft before departure (which typically resides across different systems) on their phones, replacing unwieldy desktops and laptops. For example, American has deployed ConnectMe, a Microsoft Power App that team members can access from any mobile device.
Conclusion
The airline industry has turned to AI to digitally transform airline operations to remain competitive and better respond to current issues and future threats.
As highlighted in this article, most airlines are focused on applying AI to optimize key flight and ground operations but appear open to experimenting with the technology across a broad range of applications. (A number of the applications covered in this article are fairly new developments or are in testing or pilot stages.) Many airlines are also using AI to support their additional strategic goals of providing a better CX and to achieve their sustainability initiatives.
To get around the limitations imposed by their existing legacy architectures, airlines have embraced a cloud-first approach. In addition to using the cloud's dynamic scalability to support rapid application development and deployment, airlines are increasingly leveraging the expertise of the major cloud providers' AI gurus and data scientists to help them implement cutting-edge applications that combine AI with analytics, IoT, machine vision, and mobile. A key trend to note is the increasing use of machine vision in smart cameras deployed to support aircraft maintenance and turnaround operations (beyond their widespread use in airport security scenarios).
Going forward, we expect to see airlines continue to develop comprehensive applications that not only facilitate scenario planning for a range of flight and ground operations, but also factor considerations like sustainability, resiliency, and CX into the decision-making process.
References
1 "Top 8 Challenges for the Aviation Industry in the Post-COVID 19 Era." Global Market Insights, 21 December 2022. 
2 Cummins, Nicholas. "Greta Thunberg Is Making People Rethink Air Travel: The Flight Shaming Movement." Simple Flying, 3 October 2019.
3 "American Airlines and Microsoft Partnership Takes Flight to Create a Smoother Travel Experience for Customers and Better Technology Tools for Team Members." Microsoft News Center, 18 May 2022.
4 "AWS Selected as Delta's Preferred Cloud Provider." Amazon Press Center, 13 July 2022.
5 "Google Cloud Lands Agreement with Lufthansa Group to Support Optimization of Its Airline Operations." Cision PR Newswire, 20 January 2020.
6 "Scandinavian Airlines Reduces Loyalty Program Fraud with Microsoft Azure Machine Learning." Microsoft, 13 May 2020.
7 "AWS Selected as Southwest Airlines Preferred Cloud Provider." Amazon Press Center, 8 March 2023.
8 "SWISS Takes Off with Google Cloud to Make Its Flight Operations More Efficient and Sustainable." SWISS Newsroom, 28 April 2022.
9 "AWS Named United Airlines Preferred Cloud Provider." Amazon Press Center, 30 November 2021.
10 Nawalgaria, Anant. "Lufthansa Increases On-Time Flights by Wind Forecasting with Google Cloud ML." Google Cloud Blog, 28 September 2022.
11 Talbott, Chris. "The Future of Sustainable Flying Is Data-Driven for Lufthansa Group." Google Cloud Blog, 12 October 2022.
12 Haghani, Ali, and Min-Ching Chen. "Optimizing Gate Assignments at Airport Terminals." Transportation Research Part A: Policy and Practice, Vol. 32, No. 6, August 1998.
13 Microsoft News Center (see 3).
14 Ciesluk, Karol. "Turnaround Time: Why It's Important and How Airlines Can Speed It Up." Simple Flying, 21 June 2020.
15 "Marubeni to Contribute Through AI Analysis and Process Visualization in Efficiency of Understaffed Ground Handling, Improving the On-Time Performance and Enabling More Slots." Assaia/WING Aviation Press Co., 9 August 2022.