Five Ways to Create Value with Digital Data Streams
Posted November 29, 2016 in
Data Analytics & Digital Technologies
---
A value archetype is a basic model for value creation based on digital data streams (DDS). Archetypes are not exclusive classes of value creation, meaning you can adopt one for a specific set of customers and another for a different set. In classifying companies, consider the five value archetypes (see Figure 1 for the results of a Cutter survey that analyzed these archetypes):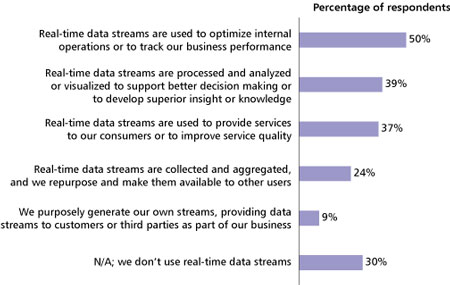 Figure 1 — How is your organization exploiting the real-time data stream it
currently accesses or generates?
 
DDS generation. The first archetype we identified was DDS generation. In this case, the firm originates the stream of data knowingly or unknowingly (i.e., the nexus of DDG, the "real birthers," or those who bring the digital entity into being). A good example is TripIt, since it generates a data stream of master itineraries. Once an itinerary is born, it can be streamed to other partners that can harvest it and create value-added services based on platform. ExpenseWatch, a company that services expense control needs, does exactly this. It integrates the itinerary generated by TripIt to offer a travel expense management service to other customers. Every time you stream a DDS and allow others to harvest it, you create value through this archetype. It's up to others to do something new with your DDS. Although this approach allows organizations to establish a data platform service, its relative novelty makes it uncommon among respondents (9%).

DDS aggregation. Unlike DDS generation, the focus here is on collecting and aggregating DDS. Once collected, the streams are repurposed and made available to other users. Socrata is a good example of this archetype. The company acts as a major platform in the Open Data and Data.gov initiatives. By helping agencies and governments publish and manage data, Socrata can create a common platform that (through an API) can grant access to heterogeneous data sources. The federal agencies and organizations are the DDS generators, whereas Socrata acts as the aggregator of the DDS. The idea here is to focus on repurposing the DDS — eventually enriching, integrating, or expanding its content — or providing access to data streams created by others. This archetype is not common anymore but appears to be exploited by 24% of respondents.

Service. The service archetype leverages the DDS to provide services to consumers or to improve service quality. The simplest example is the tracking service of UPS. The company leveraged the emerging DDS to deploy a service that allowed users to track packages. Likewise, TripIt uses the customer-created DDS during the reservation step and processes that data to create a convenient master itinerary with all travel information available. Additionally, applications like MyCityWay aggregate hundreds of data sets and DDS to provide users with a convenient and location-aware aggregate of contextual real-time urban services. With MyCityWay, it is possible to reserve tables in restaurants and hotels, to check reviews or parking availability, or to buy tickets and see schedules for upcoming events. This company aggregates the DDS originating from other entities and conveys value with a service that conveniently contextualizes the data for the user. Service tends to be a common archetype for new, mashup-based business and ventures. However, we found this archetype to be less evident with survey respondents (37%) who likely belong to established companies that tend to focus more on efficiency and performance management than on the development of new services.

Efficiency. This is the most common archetype exploited by companies: half of the respondents use it. Companies use real-time data streams to optimize internal operations or track business performance (e.g., waste reduction, faster responses). An interesting example of efficiency comes from Norway. Trafikanten, acquired by Ruter, began as a project developed for the city of Oslo aimed at gathering the overall situation of the city's public transportation system (e.g., buses, boats, trams, metros, and trains) and repurposing that data into a Web and mobile application accessible to citizens. The intent was to create service value, but the outcome actually led to the optimization of the traffic signal priority system, which improved travel times, reduced the number of vehicles in the system, and, in general, lowered the costs of transportation.

Real-time analytics. Another common way to create value through the DDS is via real-time analytics; nearly 40% of survey respondents foresee this opportunity. In this case, companies process and analyze the DDS or conveniently visualize it to support better decision making or to develop superior insight or knowledge (e.g., dashboards, data mining/analytics). The capability to process and visualize the DDS creates value. A good example of this archetype is Intuit's Mint. Mint provides its seven million customers a unified view on bank, credit, and investment accounts by connecting them to the DDS of the originating financial institutions. As such, customers get a complete view of their finances, convenient visual tools to examine the status of their expenses and investments, and personal recommendations based on a specific profile. Customers perceive value here because Mint can provide proper analytics on their financial transactions.