Kasisto: Smartbots and Intelligent Assistants for Mobile Banking
Posted July 12, 2016 in
Data Analytics & Digital Technologies
---
Interest in smartbots and intelligent virtual assistants employing artificial intelligence (AI), natural language processing (NLP), speech recognition, and other cognitive techniques for automating and enhancing customer interaction and experience is increasing.
Significance
The ability of AI and cognitive systems to understand natural language (NL) makes it possible to add smart, conversational interfaces to mobile apps and popular messaging platforms (Facebook Messenger, WhatsApp, Slack, WeChat, Viber, SMS, etc.) that are more natural to use and can facilitate a more direct, satisfying, and engaging dialogue between the customer and company.
Although they are generating considerable interest across various industries, banking and other financial institutions, in particular, are keen to implement smartbots and intelligent virtual assistants to provide their customers with a higher level of customer experience.
And we are seeing a lot of startups and financial companies seeking to develop new conversational platforms for mobile banking apps and popular messaging systems that will make it easier and more satisfying for customers to conduct banking transactions and receive help and advice pertaining to support and other inquiries.
Kasisto's Conversational AI Platform
Recently I spoke with the folks at Kasisto, a FinTech startup that just introduced a new conversational AI platform for banking. KAI Banking is designed for banks and other financial institutions to incorporate intelligent, branded virtual assistants and conversational bots into mobile banking apps and popular messaging platforms to allow customers to conduct common banking interactions through speech and NL text-powered interfaces.
Kasisto, which spun out of SRI International in 2014, has leveraged SRI's decades of R&D in AI, speech, and NL. Its KAI Banking platform employs various AI and cognitive techniques, including natural language understanding (NLU), speech recognition, neural nets, machine learning (ML), statistical analysis, and rule-based reasoning.
It also incorporates a knowledgebase of deep financial knowledge, allowing banks to engage with customers, simplify how customers perform complex tasks, and introduce new services via (branded) mobile conversational experiences.
KAI Banking Products
Kasisto offers three products built on its conversational AI platform, including: KAI Banking on Mobile, KAI Banking on Messaging, and MyKAI.
KAI Banking on Mobile
KAI Banking on Mobile is an enterprise offering for banks to implement smart, bank-branded mobile banking apps featuring conversational UIs designed to simplify consumer banking transactions and other activities.
Because the KAI platform embeds deep financial knowledge of banking — including dozens of banking intents and millions of banking sentences — virtual assistants and bots can anticipate and answer thousands of customer questions. Customers also can converse with the app to receive answers to questions or perform banking transactions.
Customers can get details of specific past transactions simply by speaking or typing; for instance, to inquire about travel expenses for a particular period, as shown in Figure 1. Similarly, customers can conduct new transactions; for example, by asking to make a payment to their credit card. The KAI platform also tracks expenses by merchants, so you can ask and get answers to questions like "How much did I spend on Lyft last month?" Because the virtual assistant understands natural language input and learns via ML algorithms that analyze customer interactions, it responds in real time.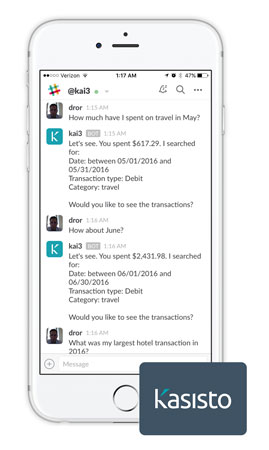 Figure 1 — KAI Banking on Mobile.
Currently KAI-powered virtual assistants (and bots) can anticipate and answer approximately 1,100 questions uniquely related to banking. However, new knowledge is added with each new customer interaction analyzed by ML.
Such functionality allows customers to use their mobile devices to complete their banking transactions or have their questions answered without having to speak to a call center agent. But, should a virtual assistant (or bot) be unable to handle a transaction or answer a query, it will automatically hand the customer off to a live call center agent.
DBS Bank, Singapore, is using KAI Banking to implement the intelligent assistants in digibank — DBS's new mobile-only bank recently launched in India (for more on DBS's use of Kasisto, click here).
KAI Banking on Messaging
KAI Banking on Messaging is for banks to develop branded smartbots so customers can bank conversationally from within their preferred messaging systems like Facebook Messenger, Slack, and SMS. KAI Banking on Messaging essentially extends Kasisto's conversational AI engine for powering virtual assistants in mobile apps (i.e., KAI Banking on Mobile) to support conversational bots running in messaging platforms.
Similar to intelligent virtual assistants for banking apps, smartbots can answer banking queries, conduct transactions, predict customer needs, and guide users through the banking experience in a conversational manner from within the messaging app.
Royal Bank of Canada is implementing a pilot project using KAI Banking on Messaging. It will be the first North American bank to offer smart banking bots built on Kasisto technology. DBS Bank also plans to offer banking services powered by KAI Banking on Messaging.
MyKAI
MyKAI is a personal intelligent finance and banking bot for consumers who want to perform smart banking activities independent of their bank. MyKAI offers a more limited subset of the capabilities provided by KAI Banking on Mobile and KAI Banking on Messaging.
MyKAI allows consumers to consolidate and access their various banking and credit card accounts. Users can manage their money, track expenses, analyze spending, and get banking questions answered. They can also make payments to friends via Venmo — the free digital wallet that lets users make and share payments with friends — from inside Facebook Messenger, Slack, and SMS, as shown in Figure 2. But, unlike smartbots and virtual assistant implemented in KAI Banking on Mobile and KAI Banking on Messaging, MyKAI does not let users make payments or transfer money from their bank accounts.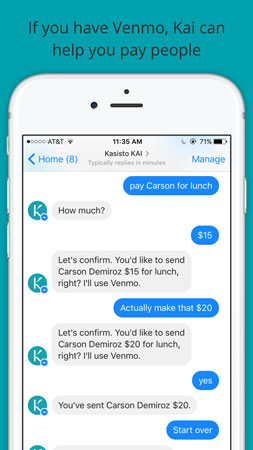 Figure 2 — MyKAI lets users pay other people.
MyKAI is fluent in banking and understands transactions and accounts, from histories to categories to dates and merchants. It also understands fuzzy concepts and amounts like "least," "largest," and "more," so users can track trends. For example, users can ask questions like, "What was my largest restaurant transaction in May?" (MyKAI is available at www.kasisto.com/mykai.)
Building and Deploying Intelligent Agents and Smartbots
KAI Banking platform is cloud-based and features APIs and SDKs, meaning that banks can build and deploy intelligent assistants and bots without having to implement completely new architectures or become experts in NLP, neural nets, ML, and other AI technologies. Self-service tools let banks customize (company logo, brand, etc.) their bots and virtual assistants and measure performance.
Security and Privacy
Any time new technology for banking and finance enters the market, issues of privacy and security quickly arise. Kasisto reps claim its platform is as secure and private as a bank's mobile app, and that no personal or financial data is ever stored, with KAI using read-only data about accounts from a secure independent aggregator. A good point to keep in mind is that Kasisto is a spin-off of SRI, which has considerable experience in designing technology with enterprise-grade and banking-compliant security and privacy practices.
Conclusion
Interest in intelligent virtual assistants and smartbots is expected to accelerate rapidly — and not only from banks but from businesses in general.
Chatbots and agents running in the popular messaging apps will be particularly sought after by companies seeking to take advantage of the immense consumer user bases such messaging systems have. Depending on who is counting, this amounts to almost three billion active monthly users, with about 75% on four main messaging apps that include Facebook Messenger, WhatsApp, WeChat, and Viber. Already, David Marcus, Facebook VP of Messaging Products, claims that more than 11,000 chatbots have been added to Facebook Messenger since the company's chatbot program launched in May.
Companies like Kasisto that offer platforms for implementing innovative agents and smartbots that allow companies to interface directly with their customers in an engaging, conversational manner via mobile apps and messaging may lead to significant disruption in the way sales, customer service, and customer experience management are done.
Finally, I'd like to get your opinion about Kasisto KAI and the use of smartbots and intelligent agents for mobile and messaging. You can comment below, email me at chall@cutter.com, or call +1 510 356 7299 with your comments.