Technology Trends and Predictions 2016 -- Opening Statement
Posted January 26, 2016 in
Cutter Business Technology Journal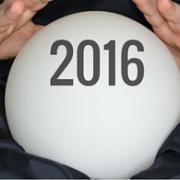 CUTTER IT JOURNAL VOL. 29, NO. 1
---
Technology seems to be moving at the speed of light these days, so we decided to ask Cutter's team of experts for their insights on some of the technologies and trends that are going to be game changers in 2016 and beyond. In true Cutter IT Journal fashion, our call produced a wide range of opinions on what everyone from C-suite executives to technology managers should plan for as they strive to meet their business and technology goals.
Some of the game-changing technologies our authors discuss include those related to the Internet of Things, analytics of structured and unstructured data, wearables, machine learning, data visualization, social media, location-based services, and even AI, robotics, and quantum computing — technologies no longer ­confined to the realm of science fiction. In the more established areas, the discussions center around implementing more robust EA and security approaches to prepare for and respond to terrorist attacks; using Agile to "keep hammering at barriers to the faster, more reliable delivery of greater software value"; and building in quality from the start to gain market advantage.
From our authors' perspectives, there seems to be a strong wind pushing us in the direction of a very ­digital, data-centric, and connected era to better ­understand our customers and eventually drive higher revenue and profit — albeit tempered with ongoing security and ethical challenges. Let's find out more about what they see in their crystal balls.
In our first article, Steve Andriole asks "C-suite(rs)" to consider the following questions: What's your technology plan? What game-changing technologies are you tracking? How will these technologies drive revenue and profit? Andriole then provides the answers he believes will ensure your technology plans contribute significantly to the bottom line.
Next, Robert Charette speaks to the ethical concerns associated with the increased use of algorithms in smart machines such as robotics-enabled warfare and autonomously driven vehicles and discusses how AI can be used for the ­benefit, and not harm, of humankind.
Paul Clermont's predictions focus on the need for better security policies and technologies to stem the tide of hacking and terrorism, some of which might include cracking down on social networking. He highlights the need to strike a balance between the protection of national interests and personal privacy.
Next up, Darren Meister explores three trends he thinks will push demands on corporate IT depart­ments and the IT industry broadly: wearables, machine intelligence, and data visualization. He demonstrates how each trend will allow us to work smarter and ­simplify our lives — a win-win all around.
According to Tom Grant, 2016 will be a celebratory year for Agilists. "Not only has Agile enjoyed mainstream ­status for several years now," Grant argues, "but its success has also allowed Agile to become a laboratory for other innovations, from new techniques for customer insights to delivery of software as fast as you produce it."
Next, Carl Pritchard predicts that "2016 is the year we can all look forward to a host of 'new' Agile practices, each with its own nuance, and each with its own subset of practitioners." Organizations "will adapt or adopt the practices that have the greatest appeal or best fit within [their] cultures."
In our next article, Roger Evernden considers the role enterprise architecture plays in this age of terrorism. In an emergency response situation, EA can ensure that "information and resources from a wide variety of different teams are effectively deployed" as well as provide the processes and frameworks to expedite these operations.
Addressing the nine lives of QA in software engineering, Maurizio Mancini believes that organizations should use multiple tools to do test automation, including open source tools. He also feels that organizations that work at building in quality rather than trying to test it in will have a significant market advantage.
Lastly, Alexander Rodrigues takes us on a scientific journey exploring the idea of quantum computing, a technology "capable of breaking the barriers of time and space." With significant advances underway, IT might realize its vast potential within the next decade.
Our authors paint a bright and promising future for those organizations that wish to leverage the vast ­opportunities these new technologies will provide. The only question that remains is, are you ready to take this quantum leap of technology faith?
— Cutter IT Journal team