CutterOne: Your Very Own Access to the Experts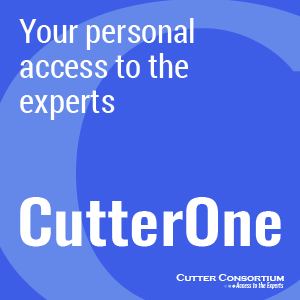 If you're like many business-technology professionals, you're investing in your own professional development, augmenting the tools and resources your enterprise makes available to you. CutterOne puts cutting-edge thinking about business technology strategies, technologies and processes right at your fingertips.
Insight and Advice You Can Put to Work Right Away.
Every day, Cutter Consortium's expert Senior Consultants — top practitioners who spend much of their time inside organizations like yours — help enterprises solve their business technology challenges. From business transformation to sustainable innovation; from change management to leadership strategies; from creating, implementing, and optimization software and systems to adopting new technologies, a CutterOne subscription gives you unlimited personal access to insightful, original research and advice from best-in-class consultants, academics, and practitioners.
Smart, Easy-to-Read Articles and Reports.
Staying abreast the latest trends, techniques, and developments in business technology is a key tool to your success. Cutter Consortium delivers this in smart, easy-to-read reports and articles.
What You Get.
As a CutterOne subscriber, you'll discover solutions to problems you've been trying to solve, and business-technology trends and technologies that are gaining traction. Support your personal professional development goals with the knowledge shared by Cutter experts in a steady stream of alerts, updates, reports, and webinars that help you:
Get breakthrough ideas from both in-depth and short-burst research and experience reports.
Understand the changing business technology landscape via expert analysis of exclusive data.
Uncover lessons learned from case studies written by Cutter's experts.
Discover 10+ years of timeless insight and advice in the deep CutterOne archive.
You'll have access to all of Cutter Cosortium's research, from the Business Agility & Software Engineering, Business & Enterprise Architecture, Business Technology & Digital Transformation Strategies, and Data Analytics & Digital Technologies  practices, plus from Cutter Business Technology Journal. 
This small investment in your professional development will ensure your ability to stay current, your understanding of the strategies that enable organizations to stay competitive, and your insight into the business technology trends on the horizon. Don't fall by the wayside —  Subscribe now!
Not sure you're ready to subscribe to the full
CutterOne
? Subscribe a la carte: