Customer Experience Management: Trends and Developments
Posted February 13, 2019
| Leadership | Technology | Amplify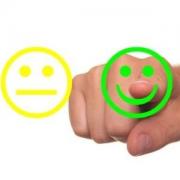 CUTTER BUSINESS TECHNOLOGY JOURNAL  VOL. 32, NO. 1
Cutter Consortium Senior Consultant Curt Hall addresses the compelling topic of customer experience (CX) management, also commonly referred to as the "customer journey." Using preliminary results from an ongoing Cutter Consortium CX management survey. Hall outlines some of the important trends and developments influencing the adoption of CX management practices and technologies. Included in this discussion are the top leading technologies under consideration or already adopted by organizations, and the benefits and goals CX practices can help them achieve. The ability to remain competitive as organizations are confronted with new, more agile upstarts in their respective industries is high on the priority list.
Customer expectations have never been higher, and they are driving organizations across almost every industry to rethink their approaches to commerce, marketing, sales, and, in particular, customer engagement, service, and support. Consequently, organi­zations are expressing intense interest in all things pertaining to the experience customers encounter when dealing with their business.
In short, more than ever, customer experience (CX) management is the order of the day, and organizations are examining their dealings with the customer from the perspective of what they must do to make the experience more appealing, satisfying, and engaging — as opposed to just completing another transaction as efficiently as possible.
Using preliminary results from an ongoing Cutter Consortium CX management survey,1 along with my additional research for Cutter Consortium's Data Analytics & Digital Technologies practice, I've identified several trends and developments that organizations may want to consider when assessing their own CX management journey, including:
CX interest is expanding considerably.

Organizations are seeking a surprisingly broad range of benefits from their CX initiatives.

Technologies for implementing CX management are evolving and organizations are investing considerably in solutions to help with their CX initiatives.

Organizational interest in adopting artificial intelligence (AI) and machine learning (ML) for CX is huge.
CX Management on the Rise
To meet increasingly elevated customer expectations, more organizations are implementing detailed strategies for distributing and standardizing CX practices and technologies across their various lines of business. Preliminary results from the Cutter Consortium survey show that approximately 71% of organizations have, are planning to develop (within the next 12 months), or are seriously investigating detailed strategies for deploying CX practices and technologies.
According to the findings, the main benefits organi­zations seek from their CX strategies and practices (ranked by importance) include:
Better customer satisfaction

Optimized customer engagement across all channels

Increased customer loyalty/customer lifetime value

Lower customer service costs

Strengthened brand/reputation

Better use of customer feedback
Organizations are also turning to CX practices to try and remain competitive as they are confronted with new, more agile upstarts in their respective industries. This is most apparent with the rise of the new, plat­form-based companies that seek to upset traditional industries by offering consumers a very compelling user experience (e.g., to buy insurance, sell/buy real estate, or manage and transfer funds).
Growing Interest in Adopting CX Management Technologies
Organizations are investing in various technologies to help enhance the customer experience, regardless of which channels customers use to engage with them. These range from leading technologies like enhanced mobile, video, and social messaging systems to chatbots and other solutions designed to support customer self-service applications and tools for analyzing customer interactions across the organization.
Top Leading CX Technologies
The main leading CX technologies organizations are interested in applying (in ranked order) include:
Customer analytics and behavioral modeling — for analyzing customer interactions, identifying patterns, and building detailed customer profiles

Chatbots and digital assistants — for mobile, voice, and chat-driven sales and customer self-service systems

Personalization — for delivering targeted content and promotions to selected audiences

Omni-channel customer engagement hubs and marketing platforms — includes customer data management platforms, multichannel (e.g., mobile, social, messaging) marketing and loyalty platforms, and real-time customer interaction systems

Customer intent/journey mapping and analysis tools — for visualizing and analyzing the journey customers take and the experience(s) they encounter across an organization's channels in order to effect better (and standardized) CX and customer satisfaction

Social video and messaging — video chat-based systems that allow customer service representatives to interact with customers across popular social platforms in real time
AI, ML, and Other Advanced CX Technologies
Organizations also want to adopt more cutting-edge technologies that provide advanced capabilities for supporting their CX management initiatives. This includes AI, ML, and the Internet of Things (IoT), among other technologies.
The top advanced technologies organizations want to adopt for CX (in ranked order) include:
AI and ML — for automating a range of business processes and operations

Speech recognition and natural language proc­essing (NLP) — for implementing conversational computing and conversational commerce systems

AI-powered bots (i.e., smartbots) and intelli­gent virtual assistants — for mobile, voice, and chat-driven sales and customer self-service systems that offer advanced capabilities for understanding user wants and needs that go beyond standard keyword-based solutions

Predictive analytics — for predicting future events, customer actions, or intent using historical data analysis

Natural language interactive voice response systems — interpreting and understanding more comprehensive customer dialogues using NLP techniques

IoT — predictive maintenance systems utilizing ML to support the monitoring of connected prod­ucts for proactive customer service and real-time incident management to heighten cus­tomer satisfaction/loyalty and increase sales
General Trends Using AI for CX Management
Interest expressed by organizations for using AI for CX management is considerable. According to additional Cutter Consortium survey-based research, "better CX" is right at the top when it comes to the most important benefits organizations hope to obtain from adopting AI. Organizational goals sought from applying AI to CX and customer engagement include greater levels of automation for customer-service operations. This encompasses encouraging customers to take a self-service approach to issue resolution and the ability to deliver innovative and unified experiences to the customer across all digital channels — ranging from chat and text to video, social media, and voice.
As a general trend, AI for optimizing CX management and customer engagement will become dominant applications for applying the technology over the next three to five years. During this period, expect a significant uptick in organizations using AI technologies, in particular ML, NLP, speech recognition, and conversational interfaces to make customer interaction with their organizations more engaging, intuitive, and satisfying. These developments will correspond with the use of connected products and other IoT applications, where AI technologies like ML, NLP, intelligent search, visual search, and predictive analytics will run on the back-end cloud platforms and, in more limited forms, on various edge computing layers and endpoint devices. Increasingly, endpoint devices themselves will feature on-device AI to help soothe customer concerns around data breaches and privacy issues, which can arise from shipping user data to the cloud for processing.
Further down the road, organizations will start to adopt applications combining ML and emotion recognition algorithms for interpreting, and adapting to, customer emotions to allow real-time decision making and sup­port. One example includes monitoring telephone interactions with customers (e.g., selling and service interactions) in order to perform QA, compliance, and other analysis on the nature and quality of the CX and employee interaction.
Smartbots and Intelligent Digital Assistants Forecast
One of the biggest potentials for AI to impact CX is in the form of smartbots and intelligent digital assistants. Organizations have expressed considerable interest in employing such solutions to add capabilities to mobile apps and popular messaging systems to enable cus­tomers to conduct common interactions via speech and natural language text-powered interfaces. This includes both standalone mobile apps and those that function within Facebook Messenger, WeChat, and other popular social messaging platforms.
Consumer voice-driven intelligent assistants like Apple Siri, Google Assistant, and Microsoft Cortana as well as so-called smart speakers like Amazon Alexa, Google Home, and Apple HomePod are increasingly becoming customer engagement channels for companies. Consumer adoption of smart speakers is high. Interestingly, we are now seeing more organizations developing applications for sales, support, and cus­tomer service designed to run on these platforms.
Conclusion
These are some of the important trends and developments influencing the adoption of CX management practices and technologies. The bottom line is that interest in CX is increasing, with the majority of the Cutter Consortium survey participants being in some stage of implementing, or planning to implement, CX practices. There's no reason for this trend to change.
Additionally, organizations are looking for a number of benefits from their CX initiatives, and they are keenly interested in utilizing a plethora of technologies to help them meet their goals. This includes various technologies that fall under the "AI umbrella," ranging from ML and NLP to smartbots and intelligent digital assistants.
---
1 The data comes from Cutter Consortium's CX management survey on how organizations are adopting, or planning to adopt, CX management practices and technologies and what they see as the possible impacts on their businesses and the issues they are encountering in their efforts. We welcome your participation in this survey; please visit https://www.surveymonkey.com/r/7T3HQ3R.