Technology, Technologists, and Technoligarchs in 2019
Posted February 13, 2019
| Leadership | Technology | Amplify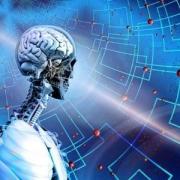 CUTTER BUSINESS TECHNOLOGY JOURNAL  VOL. 32, NO. 1
 
Cutter Fellow Steve Andriole describes some trends around "technologies, technologists, and technoligarchs." He starts with a look at the technologies with the highest momentum and a growing number of associated applications. Andriole then examines the role of, and demand for, the digital business technology leader. He asserts that this leader can achieve success through his or her understanding of technology as an enabler, belonging to everyone, with the ability to transform business processes. Andriole rounds out his discussion by addressing the technoligarchs, the companies that have a commanding share of the market in their industries.
This article describes some trends about technologies, technologists, and technoligarchs. First, we'll look at the technologies with the most momentum. Next, we'll examine the technologists escaping from data centers. Finally, we'll round out the discussion by addressing the technoligarchs who control much of the digital landscape.
Technologies
Here's a list of seven technologies to watch in 2019:
Augmented reality (AR), virtual reality (VR), and mixed reality

Wearables

Artificial intelligence (AI)/machine learning

Blockchain

Application architectures

Platforms as a service

5G
None of these technologies is new. They've all been evolving for years. Nevertheless, it's important to track momentum and the appearance of applications that demonstrate the value of the technologies. These seven technologies are on the 2019 list because momentum is high and because the number of applications in these areas is rapidly growing.
AR, VR, and Mixed Reality
Measured by investments in the technology alone, momentum around augmented, virtual, and mixed reality is staggering. Digi-Capital reported that US $1.5 billion was invested in AR and VR in Q4 2017, with an overall investment of $3 billion for that year. Applications are growing as fast as the headsets in this realm, while other access devices are shrinking in size and cost. Gaming, education, and training are the leading application targets. Applications in additional domains, such as travel, will grow in 2019 and beyond.
Wearables
The number of applications in wearables is also growing, especially in healthcare and sports performance. While the debate about implanted wearables continues, sensor technology is evolving rapidly — regardless of where it sits on/in humans. The appeal is on the analytics side: what data sensors collect and present for analysis. In healthcare, for example, monitoring leads to diagnosis and diagnosis leads to intervention. Prospects of expanding medical care through monitoring and virtual consultations will fuel additional investments. Relatedly, applications designed to prevent sports injuries are also appearing, especially in contact sports like American football.
AI/Machine Learning
AI services, platforms, frameworks, and infrastructure as enablers of applications across domains continue to explode. AI will augment autonomous vehicles, analytics, and application development, among scores of other activities and platforms. The most notable trends to watch in 2019 will be AI's continued displacement effect on knowledge workers. Knowledge-based automation is coming for accountants, lawyers, and diagnosticians, among other knowledge workers — while lower/no knowledge task automation also continues to grow. The driver here is cost: applications in AI have shifted from fun to cost reduction. A quick look at Amazon's automation strategy proves the point — and offsets employees earning $15 an hour.
Blockchain
Blockchain platform growth, standardization, and use across industries in 2019 is a safe bet. While the financial industry will lead the way, healthcare will follow quickly. Blockchain will completely free itself of its singular cryptocurrency identity, which it began to shed in 2018. It will become a legitimate transaction platform that mainstream technology vendors and vertical industry leaders deploy. The broader fintech revolution will accelerate the use of blockchain and all distributed ledger technologies, though there will be some resistance among financial transaction incumbents.
Application Architectures
Monolithic architectures are yielding to microservice architectures. Big, monolithic software applications — the ones that still dominate many large enterprises — will continue to be replaced by architectures far more flexible, distributed, and scalable than older ones. This is an important trend that should be optimized, especially when it's time to upgrade a monster monolithic application or rearchitect enterprise distributed computing. More container vendors will enter the market in 2019.
Platforms as a Service
Another trend is the "platformitization" of emerging technologies; that is, the exploding of "as a service" offerings. Blockchain as a service, VR/AR as a service, analytics as a service, Internet of Things (IoT) as a service, and AI as a service will grow in 2019. The important trend here is the evolution of cloud-provided services well beyond desktop as a service, storage as a service, and security as a service. Cloud providers are trends enablers, prototypers, innovation labs, and more. A trend to watch is the number and depth of new services cloud providers offer.
5G
The explosion of data; the interconnectivity of devices, people, and places; and the integration of intelligent applications into expanding ecosystems all require faster communications — from 5G. This trend is just around the corner: 2019 is a safe bet; 2020 is a lock. Companies should be tracking this trend monthly and defining (and launching) multiple pilots in 2019.
Technologists
Chief infrastructure officers will always be necessary, but today there are calls everywhere for digital business technology leaders who understand they're enablers, and that "technology" belongs to everyone, not just an enterprise office — and certainly not one or two C-suite executives. With digital transformation constantly on their minds, leaders who understand that success begins with the acknowledgement that tech­nology enables and transforms business processes and whole business models will succeed, while leaders who define technology solely as data, applications, and networks will fail. The number of "digital business officers" — for lack of a better title — immersed in and around the business will grow in 2019. Technology governance will be shared across the enterprise to include business units and their delivery partners, especially cloud providers.
Technoligarchs
Amazon owns around 50% of the e-commerce market, followed by eBay (6.6%), Apple (3.9%), Walmart (3.7%), and Home Depot (1.5%). It's projected that by 2020, the cloud computing market will be overwhelmingly dominated by Amazon, Google, and Microsoft (at over 90%), with Amazon Web Services continuing its relative dominance. Apple cracked the worldwide smartphone 50% market share threshold in 2018. Google owns over 90% of the Internet search market. Facebook continues to dominate social media, followed by YouTube (Google), WhatsApp (Facebook), Facebook Messenger (Facebook), WeChat (Tencent), and Instagram (Facebook). Microsoft owns 36% of the worldwide operating system market, behind Android at 42% (Google and the Open Handset Alliance). The same market trends are seen in other industries, like ridesharing, where Uber and Lyft own more than 70% of the market. AT&T, Time Warner, Disney, Verizon, and Comcast own huge chunks of "media" but are under constant attack from Amazon, Netflix, Apple, Facebook, and Google for media market share.
The implications of all this concentration of power are obvious, even ominous, though few of us seem worried about even 90% market shares of anything. Concentration will continue this year. The technology delivery options space will shrink, not grow, in 2019.
Acceleration, Integration, Reorganization, and Consolidation!
2019 will be an interesting year in technology. There will be acceleration, integration, reorganization, and consolidation. Technologies, like IoT, wearables, analytics, and AI, are accelerating. Integration across platforms will accelerate, too. "IT departments" will continue to fade as business technologists come to the fore. The consolidation of the technology industry itself, however, will increase in 2019, redefining choice in technology acquisition, deployment, and optimization. The real challenge is not predicting what might happen in 2019, but what "all things digital" will look like in 2030. While year-to-year predictions are important, we should also step back from time to time to discuss the macro trends that will literally define life as we move further and further into the 21st century. Maybe next year.
---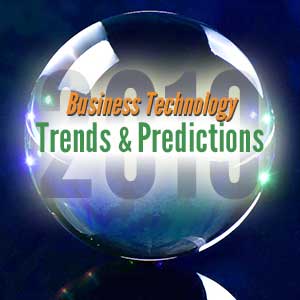 This Cutter Business Technology Journal issue is available in the Cutter Bookstore. Save 20% with Coupon Code TechTrends20.
Cutter members: Access here.