Business Technology Trends and Predictions, 2019 — Opening Statement
Posted February 15, 2019
| Leadership | Technology | Amplify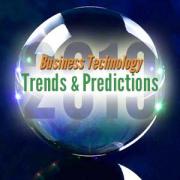 CUTTER BUSINESS TECHNOLOGY JOURNAL  VOL. 32, NO. 1
  
With 2019 upon us, it is clearer than ever that this is a time of perpetual technological innovation. We not only welcome the new, we take what was new only recently and make it even better. This year, a plethora of technologies will continue to evolve, improve, and become more widely adopted, with a growing set of new applications strategically applied across industries.
As has been our tradition over the past few years, we have gathered a group of Cutter Consortium experts to weigh in on the strategies, technologies, and business models that will impact business transformation efforts in 2019. We hope the articles in this issue of Cutter Business Technology Journal help you prioritize your business technology objectives and chart your journey forward in today's digitally competitive world.
In This Issue
First up, Cutter Fellow Steve Andriole describes some trends around "technologies, technologists, and technoligarchs." He starts with a look at the technologies with the highest momentum and a growing number of associated applications. Andriole then examines the role of, and demand for, the digital business technology leader. He asserts that this leader can achieve success through his or her understanding of technology as an enabler, belonging to everyone, with the ability to transform business processes. Andriole rounds out his discussion by addressing the technoligarchs, the companies that have a commanding share of the market in their industries.
In our second article, Cutter Consortium Senior Consultants Rick Eagar, Gregory Pankert, Raf Postepski, Sean Sullivan discuss how the role of a CEO in 2019 is very different from that of a decade ago, primarily because traditional business boundaries are blurring while the pace of business continues to accelerate. The authors explore the changes in the CEO role and propose a new framework to help CEOs map the right strategic direction for their organizations.
While Cutter Consortium Senior Consultant Whynde Kuehn believes that enterprise architecture (EA) has come a long way in providing enterprise perspective and structured thinking to business-critical activities, she posits in the next article that it still faces an up-hill battle in delivering its intended value proposition. But the potential of EA is vast, and Kuehn outlines the eight key business priorities that EA teams should consider in 2019 and describes how EA can add value to each priority. She also briefly discusses a few practices demonstrated by successful EA teams.
In the past decade, failures in risk management have resulted in numerous catastrophes that could have been minimized, or even completely avoided, if the proper risk-monitoring mechanisms were in place. Hence, in our fourth article, Cutter Consortium Senior Consultant Tom Teixeira, along with his peers George Simpson and Immanuel Kemp, discuss how the use of key risk indicators to drive proactive executive behavior can reduce unnecessary risk exposure and minimize the potential for disastrous events. This discussion includes a series of steps executives should take to improve risk monitoring.
Next, Cutter Fellow Vince Kellen outlines the six new rules for managing 21st-century data and analytics that organizations should embrace in 2019. He discusses the technologies that enable the rules and stresses the need to organize IT teams very differently around key data activities. According to Kellen, "In this environment, analytics is a team sport, not an individual one…. Thus, the organizational culture needs to shift to ensure that data and information are communal assets, not indi­vidual assets."
Cutter Consortium Senior Consultant Curt Hall then addresses the compelling topic of customer experience (CX) management, also commonly referred to as the "customer journey." Using preliminary results from an ongoing Cutter Consortium CX management survey,1 Hall outlines some of the important trends and developments influencing the adoption of CX management practices and technologies. Included in this discussion are the top leading technologies under consideration or already adopted by organizations, and the benefits and goals CX practices can help them achieve. The ability to remain competitive as organizations are confronted with new, more agile upstarts in their respective industries is high on the priority list.
In our next article, Cutter Consortium Senior Consultant Helen Pukszta discusses the growing use of drones, aka unmanned aircraft systems (UAS), and the already countless enterprise and professional applications of drone-based technologies. Although drone delivery of products is not yet possible due to regulatory delays, the technology is still making significant advancements. In 2019, drones will be increasingly integrated into business workflows and American airspace, and UAS technology will exhibit even more innovation.
"An ontology is coming to your business soon," assert Cutter Consortium Senior Consultants Claude Baudoin and Cory Casanave in our eighth contribution to this issue. Modeling perfection, however, has not yet been achieved, and the current movement is from system-specific data models to business-wide information models. In their article, Baudoin and Casanave discuss the challenges this movement presents but are opti­mistic that adoption of a complete semantic model of businesses in more and more industry sectors is on its way.
In our concluding piece, Cutter Consortium Senior Consultant Paul Clermont weighs in on the relentless privacy and security issues resulting from technological advancement. He emphasizes social networks' misuse of private data and the need to address privacy-related basics, along the lines of the European Union's General Data Protection Regulation. Clermont predicts that, in 2019, attention will be paid to the real and present threats posed by artificial intelligence (AI), such as AI replacing large numbers of the current workforce, the overuse of AI algorithms and associated ethical considerations, and the malicious use of AI by authoritarian governments.
We hope the insight our experts provide in this issue will help shape your strategic direction in 2019 and aid in navigating the open waters and ever-present shoals of the current environment's new and emerging digital business models and technologies.
We would love to hear your thoughts on the articles in this issue and welcome any trends and predictions of your own that you would like to share with our community. Please leave your observations in the comments section below.
---
1 The survey looks to see how organizations are adopting, or planning to adopt, CX management practices and technologies and hopes to show the possible impacts on businesses and the issues organizations are encountering in their efforts. We welcome your participation in this survey; please visit https://www.surveymonkey.com/r/7T3HQ3R.