Growing Drone Usage in Business in 2019
Posted February 13, 2019
| Leadership | Technology | Amplify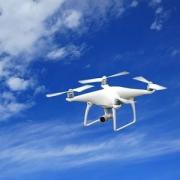 CUTTER BUSINESS TECHNOLOGY JOURNAL  VOL. 32, NO. 1
  
Cutter Consortium Senior Consultant Helen Pukszta discusses the growing use of drones, aka unmanned aircraft systems (UAS), and the already countless enterprise and professional applications of drone-based technologies. Although drone delivery of products is not yet possible due to regulatory delays, the technology is still making significant advancements. In 2019, drones will be increasingly integrated into business workflows and American airspace, and UAS technology will exhibit even more innovation.
Civilian drones have opened up the vertical dimension for personal, commercial, and public use — and the explor­ation of the low-altitude space immediately above us has only just begun. There are already countless enterprise and professional applications of drone-based technologies (or UAS — unmanned aircraft systems), and some winning ones have surely yet to be conceived. It's a good bet that the future will include our coexistence with drones in the sky similar to that of motor vehicles on land. We don't yet know exactly what the future will look like, but the trans­formative potential of UAS will ensure we get there.
What's in store for 2019? Continued integration of drones into business workflows and the national airspace, along with more innovations coming to market in UAS technologies.
More Drones in the Skies
In 2012, the US Federal Aviation Administration (FAA) estimated there would be as many as 30,000 drones flying in the US by 2020. After the introduction of mandatory drone registration in 2016, more than 1 million drones were registered by January 2018; out of those, some 122,000 were registered for commercial and public use. (The registration requirement is now on hold, following a successful legal challenge by a noncommercial hobbyist, and no one knows for sure how many drones are in civilian hands today.) The FAA's latest prediction is that there will be 7 million drones in the skies by 2020. As drones ease their way into our lives, there will be an increased public tolerance for them, but we can expect occasional public outcry and anti-drone movements, too.
This past summer I came across a passerby on a Chicago residential street with a small drone hovering slightly ahead, a couple of feet above the shoulder. The drone was well behaved and looked like an innocuous assistant or novelty toy. Before I had time to take in the scene and gape, both drone and pilot were gone past the corner. I doubt personal companion drones will become de rigueur in 2019, but don't be surprised when you see drones where you least expect them.
No Drone Deliveries at Your Doorstep Just Yet
Unless you are located within a small group of 10 regional participants of the UAS Integration Pilot Program (IPP) — an initiative started in 2018 under the US Department of Transportation and the FAA — it's unlikely you will see drone deliveries in 2019, and certainly not on a commercial scale.
The IPP tests a variety of applications that relax current FAA drone restrictions, experimenting with flying at night, at airports, over people, beyond visual line of site, and autonomously. The applications cover operations from search-and-rescue to delivery of food and medical supplies. Amazon is conspicuously missing from this testing group (submissions that included Amazon were not selected), but Amazon Prime Air will continue perfecting its autonomous operation, inching closer to launch, whether in the US or abroad.
The IPP is a step in the right direction. Having state, local, and tribal governments volunteer their participation — in partnership with enabling technology firms and on projects that they select and manage and that improve the quality of life in their area — is the right approach for integrating drones in national airspace and informing broader drone adoption processes. There should be more locally managed and assertively pursued initiatives like this one. Expect this limited program to go through its paces throughout 2019 and 2020.
Current regulatory roadblocks aside, deliveries by drones are unlikely to be profitable until they reach scale. And they won't reach scale until standards and technologies like UAS traffic management — to prevent drones on arbitrary routes from colliding with each other, other aircraft at low altitudes, or anything else on the ground — are in place. That will not happen in 2019.
VTOL (vertical takeoff and landing) drone taxis are even further away from broad use than package deliv­ery. FAA certifications that would give the green light for passengers to board a drone will take a long time to secure. And, even more so than with drone deliveries, the infrastructure and traffic control to support air taxis — both in air and for takeoff and landing — are yet to be implemented.
Business and Public Sector UAS Adoption Gains Momentum
Applications of drone technologies other than air taxis and delivery of goods over public spaces garner less media attention, yet they open up new paths to efficiency, safety, and accuracy, and are being implemented and producing tangible benefits. Insurance, agriculture, construction, and oil and gas are some of the industries that have experimented with UAS and have started fine-tuning, operationalizing, and turning their use of drone-based technologies into a competitive advantage. Public sector use, such as for infrastructure inspections and public safety, is also increasing and will continue to grow in 2019.
There is a learning curve to developing an internal capability to use UAS — although services are also available — and to wring out as much value as they can bring. It's a fast-moving technology, and there tends to be a gap between what is available and a vision for how to apply it effectively. Competitive pressures are already pushing for widespread adoption in entertainment, real estate, surveys, and insurance. That competitive urgency will increase in 2019 in other sectors where UAS can bring immediate value within the current regulatory framework (with or without FAA waivers).
The operation of drones within the confines of a business or a professional service tends to face fewer barriers and restrictions than anything involving the public, and adoption in those contexts will continue to make good strides in 2019.
More Innovation on the Horizon
UAS technology will continue to make significant advancements in 2019, with smaller enterprise-grade drones capable of longer flights as well as smaller, more accurate and precise sensors, such as RGB (red, green, and blue), multispectral, and infrared cameras. Smaller means less payload, and that means more time in the air. Also expect the introduction of some larger, industrial-grade drones capable of higher payloads (used, for example, for moving objects at a construction site) and longer flights.
Technologies like real-time kinematic GPS correction are becoming available with an increasing number of aircraft, providing centimeter-level accuracy for georeferenced images and any maps and models derived from them. This is survey-grade accuracy, and it will continue to improve, speeding up old processes with results that meet or exceed current professional standards. These technologies also help with precision positioning of aircraft in close-up or challenging conditions.
The ecosystem of post-processing and analytics soft­ware for UAS will also see more innovation, integrating artificial intelligence and machine learning. This will help in more precise automatic assessment of hail damage to a roof and more accurate identification of anomalies in asset inspections, for example. There are already good options for fleet and operations management systems, and their features and offerings will continue to expand.
Collision avoidance and autonomous capabilities will not become standard for enterprise UAS in 2019. Current regulatory restrictions (for example, automated flight paths are fine, but autonomous flights without a pilot and those beyond visual line of sight are not) lessen the industry incentive for autonomous drones for business and curtail innovation in that area. Those areas are crucial to fully unlocking drones' ability to disrupt and improve business models and processes. This will change in tandem with regulations as pioneer operators push the envelope and demonstrate on a repeated basis the safety and efficacy of autonomous UAS.
Overall, Exciting but Incremental Changes in 2019
For 2019, expect some significant milestones but no dramatic, large-scale breakthroughs in the commercial use of drones or in the UAS industry. Steady incrementalism will continue, but the technology is firmly on the path leading to a convergence of increasingly capable, safe, and autonomous UAS with improved standards and infrastructures for drone operations and with progressively accommodating attitudes, laws, and regulations. This convergence is where the transfor­mative power of drone-based technologies will thrive. Use 2019 to get ready for it. Don't get left behind.