Cutter Edge: The Gamification of Ordinary Life
Posted October 20, 2015 in
---
Welcome to The Cutter Edge. In each free issue, you'll find research, insight, and advice crucial to helping you navigate the spectrum of challenges technology change brings.

---
by Brian J. Dooley, Senior Consultant, Cutter Consortium
At the annual Consumer Electronics Show (CES), attention turned once again to the Internet of Things (IoT) and personal devices. Wearables showed up in great profusion, focused upon watches, wristbands, and other personal sensors used to monitor activity rate, pulse, temperature, and whatever else can be determined from movement or simple surface sensors. For the home, measuring and control devices are emerging for temperature, humidity, intruder detection, and so forth -- all attached, to personal networks, to the Web, and generally streaming data to external monitors. This all constitutes an escalation of device communications, which ultimately can lead to something like gamification of personal life and the home. More ...
---
Though a single high-performing team can often succeed through the efforts of a few individuals, according to Adam Light,  "the organizational challenge increases greatly as complexity increases through the addition of people, functions, and activities.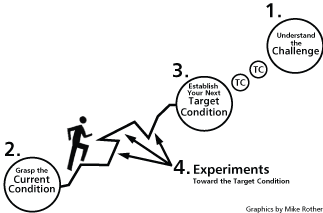 As a method for practicing continuous improvement on a day-to-day basis, the improvement kata complements Agile methods and integrates with familiar Lean tools. While applying the scientific method to process improvement is nothing new to those familiar with Six Sigma and similar process improvement methods, breaking improvements down into small parts and implementing those parts using very short planning cycles proves effective for all the same reasons that Agile methods work well in product development and delivery." More ...
* Excerpted from "Managing for Continuous Improvement Using the Improvement Kata and Coaching Kata," (

) Cutter IT Journal  Vol. 28, No. 6
Guest Editor, Curt Hall
Wearables promise a host of opportunities, from giving companies a new customer touchpoint they can use to engage directly with consumers to changing the way healthcare is provided and medical research is conducted. Already wearable devices are being used to assist employees with their jobs, and such usage is expected to advance in the near future. Wearables will make their way into business and industrial scenarios ranging from CRM and HR to the shop floor. But along with opportunities, wearables raise concerns.  More ...