Drones for Sustainability
Posted November 29, 2021
| Sustainability | Leadership | Technology | Amplify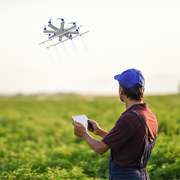 Cutter Consortium Senior Consultant Helen Pukszta explores the use of drones for sustainability. From the critical application of precision agriculture to whimsical light shows, drones not only provide new functionality, they do so with a low carbon footprint. In precision agriculture, we see again that the data collection capability of drones coupled with sophisticated optimization algorithms can help farmers use natural resources more efficiently. In an unusual application that most would not think of, Pukszta goes on to illuminate the unintended environmental consequences of fireworks and the benefits of using drones for light shows.
Not a Cutter Community Member?
Register today to read select open-access articles.