Is Gender Stereotyping Holding Back Women Leaders?
Posted October 14, 2021
| Sustainability | Leadership | Amplify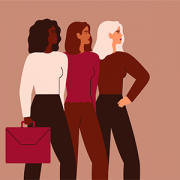 Keren Joseph-Browning analyzes gender stereotypes that may be holding back female leaders. Her research shows there isn't a lack of qualified women in the pipeline, though many believe the opposite. Joseph-Browning then draws a line between these beliefs and the stereotypes impeding women's ascension into leadership positions.
Don't have a login?
Make one! It's free and gives you access to all Cutter research.