Diversity in Tech: Are We Moving the Needle or Just Idling? — Opening Statement
Posted October 14, 2021
| Sustainability | Leadership | Amplify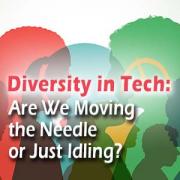 CUTTER BUSINESS TECHNOLOGY JOURNAL  VOL. 34, NO. 9
 
Two challenges have plagued corporate America wholistically and the technology industry specifically: the presence of workforce inequities experienced by people of color and the lack of meaningful and sustainable actions addressing these inequities. Statistics representing the number of women of color, Black, and Latinx professionals working in the tech­nology industry overall, not to mention those holding leadership positions, remain in the single digits. As the former president and CEO of an organization of Black technology professionals and a former partner of a "Big Four" management consulting firm, I have witnessed corporate leaders launch new initiatives, commit millions of dollars to effect changes, and hire chief diversity officers who are often not empowered to effect those changes. The result is little to no move­ment in the hiring, retention, and advancement of their diverse workforce. This causes me to question whether we are seeing meaningful forward movement or whether we are just idling in place.
Are companies still unsure about their role and ways to create a more diverse, equitable, and inclusive workplace? We often hear that it's hard to change a culture or long-standing practices, but when issues impact the bottom line, change becomes imminent. Twenty-five years ago, the representation of Black professionals in the technology industry was at 3%, and today it sits at only 7%.1 How long are we supposed to idle in this position? When will companies stop falling back on excuses and outdated, inaccurate myths? The data has been analyzed, the challenges documented, and tons of recommendations offered, and still people of color aren't experiencing a level playing field.
The social unrest that occurred in the US in 2020 was amplified because volumes of people were outraged by the killing of a Black man on the streets of Minneapolis, Minnesota. It was a reckoning for many who may not have been in tune with what people of color in this country have been experiencing every day of their lives. This murder and countless other deaths in the past year started a movement that caused individuals to look more closely at inequitable practices they may have been fostering or witnessing — and to call out such unjust acts. As a result, we have started to see more women of color being considered for roles when, historically, they would have been overlooked.
But will this be amplified and replicated to create systemic changes across the industry? Will we finally start to see representation move into double-digit numbers? Will the number of women of color holding C-suite technology titles increase? Will the represen­tation of people of color in senior-level positions be equalized? Will compensation and other benefits be equally aligned across the enterprise? Will companies embrace the nuances of their workforce and celebrate the differences? With the move to working from home during the pandemic, will leadership be more creative when addressing the work-life balance issues women and men face? These are some of the questions I find myself consid­ering as CEOs and other executives make commitments and pledges to assess their current state and reprioritize the importance of diversity, equity, and inclusion (DEI) efforts.
In This Issue
It is through this issue of Cutter Business Technology Journal (CBTJ) that we hope to remind CEOs of the challenges that remain unaddressed and out of balance. The authors speak from personal experiences, exten­sive research, and a deep desire to contribute toward changing the DEI narrative. They share proven best practices and procedural changes that must be followed so that this time, the outcomes of CEOs' commitments will look different, and those impacted will finally be able to have more equitable work and life experiences.
Our five articles highlight the challenges that people of color experience as technology professionals, with a focus on women of color and other diverse groups, while bringing forward solutions that will close the divide. These solutions provide step-by-step actions to move from idling to overdrive!
Our first article is written by Robert D. Scott, a Fellow of the Cutter Business Technology Council and Business Technology & Digital Transformation Strategies prac­tice. As a former technology industry executive and current VP responsible for the development of Black and Latinx technology professionals, Scott is uniquely positioned to share insights into the hiring, retention, and advancement myths that are pervasive in corporate America. He explains why the needle is not moving, and asks, "What needs to happen to truly make a system change this time, versus the many previous attempts?" Scott feels that organizations are "stuck on the 'D' part of diversity, equity, and inclusion." If true, it would certainly explain why employees of color don't feel much has changed. He discusses the importance of equally aligning all three letters: "Unless organizations take an equally aggressive stance toward building equity in development processes and working to create a more welcoming and inclusive environment, the net outcome will be the same." After Scott outlines the myths surrounding DEI and explanations that nullify those myths, he summarizes his article with six key strategies that any company can follow to commit to shifting their mindsets.
Next, we offer insight from Damon Carter, whose 25 years of HR experience across multiple industries and leadership roles at several Fortune 50 companies qualify him to lend his voice to this topic. He shares examples of what hasn't worked and provides practical solutions. Carter states that "in order to effectively answer today's call for progressive leadership, technology leaders must begin taking a different approach that will lead to a fundamental shift in core organizational practices and procedures that have historically contributed to the disparate and unjust treatment of people of color." While calling for progressive leadership, he outlines a key pathway to launching a successful DEI journey with measurable and sustainable results: "Leaders must be willing to step into uncharted territory by employing DEI strategies that are progressive and innovative."
Next, Benjamin Duke hammers home the need for more actions and fewer words. He highlights how companies have stated their verbal commitment to DEI, but their results do not reflect these commitments. Black employees are left feeling a misalignment between their company's public comments about supporting racial justice while failing to address the concerns of their Black employees. Duke also profiles the inequities that other diverse communities experience in the workplace. He mentions how changes we were forced to implement because of COVID-19 have showcased how "relatively inexpensive, small, and doable organizational changes can help remove artificial structural barriers that may prevent people with disabilities[, for example,] from being recruited or given the oppor­tunity to flourish at tech companies." In his closing, Duke calls for radical changes in business culture that will increase company profits at the same time they increase employee harmony.
In our fourth article, Noelle Silver focuses on the challenges women of color and other underrepresented groups face in the technology industry at all points along the career continuum. She discusses how hiring and promotion practices aren't designed to embrace the uniqueness of these women, often resulting in their inability to be given a fair chance at open positions. Silver's nontraditional successful career journey promotes the importance of organizations like the Reboot Representation Tech Coalition, which creates alternate pathways for underrepresented individuals to help them become gainfully employed in a rapidly growing industry. She shares five actions individuals and companies can take to "help the DNA of the technology industry evolve and create a better world for everyone." If this was everyone's goal, we would all benefit from the evolution.
Finally, Keren Joseph-Browning rounds out our issue by analyzing gender stereotypes that may be holding back female leaders. Her research shows there isn't a lack of qualified women in the pipeline, though many believe the opposite. Joseph-Browning then draws a line between these beliefs and the stereotypes impeding women's ascension into leadership positions. She asks, "Is the determination of women's effectiveness as leaders fact-based, or a perception that has become a reality?" Joseph-Browning suggests that "HR professionals, working with senior leaders, must take the path of most resistance that will produce real change in our organizations, rather than simply implementing a quick fix." This suggestion will be transformative and the results impactful.
It's Time to Shift Gears
Our intent in this issue is to outline why current approaches have fallen short and explain why this lack of improvement should no longer be excused or accepted. Studies show that women have started leaving the tech industry in record numbers since the onset of COVID-19. The reasons that were limiting their career advancement, such as toxic cultures, lack of opportunities, work-life balance, and lack of sponsor­ship, are the same reasons they are electing to take the off ramp. Additionally, people of color are "tapping out" of the industry either to find companies whose cultures align with their values or to pursue entre­preneurship. If these trends continue, the land­scape of diverse professionals in this industry will remain negligible. As a Black woman who has committed herself to mentoring and supporting the advancement of people of color in this industry, I cannot accept that destiny.
We hope these articles provide corporate America's leadership with practical examples and actionable steps that will allow them to shift out of this idling gear we have been experiencing and into full drive. Leadership must lead, and demand systemic, bold transformational changes that are long overdue. There are professionals within companies as well as external to companies who are more than capable of helping validate the effective­ness of DEI strategy. We don't have to continue relying on the trial-and-error approach because these individuals already know what will work and can share those insights.
I fundamentally believe that CEOs and other industry leaders want to see a workforce that resembles the demographics of this country at all levels within a corporation. These leaders want to create an environ­ment where professionals enjoy their job, embrace the culture of the company, feel valued and heard, and have an equitable path to the C-suite because studies have proven that a diverse, powerful workforce will be engaged, creative, insightful, and committed to contributing to the company's success. So, we don't need to idle any longer. Let's shift into gear and get going.
Determine never to be idle. No person will have occasion to complain of the want of time, who never loses any. It is wonderful how much may be done, if we are always doing.

― Thomas Jefferson, Letters of Thomas Jefferson
Reference
1Gruman, Galen. "IT Snapshot: Ethnic Diversity in the Tech Industry." Computerworld, 16 July 2020.