Harness the Best Minds in the Business
Cutter offers advice and guidance from best-in-class consultants and the world's leading academic experts. The Consortium features a team whose expertise and credentials are unmatched. Most importantly, unlike many other consulting firms that use senior partners to sell a job but then assign junior staff to actually perform the work, Cutter has no junior staff. Cutter deploys true experts, with decades of experience, on every assignment.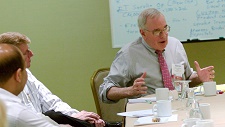 ...The task for building such an information system under strict time and budgetary constraints is daunting, but has been ameliorated by exploiting our "access to Cutter experts" during all phases of project planning and implementation. One critical element for success is having access to the Cutter body of knowledge and its expertise.
---
Consulting
Cutter has no off-the-shelf solutions — we view each assignment as unique, assembling a team custom-fit for your requirements, culture, budget, and business drivers. From business technology strategy development to enterprise architecture assessments, digital business transformation, to developing a customized software development framework, Cutter's experts deliver powerful solutions.
Customized Virtual Training
Improve business management and IT/technology skills with short, interactive Virtual Training courses on a wide range of topics. From technical skills courses to management topics such as innovation, leadership, enterprise risk management, and leveraging data analytics for better business outcomes, every virtual training class is customized and delivered by one of Cutter's expert Senior Consultants to meet your organization's specific needs. Contact us to customize a Virtual Training curriculum for your organization.
Onsite Workshops & Training
Cutter's experts create and deliver half-day to week-long workshops and training courses that will give your teams the skills they need. From agile development methods, to business architecture foundations, from mapping innovation to building Development IntelligenceTM capabilities into your organization, Cutter's workshops make it possible for your teams begin applying their new skills immediately. 
Executive Education
Gather leaders from all areas of your company and spend from a 1/2 day to a week honing the skills and building the teams that will lead your company to the next level. We'll customize a curriculum that combines case studies and lectures taught by Cutter's experts and guest professors from leading b-schools and that will serve as a foundation for clarifying your strategy and its execution. The experience of learning together in a focused, intense setting will hone collaborative skills and develop working relationships that never before existed.