CUTTER BUSINESS TECHNOLOGY JOURNAL  VOL. 31, NO. 1
Cutter Senior Consultant Whynde Kuehn predicts that business architecture will continue to play an essential role in the success of a business and, specifically, that the architecture role will elevate to one of a more strategic nature. She tells us that "business architects should challenge themselves to be not only architects, but also leaders and change agents — and develop value-added skills that complement the business architect role."
Based on the current business architecture state and trends, here are a few predictions for how the discipline will unfold over the next horizon.
Practitioners and Organizations
While the collective maturity level of business archi­tecture practices still has a long way to go, there is growing evidence of and momentum for the following six trends:
Business architecture adoption will continue at an increased pace. Business architecture is continually being adopted by different types of organizations (e.g., for-profit, non-profit, government), in different industries, and in different geographies. There is some adoption within universities as well. At this point, the momentum is only increasing.

The business architect role will shift more focus on "architecting the business" versus developing the business architecture knowledgebase. The ultimate value is in applying the architecture, not just building it. The emerging industry reference models will certainly accelerate creation of an organization's knowledgebase; in the future, they may even "commoditize" some of the mapping skills needed by an architect.

Organizations will increasingly leverage business architecture for strategic purposes and position business architecture teams to work up front in the strategy execution lifecycle.1 Business archi­tects will become the focal point for strategy translation and prioritization, as well as key leaders in business transformations. To do so, in existing organiza­tions, the business architecture team may shift "upstream" in the lifecycle to work more closely with leaders and strategy teams, where new teams will likely be positioned there from the beginning. The trend of business architecture teams reporting to a leader within the business will likely continue and increase.

The role of the business architect will elevate. Based on the focus and usage of business architecture per the second and third trends above, the business architect role will continue to increase in the level of responsibility and respect it receives, the talent it draws, and its desirability as a career.

Business architecture may be deployed in new ways across organizations. As businays, such as where business architects work as part of a cross-functional design team or aspects of business architecture become part of multiple peoples' roles.

Organizations will architect across their boundaries. The scope of organizations' busnThis type of collaboration will likely increase in the highly connected world.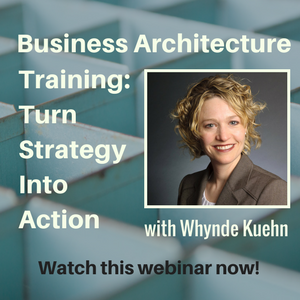 The Discipline
Multiple enterprise architecture industry organizations are advancing the discipline, both individually and together in partnership, with the following two trends:
Significant progress will continue to be made to advance the business architecture discipline. There is evidence that industry organizations will continue advancing the discipline in all directions, from content to standards to integration, at the continued pace.

There will be an increased focus on business architecture as a profession. Up to this point, there has been an intentional focus on defining the practice of business architecture first, but industry professional organizations are now shifting their focus to also include the profession. This will lead to further clarity around the business architect role, competencies, and career path.
What Does All This Mean?
Business architects should continue to aspire to prac­tice the role strategically and focus on delivering busi­ness value. While building the business architecture knowledge­base is a critical foundation, some emerging accelerators will help business architects put one in place for their organizations quicker. Business architects should challenge themselves to be not only architects, but also leaders and change agents — and develop value-added skills that complement the business architect role. With the level of transformation occurring globally, it is a unique time in history. Architects can leverage to their advantage if they have the courage and ability to do so.
The industry organizations and practitioners that have led the way in formalizing the business architecture discipline deserve a lot of credit for how much has been done in a short time, and done well. These organizations will need to continue the pace or increase it to keep up with — and keep ahead of — practitioners' needs and the new momentum of the discipline.
Finally, we need to build a stronger partnership between business and IT architects. This applies to all of us as architecture practitioners, organizations, and industry organizations. Business architecture has somewhat reinvented itself to have its own identify outside of enterprise architecture, where it has become much closer to the business, and to some extent this had contributed to its success. This is very positive, but it has seemed to have created a separation between some business and IT architecture teams, which should be working closely together, especially as the lines between business and technology blur. Moreover, business and IT architecture industry bodies may consider coming together to create a common foundation for a true architecture profession (with specializations by domain) to emerge with characteristics such as accountability, institutional preparation, and ethical constraints.
Here's to an exciting journey ahead!